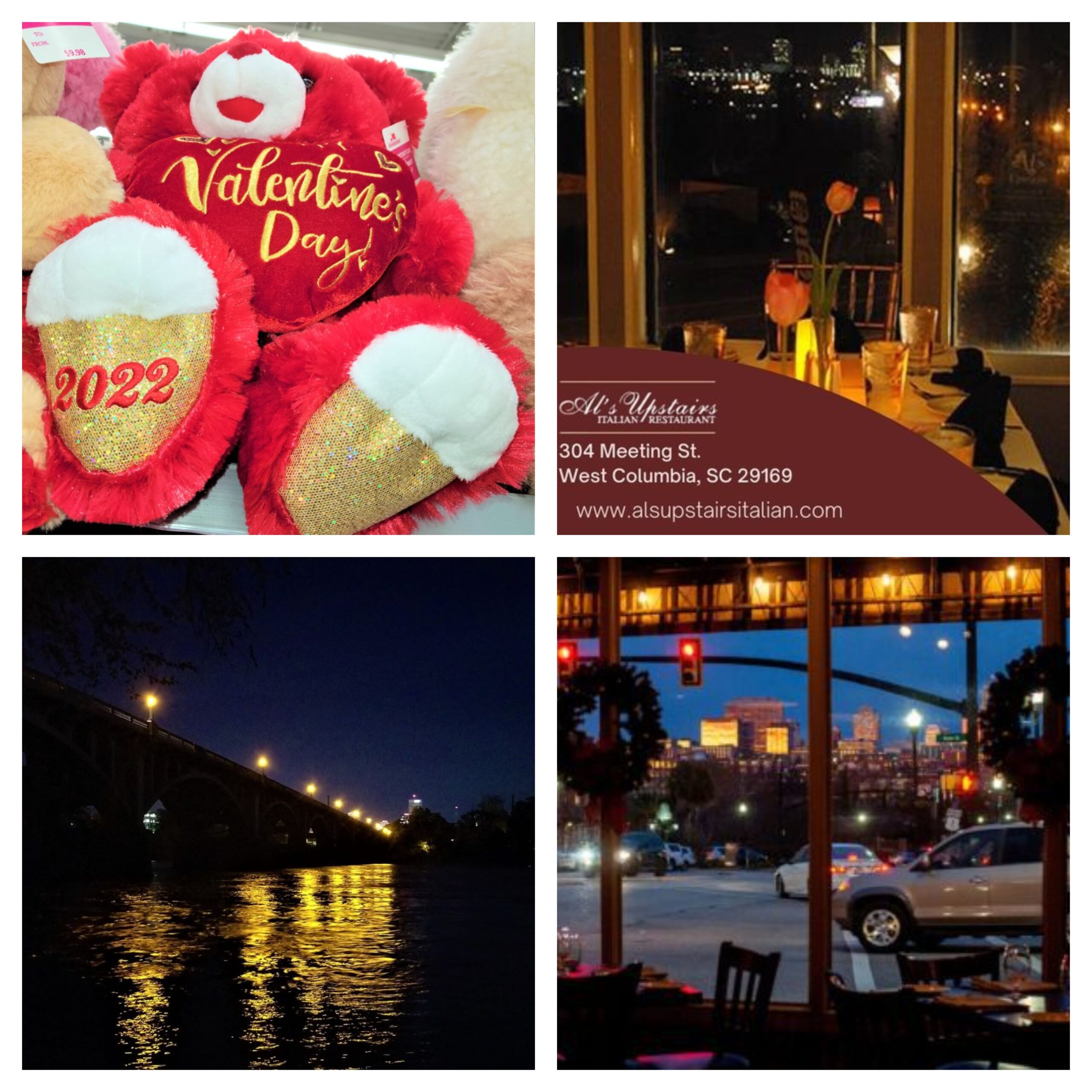 With awesome skyline views, West Columbia is a favorite for Valentine's Date dining
February 10, 2022
|
|
Comments Off

on With awesome skyline views, West Columbia is a favorite for Valentine's Date dining
|
NEWS
Valentine's Day is Monday (Feb. 14) and some will begin to commemorate the occasion this weekend.
Three of the most-famous views of the city skyline are from West Columbia fine dining restaurants.
"We will be busy all this weekend with Valentine's diners," said Mike Davis, expert chef and owner of Terra at 100 State Street in West Columbia's River District. "We'll get crowds in for Valentine's on Friday, Saturday and Monday." Terra is not open on Sunday and reservations are required for the Valentine's stretch.
Al's Upstairs, at 304 Meeting St., also offers a magnificent nighttime view of the skyline in a century-old building. Couples in search of a most-romantic setting reserve a table at Al's for the Valentine date tradition.
"Our reservation list is filling up for Valentine's," said Alan Munn, front house manager of Al's Upstairs. "It's a special time of the year and we are the destination for many Valentine's diners. "
Black Rooster at the corner of Meeting Street and Alexander Road, in the Brookland Development, is a romantic venue that shines in the reflection of the Congaree River. Black Rooster is accepting reservations for Valentine's dining. The French bistro takes reservations at Resy.com or you can call Black Rooster at 803-724-2853.
Moving away from The River District, there are options for a romantic Valentine's date. DeLucca's Italian Grill is at 1720 Sunset Boulevard, West Columbia is also taking reservations. "We have a special four-course meal with wine for Valentine's," said Cody Johnston of DeLucca's. "We want to make it a memorable experience."
Other West Columbia restaurants are also open and may be your choice for you and your Valentine's date. Grecian Gardens at 2313 Sunset Boulevard does not require a reservation. Nick's House of Pizza at 1082 Sunset Boulevard is a favorite of some and it hosts clientele for Valentines. There is no reservation required at Nick's.
And if you need flowers to enhance that special Valentine's date, Jarrett's Jungle at 1621 Sunset Boulevard can help. Valentine's Day is one of the busiest days of the year for Jarrett's Jungle.
Another West Columbia venue for flowers is Three Oaks Florist and Interiors at 142 State Street. It's in The River District and it's another opportunity to shop local in support of your neighborhood businesses. Sightler's Florist and Marketplace is at 716 Meeting Street is also in the River District and a chance to shop local.
West Columbia gives you lots of options as you plan for Valentine's Day 2022.
List of West Columbia restaurants:
Grecian Gardens Restaurant – 2312 Sunset Blvd – 803-794-7552
Cafe Strudel – 300 State St. – (803) 794-6634
Compton's Kitchen – 1118 B Ave – 803 791-0750
Parkland Cakes – 1220 C Ave. – (803) 791-4682
Buttercream Dreams – 1230 C Ave. – (803) 708-4485
Hite's BBQ – 240 Dreher Rd. – (803) 794-4120
The Original Brunches – 2245 Leaphart Rd – (803) 791-7477
Jimmy's Mini Mart/Citgo – 812 Meeting St. – (803) 794-0090
Maurice's Piggie Park – 1600 Charleston Highway – 803-796-0220J
Nick's House of Pizza Restaurant- 1082 A Sunset Blvd – 803-794-9240
Bricks and Stones Pizza 3234 – Augusta Road – (803) 988-9898
DeLuccas 1720 Sunset Blvd. – 803- 926-5255
Ariana's Greek Restaurant – 1720 Sunset Blvd. – (803) 796-4430
Lizard's Thicket – 2234 Sunset Blvd. 803 – 794-0923
Jin Jin Chinese Restaurant – 469 Sunset Blvd. (803) 739-8888
Chick-fil-A -2299 Augusta Rd. – (803) 939-1600
Rush's 2332 Sunset Blvd. – (803) 796-5034