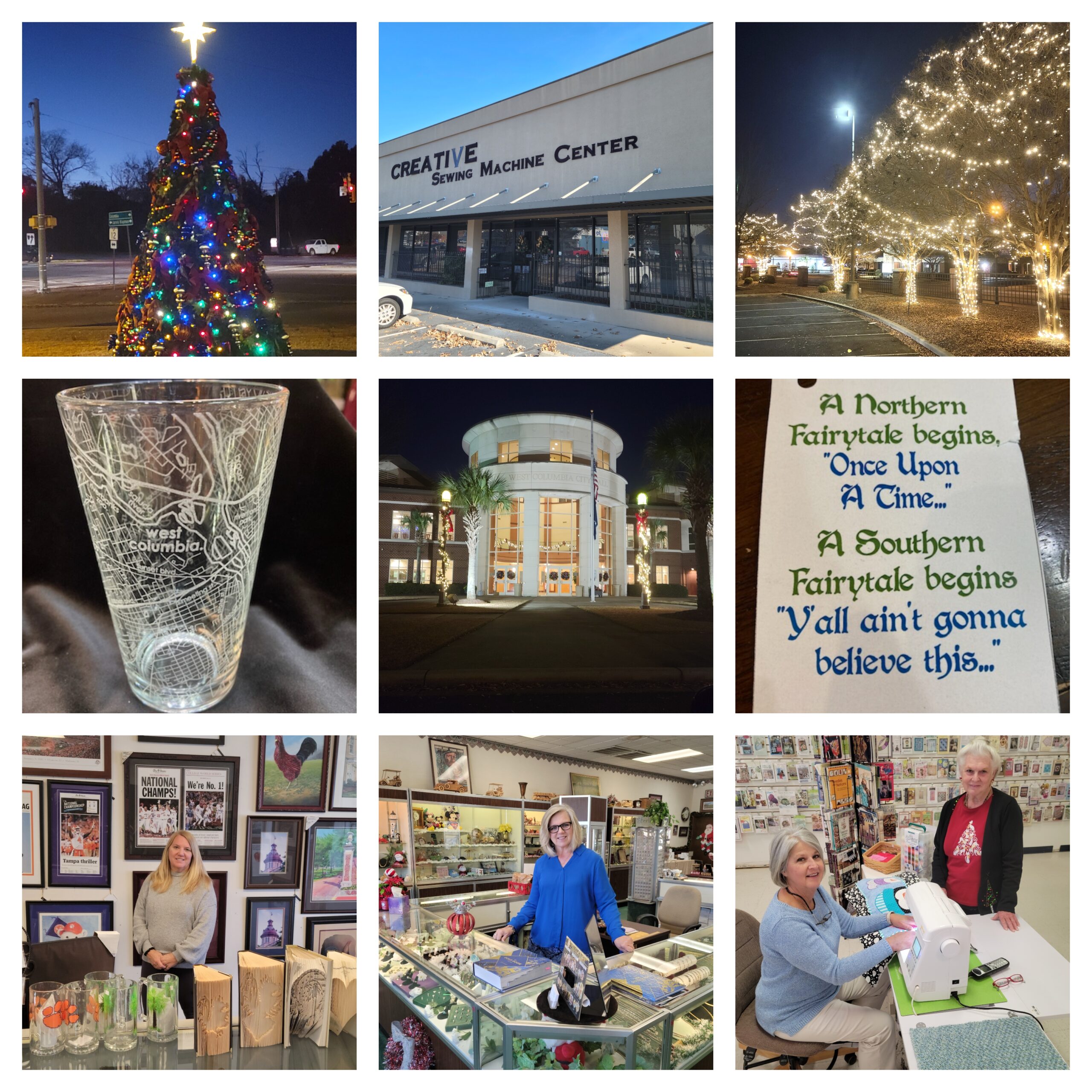 West Columbia shop owners are in the Christmas spirit for unique gifts
December 16, 2021
|
|
Comments Off

on West Columbia shop owners are in the Christmas spirit for unique gifts
|
NEWS
We're in the middle of the Christmas season. There are plenty of shopping days left to get that gift for the special people in your life. West Columbia merchants offer the opportunity for some unique gifts. So be sure you shop local and support your friends and neighbors who are here for you year-round.
Ronnie's Jewelers, is in West Columbia's Triangle City at 710 12th St. It's a Christmas shopping destination.
"We're really busy around Christmas," said Ronnie Jeffcoat, owner of Ronnie's Jewelers. "We sell silver for the children and gold and diamonds for the adults. Jewelry is the perfect Christmas gift. It lasts forever and if it breaks we can repair it. We can clean your jewelry, too."
Ronnie said in addition to earrings, pendants and watches, some decide that the holiday season is a good time to propose marriage. "We actually sell some engagement rings in the Christmas season," he said.
Do you have a hard-to-buy-for person on your gift list? If so, maybe Lisa Phillips at Gold Line Framing, 511 12th St., can help. It is also in Triangle City.
"We're very busy at Christmas," Lisa said. "We still have lots of framed material on the wall. You can walk in and buy it, ready to go."
Gold Line Framing specializes in custom picture framing, gallery art, original art, prints, wedding picture frames, diploma frames, and more.
Subject matter hanging on the walls at Gold Line include: framed University of South Carolina football clippings; USC baseball clippings; views of Williams-Brice Stadium; The South Carolina State House; Clemson football pages; and views from the air of Clemson's Death Valley.
Another Triangle City business is Creative Sewing Machine Center. It's an 18,000 sq.-ft. retail facility at 517 12th St. that has been a mainstay in West Columbia's Triangle City for more than 20 years. The shop stocks everything you need for sewing, quilting, embroidery, and heirloom sewing.
Creative Sewing Machine Center markets sewing and embroidery machines by Babylock and Janome, with an inventory of 5,000 bolts of fabric, said owner Peggy Ledford. The shop is a favorite for some at this time of the year.
"We have lots of customers come in for Christmas shopping," said Susan Sease, who works at Creative Sewing Machine Center. "We not only sell the sewing machines, but we include unlimited training at no extra cost. "We have all the accessories, too."
If you'd like to give a more personal gift, contact Marci Delaney at 131 State St. She is the owner of Spa 131.
"A gift certificate for a spa visit is a way to tell someone to take care of themselves," Marci said. "Spa 131 is here to pamper you and help you relieve stress."
Staying on State Street, you can be sure to find gift at State Street Trading Co.
"The map wine glasses are a great gift and we're selling a lot of them," said Lainie Lewis, owner of State Street Trading Co. "They have a map of West Columbia on them and we sell them with maps of Cayce, Columbia and Clemson."
The Meeting Street Artisan Market will be open at 9:30 a.m. Saturday (Dec. 18.) It will not be open Christmas Day or New Year's Day. It is adjacent to the Interactive Art Park, at 425 Meeting Street.
At the Meeting Street Artisan Market you can find scented candles; coffee gift packages; local art; leather bags; woodwork, crafts; and more.
There are also many other shops too. Below is a list:
Studio 221 Interiors
Tall Oaks Boutique
Preserve & Co.
Always Original Bakery
Old Mill Antique Mall
Three Rivers Antiques
763 Meeting Street Antiques
Buttercream Dreams
Meeting Street Interiors
Attic Fanatic
ADD VINTAGE
Parks Furniture Antiques Ltd
The Elephant Trunk
The Warehouse SC