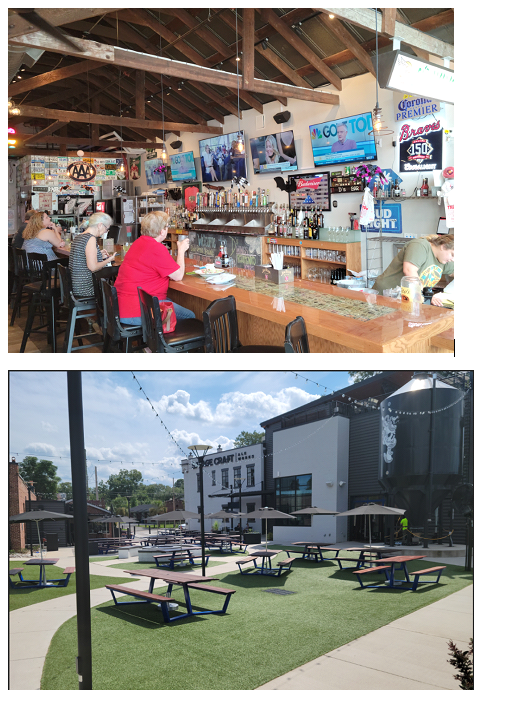 West Columbia restaurants anticipate the beginning of college football, Saturday
September 2, 2022
|
|
Comments Off

on West Columbia restaurants anticipate the beginning of college football, Saturday
|
NEWS
College football is a boon to some of West Columbia River District businesses. The University of South Carolina plays its first football game of 2022 this Saturday (Sept. 3.) The Gamecocks open the season at 7:30 pm., versus Georgia State. Clemson opens versus Georgia Tech at 8 p.m. on Labor Day (Sept. 5.)
"We have people, good crowds, come in to watch college football," said Billy Rentz of D's Wings. It's at 415 Meeting St. in West Columbia, near the Meeting Street Artisan Market. The market is open from 11 a.m. until 3 p.m. on Saturdays. So you can get a deal at the market and then catch some college football at the adjacent restaurants.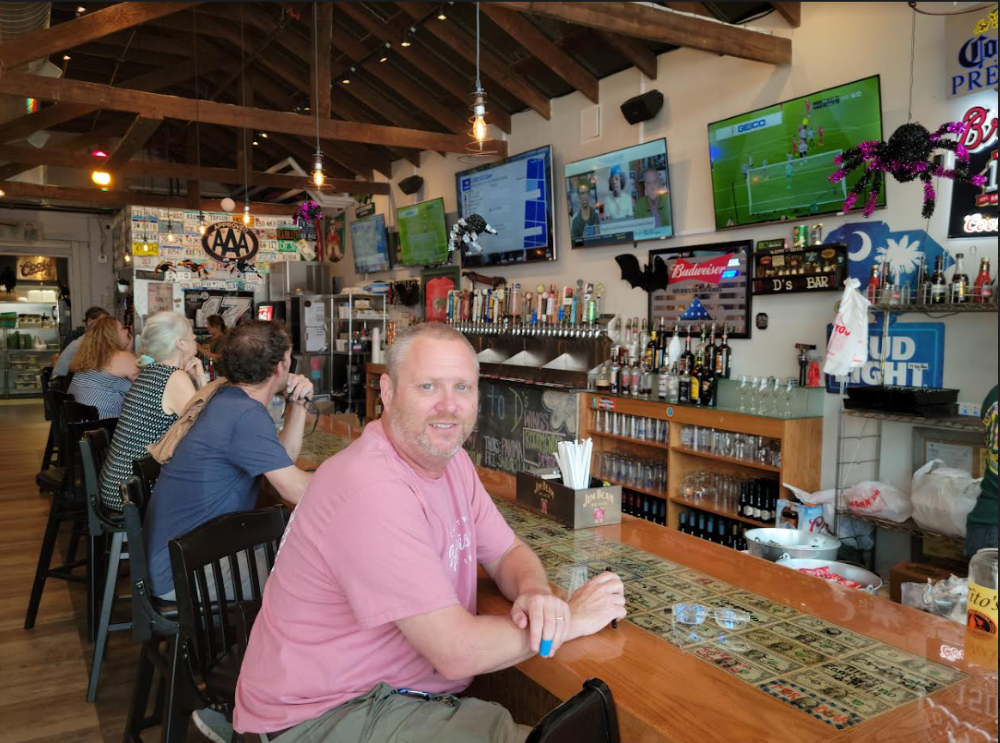 There are more than a dozen TVs in D's, so you're going to be able to see your game.
"During the day we get a good crowd," Rentz said. "But when the Gamecocks play at night, we're not as busy. People come and stay, there's not a lot of traffic. They are where they are going to stay while they watch the game."
In addition to walk-in traffic, D's fills a multitude of tailgate orders in the college football season. When the Gamecocks are in town, the fans come in to get orders for their tailgate party. If USC is on the road, the orders are for home-viewing TV parties.
Teriyaki wings and lemon pepper wings are the biggest sellers for tailgaters. The medium Buffalo and the hot Cajun wings are popular, too.
"We'll sell anything on the menu," Rentz said, "but most everybody wants wings."
D's produces a lot of raw fries on football Saturdays, too. Up to 400-to-500 pounds of potatoes are cooked on gameday.
Savage Craft Ale Works, 430 Center St., is a neighbor to D's. The two establishments are separated by the West Columbia Interactive Art Park.
"We will have football games playing on TV at Savage Craft throughout the season, whenever they broadcast," said Victoria Porter, Savage Craft's manager. And everyone is always welcome to come watch.
"Whatever the day, the weather, home or away, early or late game, Savage Craft has become a sort of family and pet friendly place to watch the games. We're less crowded, with free parking, and there is plenty of space for the kids to run while the adults enjoy Saturday afternoon football."
Rentz said many of his customers will leave D's after eating and stroll over to Savage Craft.
"Savage Craft has live music and it's a good place to go have a beer," Rentz said. "We love having them for neighbors."
WECO Bottle and Biergarten is open at 626 Meeting Street. It's a great place to have a craft beer on football Saturdays in the West Columbia River District.
There are many great West Columbia restaurants to enjoy before or after the big game. A list is below:
Grecian Gardens Restaurant – 2312 Sunset Blvd – 803-794-7552
Cafe Strudel – 300 State St. – 803 – 926-5255
West Columbia Fish Market – 529 N. 12th St. 803-851-1171
Compton's Kitchen – 1118 B Ave – 803 791-0750
Breads and Such – 1220 C Ave. – (803) 851- 0566
Buttercream Dreams – 1230 C Ave. – (803) 708-4485
Hite's BBQ – 240 Dreher Rd. – (803) 794-4120
The Original Brunches – 2245 Leaphart Rd – (803) 791-7477
Jimmy's Mini Mart/Citgo – 812 Meeting St. – (803) 794-0090
Maurice's Piggie Park – 1600 Charleston Highway – 803-796-0220J
Nick's House of Pizza Restaurant- 1082 A Sunset Blvd – 803-794-9240
DeLuccas 1720 Sunset Blvd. – 803- 926-5255
Ariana's Greek Restaurant – 1720 Sunset Blvd. – (803) 796-4430
Lizard's Thicket – 2234 Sunset Blvd. 803 – 794-0923
True BBQ – 1237 D Ave – (803) 791-9950
Jin Jin Chinese Restaurant – 469 Sunset Blvd. (803) 739-8888
Chick-fil-A -2299 Augusta Rd. – (803) 939-1600
Rush's 2332 Sunset Blvd. – (803) 796-5034
Breakfast at Ruiz – 116 State St. – 803 -550-9681