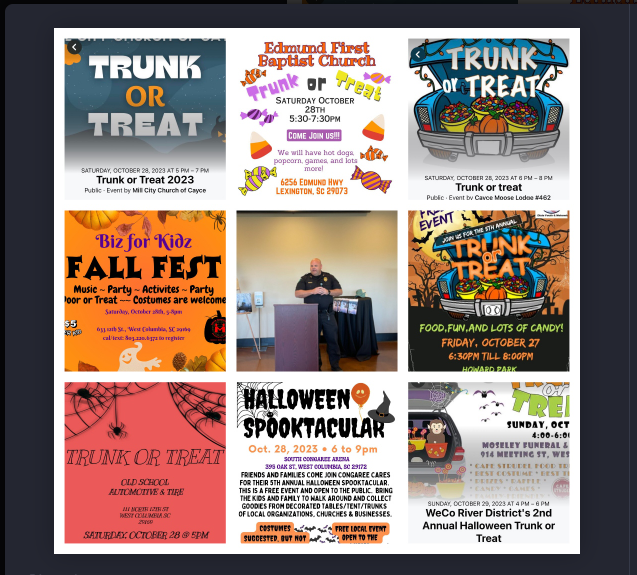 West Columbia Police Chief Marion Boyce Gives Safety Recommendations for Halloween – See a list of Trunk-or-Treat events
October 25, 2023
|
|
Comments Off

on West Columbia Police Chief Marion Boyce Gives Safety Recommendations for Halloween – See a list of Trunk-or-Treat events
|
NEWS, Social Media
Halloween is Tuesday, Oct. 31. And while kids are anticipating treats, they should also be cautious, said West Columbia Police Chief Marion Boyce. In addition to all of the door-to-door candy collecting on Halloween night, there are several Trunk or Treat events beforehand in West Columbia. (See list below)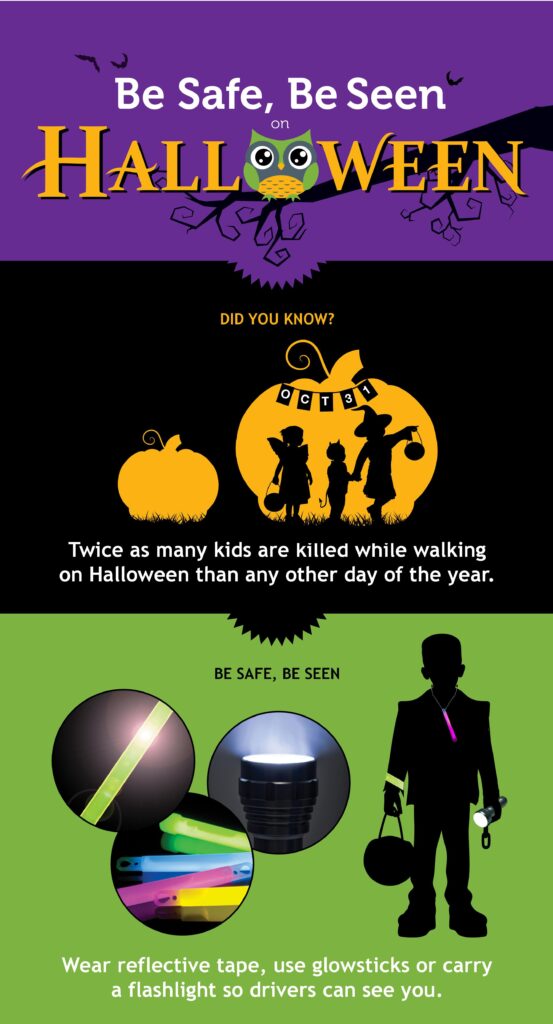 There are lots of kids out on the streets on Halloween night and that can increase the risk, according to Safe Kids Worldwide So be sure to put safety first.
Chief Marion Boyce said there are precautions that can be taken to protect your child and the WCPD will also be out to help.
"We will have units out on patrol," said Boyce. "We'll have them out there just for Halloween."
Boyce also offered some safety tips: "Be on the lookout, of course, for on-coming cars," said Boyce. "And children should have an adult with them. "Don't let your child go out alone," Boyce said.
Boyce said Trick-or-Treaters should wear bright-colored clothes and flashlights or glow sticks so that they can be seen more easily. Boyce said it is important to be cautious and parents should walk their child to the door and don't let them go inside.
He also advised inspecting the candy given to kids on Halloween. Make sure none of it has been re-wrapped. If anything looks suspicious or like it's been tampered with; if it looks out of place, don't eat it.
Boyce recommended Safe Kids Worldwide as an online resource that outlines precautions for kids on Halloween.
Below are some safety tips from that site.
Carry glow sticks or flashlights, use reflective tape or stickers on costumes and bags, and wear light colors to help kids see and be seen by drivers.
Join kids under age 12 for trick-or-treating.
Slow down and be alert! Kids are excited on Halloween and may dart into the street. Turn on headlights early in the day to spot kids from further away.
Remind kids to cross the street at corners or crosswalks.
When selecting a costume, make sure it is the right size to prevent trips and falls.
Choose face paint over masks when possible. Masks can limit children's vision.
In addition to door-to-door trick or treating, there will be several Trunk-or-Treat opportunities in West Columbia. See below: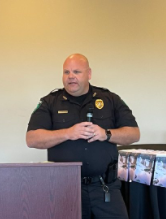 Lexington Two's high schools are inviting the community to their family-friendly Halloween trick-or-treat events. Student organizations, faculty and staff, and other volunteers will be handing out candy, and costumes are encouraged.
Airport High School's Trick or Treat Lane is set for 6:30 p.m.-8:30 p.m. Friday, October 27, on the school campus, 1315 Boston Ave., West Columbia.
Brookland-Cayce High School's Trunk or Treat is set for 5 p.m.-6:30 p.m. Thursday, October 26, on the school campus, 1300 State St., Cayce. District and community families are invited. Admission is free to both events.
More Trunk-or-Treat events:
The Fifth Annual Cayce-West Columbia Dixie Youth Baseball Trunk or Treat is from 6:30 p.m. until 8 p.m. on Friday at Howard Park behind Northside Middle School and Riverbank Elementary School, off of Sunset Blvd. in West Columbia. It's a FREE event. There will be food, fun and lots of candy.
Providence Presbyterian Church will host the FREE Community Trunk or Treat from 6 p.m. until 8 p.m. Friday. All are welcome.
The Old School Automotive Trunk or Treat is at 5 p.m. at 111 N. 12th St., West Columbia on Saturday.
The WECO River District's Second Annual Trunk or Treat is from 4 p.m. until 6 p.m. on Sunday at Moseley Funeral and Cremation, 914 Meeting St., West Columbia. It's a family-friendly event. Cafe Strudel's Food Truck will be on-site. There will be a Best Costume competition and a Best Trunk competition. There will also be prizes, raffles, cand and games.
Biz for Kidz Fall Fest at Mota Crosslinking Business Academy from 5 p.m. until 8 p.m., Saturday at 633 12 St. West Columbia. The party consists of music; treats and other activities. Costumes are welcome. $5 admission – Call or text to 803-220-6372 to register.
Peter Boulware Toyota on Sunset Blvd. in West Columbia will present a Trunk or Treat event from 5 p.m. until 7 p.m. on Friday, with vehicles decked out in delightful decorations. Bring your ghosts, goblins, pirates, princesses, and superheroes.
Boo at the Zoo is going on until Oct. 30. It's family friendly Halloween fun at Riverbanks Zoo. Trick or treat through the Zoo; try your hand at some hocus-pocus at Ray's Moonlight Magic Show; and beware of the ghosts and goblins you'll encounter.
Platt Springs United Methodist Church is holding a Harvest Festival from 4 p.m. until 5:30 p.m. on Sunday at 3215 Platt Springs Rd., West Columbia. There will be food, games, prizes, a bounce house and more.
The Fifth Annual South Congaree Halloween Spooktacular will be held at the South Congaree Arena from 6 p.m. until 9 p.m. on Saturday. It's free and open to the pubic for kids and families to collect goodies from churches, businesses and local organizations. Costumes suggested.
The City of West Columbia has you covered for Halloween and the WCPD will be out to help make the night as safe as possible.