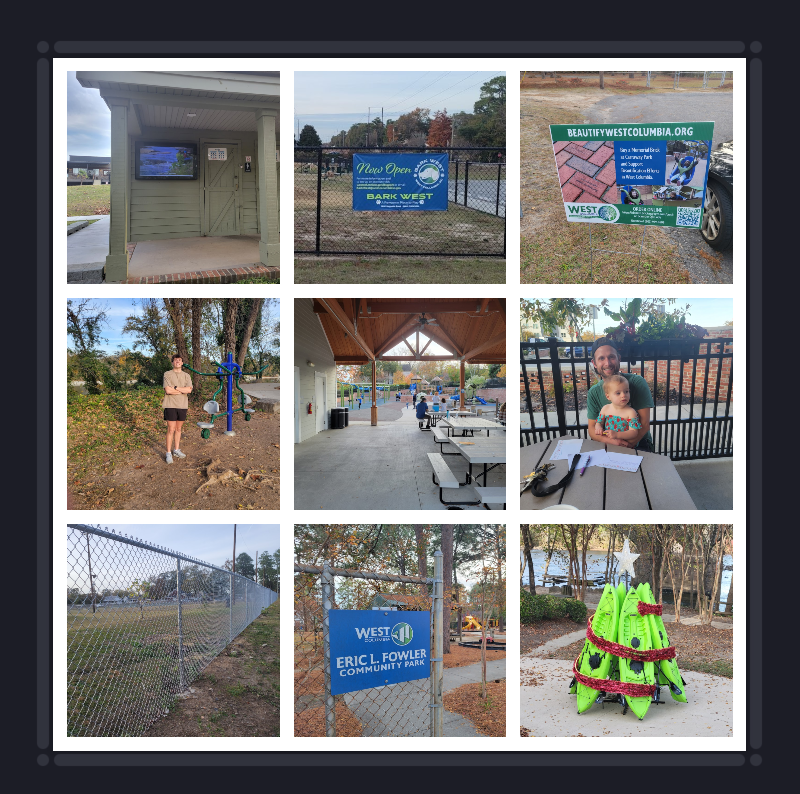 West Columbia parks offer a variety of features from fitness equipment and tennis courts to baseball fields and more
November 15, 2023
|
|
Comments Off

on West Columbia parks offer a variety of features from fitness equipment and tennis courts to baseball fields and more
|
NEWS, Social Media
Mail a letter to Santa or put your dog through an obstacle course. West Columbia parks offer many opportunities for children and grown-ups, too.
"I come over here to run and workout on the equipment," said Heath Arick. He's a junior at the University of South Carolina. He said he comes to West Columbia's Riverwalk to run every day. Heath also stops to work his muscles on the fitness equipment along Riverwalk.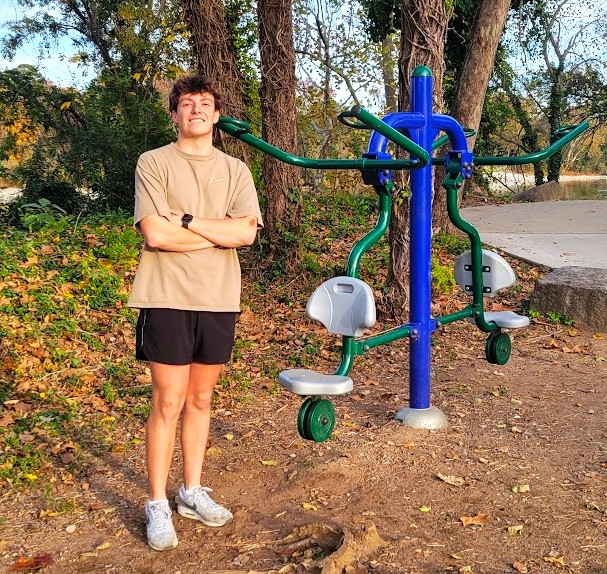 Visitors can walk, run, or bike along the path and stop to use each piece of equipment for a well-rounded workout with a beautiful view of the Congaree River. The 11 pieces of equipment are strategically placed and include a Double Glider, Single Fit Rider, Double Sky Walker, Double Station Lat Pulldown, Single Sit-Up Bench, Triple Inclined Chin-Up Bars, Double Station Leg Press, Single Push-Up Bar, Double Station Chest Press, Double Dip Station, and a Single Station Country Skier for a combination of a strength and cardiovascular workout on the approximately one-mile stretch of the Riverwalk, in either direction from behind the amphitheater.
Heath also said he has taken advantage of Riverwalk because the weather has been good and he loves to see the "gorgeous houses" along the river trail.
Ian McClure lives on D Avenue in West Columbia. He and his two children, Korinna and Samuel, are regulars at Eric Fowler Community Park at 1800 C Ave. It's convenient, with lots of playground equipment and the park is close to his home.
"I've lived in bigger cities and the West Columbia parks are so clean and safe," McClure said. He was at Carraway Park, 212 Hudson Street, across from Riverwalk, Tuesday.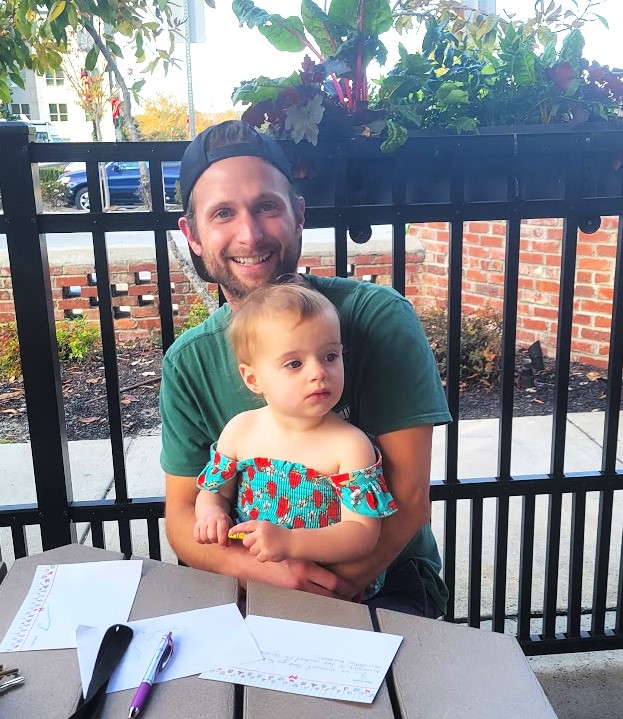 "We come to the parks all the time," Ian said. "We spend a lot of time here and we have a great time."
Virginia Shropshire, of Columbia, was also at Carraway Park Tuesday with her two children.
"We love this park because it's close to the Riverwalk," she said. "We can exercise at Riverwalk and then come over to the park for the playground."
Virginia also said her children have mailed letters to Santa while at the park.
Children can bring their letters or use the provided postcards at the Santa Post Office and drop them in Santa's mailbox at Carraway Park.
Santa's mailbox accepts letters until December 13, for a response by Christmas. The mailbox will accept letters through December 24, however, if a letter is placed in the box after December 13, a response from Santa might not make it back in time before Christmas Day. All information can be found at www.westcolumbiasc.gov/santasmailbox
Other parks in West Columbia have seen upgrades recently.
The B Avenue Ball Field and Butler Park, 1100 Raleigh Street have new fencing and new restroom facilities. A pickleball court will be added on B Avenue and the basketball courts have been improved at Butler Park.
Some parks also feature free public WiFi; picnic shelters; tennis courts; an electric car charging station; bicycle repair stations; restrooms and more. So get out and enjoy all West Columbia parks have to offer.
West Columbia Public Parks
B Avenue Ball Park – 815 B Avenue (Baseball, Football, Restrooms)
Carraway Park at the Riverwalk – A Place for All Children to Play Together – 212 Hudson Street (Restrooms, Covered Picnic Tables (First Come, First Serve), All-Inclusive Playground
Douglas Reeves Community Park – 761 Augusta Street (Tennis, Playground, Restrooms, Bicycle Repair Station, FREE Public Wi-Fi)
Rosamunda Percell-Butler Community Park – 1100 Raleigh Street (Basketball, Playground, Picnic Shelter, FREE Public Wi-Fi)
Fowler Community Park – 1800 C Avenue (Playground, Picnic Shelter)
TriCity Leisure Center
Howard Sports Complex – Baseball and Softball fields
Interactive Art Park – 425 Meeting Street (Interactive Art Sculptures, FREE Public Wi-Fi, Parking)
Moffatt Street Entrance to the Riverwalk – 100 Riverside Drive, West Columbia (Bicycle Repair Station, FREE Public Wi-Fi)
West Columbia Riverwalk Park and Amphitheater – 109 Alexander Road, West Columbia (Bicycle Repair Station, Restrooms, FREE Public Wi-Fi)
Bark West Dog Park – 1940 Augusta Road (Membership required)