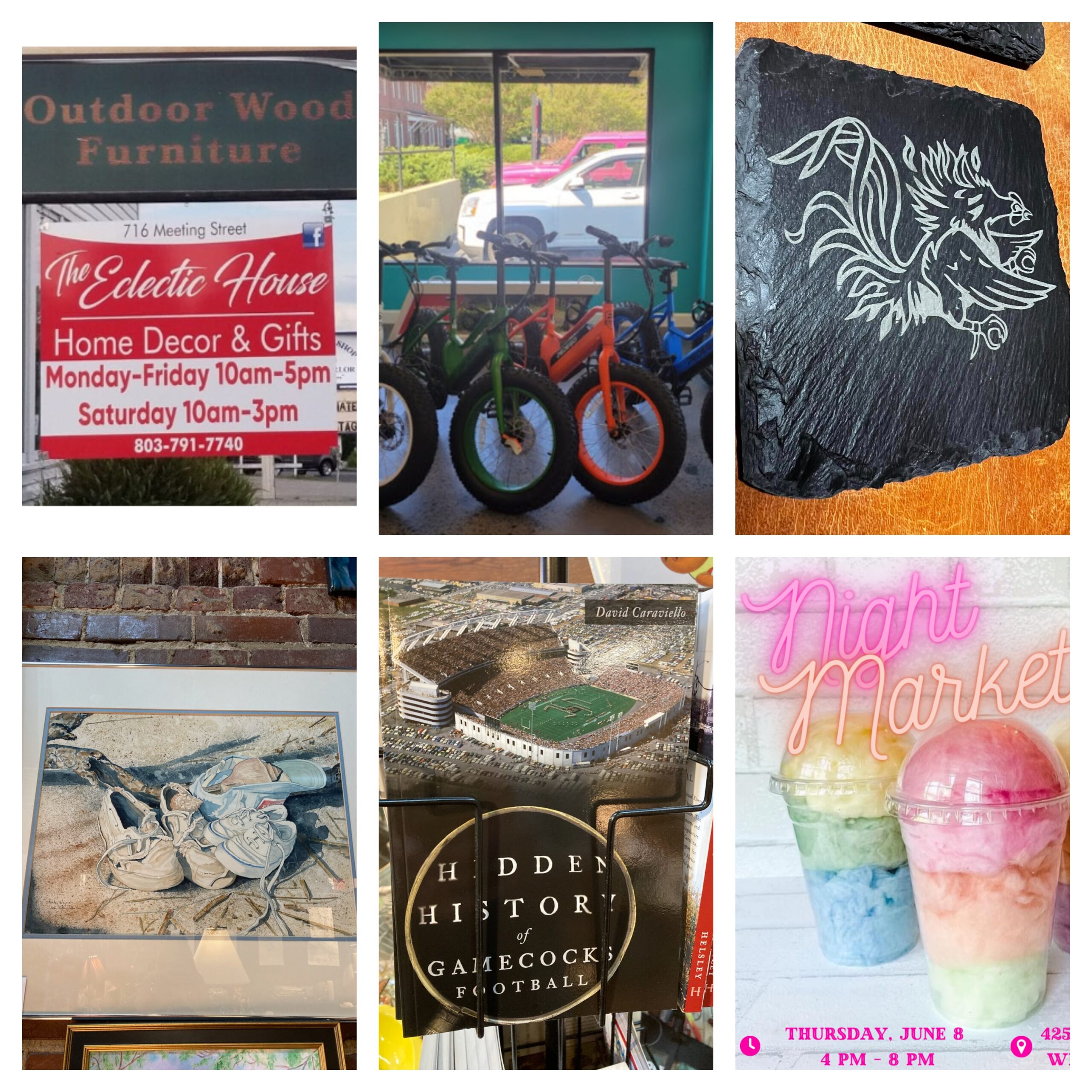 West Columbia offers great ideas for Father's Day gifts, at the West Columbia Meeting Street Artisan Market, or the unique shops
June 8, 2023
|
|
Comments Off

on West Columbia offers great ideas for Father's Day gifts, at the West Columbia Meeting Street Artisan Market, or the unique shops
|
NEWS, Social Media
It's time to look for that Father's Day gift.
This year, Father's Day falls on Sunday, June 18. The nation's first Father's Day was celebrated on June 19, 1910, in the state of Washington. However, it was not until 1972 that the day honoring fathers became nationally recognized.
There are some opportunities for unique gifts for father in West Columbia.
There are several vendors at the West Columbia Meeting Street Artisan Market. It's next-to West Columbia's Interactive Art Park at 425 Meeting St. The market is open from 11 a.m. until 3 p.m. every Saturday. It offers a multitude of gift items. There is also an evening version of West Columbia's Meeting Street Artisan Market on Thursday (June 8) from 4 until 8 p.m.
"The Hope Chest will be at the market," said Brittany Raven, who coordinates the market. "Hope Chest sells products made from wood, including a wooden beer mug that would be great as a gift for dad."
One Tribe Designs is another Meeting Street Artisan Market vendor. Raven said One Tribe Designs offers customized signs and wooden trays that can be emblazoned with dad's favorite brands or sports team.
If you want to get dad out and about, there are options, too.
Pedego Electric Bikes Soda City opened at 521 Meeting St., in November. Owner Coker Day said an electric bike is an excellent gift for dad.
"We have a lot of husbands who come in and buy bikes for their wife," he said. "If the husband gets a bike, the husband and wife can ride them together."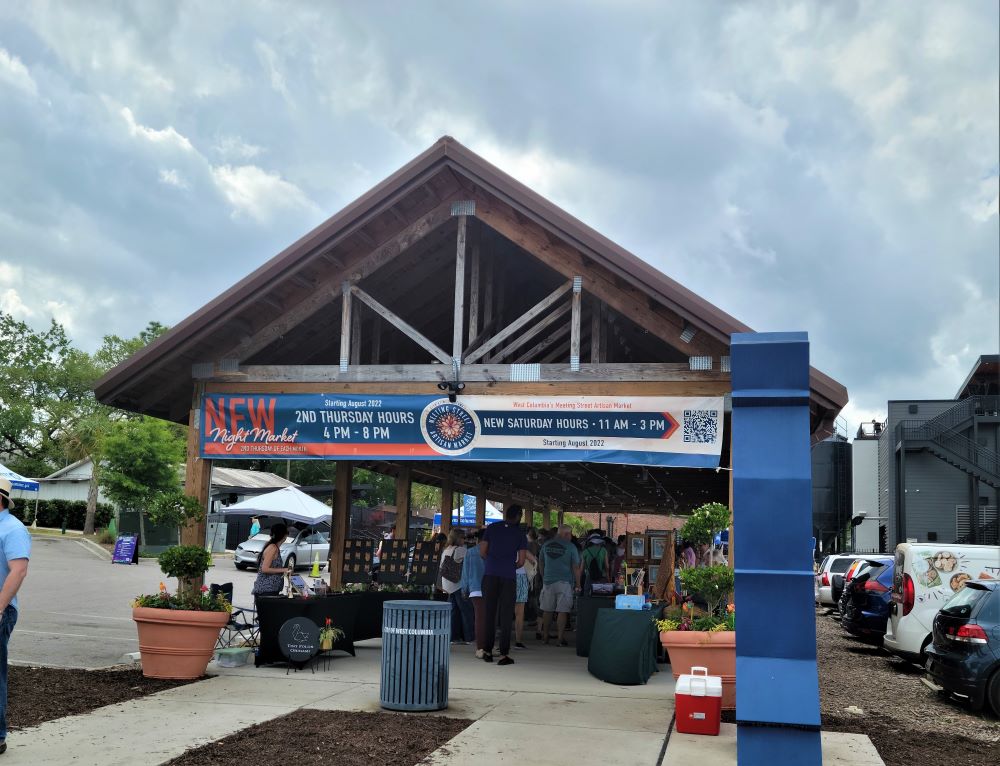 In addition to bikes, Day said Pedigo sells an array of accessories, including helmets, bike racks and other fun add-ons.
If you're not sure about an electric bike yet, Pedigo also sells gift certificates that can be purchased online at https://pedegoelectricbikes.com/dealers/west-columbia/
"The gift cards are a great idea," said Day, "Rent a bike for an hour or for a half-day. It's a chance to enjoy the bike and decide if it's something you want to buy."
Many fathers are sports fans and they like the Gamecocks. At State Street Trading Co. at 134 State St. you can find something for dad.
"We have a book by David Caraviello entitled 'Hidden History of Gamecock Football.' It's the perfect gift for USC football fans," said Lainie Lewis, owner of State Street Trading Co.
Lewis said her shop also has a "Like Father Like Son" water color. It depicts a pair of dad's shoes with a tiny pair of shoes thrown down beside them. It's by SC artist Stanley Wayman.
"The painting is a very sweet reminder of the very special relationship between father and child," Lewis said.
Bill McEntire at Outdoor Wood Furniture at 718 Meeting Street in West Columbia, said he can help find that special Father's Day gift or a gift for the grandfather.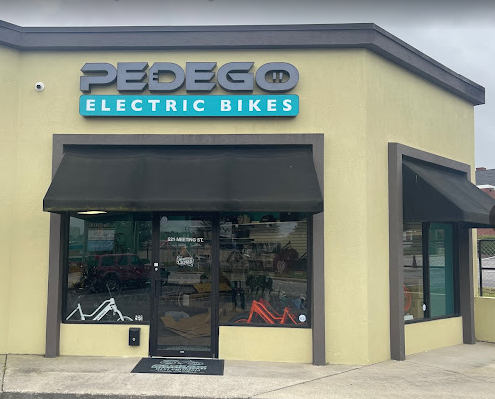 "We have handcrafted Troutman wooden rocking chairs," McEntire said. "These chairs are very high-quality. They are made in North Carolina. The company was founded in 1924. These chairs will last a lifetime. The rocking chairs are also made with a poly material if you want to leave them out in the weather."
Other gift ideas at Outdoor Wood Furniture include the Solo Stove Bonfire 2.0 that creates an efficient burn that's mesmerizing to watch. The shop sells the Tervis Tumbler with Gamecock and Tiger logos and Guy Harvey and Jimmy Buffet licensed products.
Gifts
Eclectic House – 716 Meeting Street
State Street Trading Company – 134 State Street
Carolina Pottery – 2816 Augusta Road
West Point Coins – 132 State Street
Old Mill Antique Mall – 310 State Street
763 Antique Mall 763 Meeting Street
Dining
Grecian Gardens – 2312 Sunset Blvd.
Cafe Strudel – 300 State Street
Savage Craft Ale Works – 430 Center St.
Compton's Kitchen – 1118 B Ave.
Terra – 100 State St.
Zesto of West Columbia – 504 12th Street
Buttercream Dreams – 1230 C Avenue
Artisan Market Vendors
22 Memory Lane
Alanie Designs
BAMF Design Studio
Benji Hicks Art
Cindy's Turn
Eaddy Acres
Earthwear Jewelry
Entangled Jewelry
Faithful Foods Inc.
KLJ Custom Designs
One Tribe Designs
Q Borough Candle Bar
Reveca Camacho Designs
Sandy's Pottery Shop
Simply Sugar
Symphony of Aromas
The Hope Chest