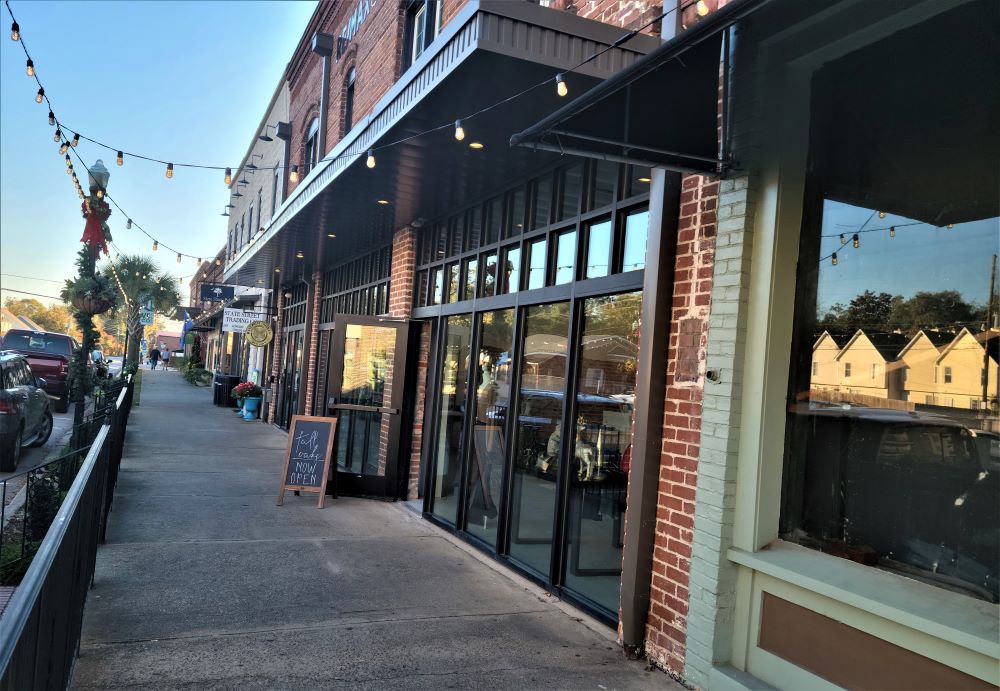 West Columbia merchants ready for Small Business Saturday and the holiday shopping season
November 24, 2021
|
|
Comments Off

on West Columbia merchants ready for Small Business Saturday and the holiday shopping season
|
NEWS
Get ready for Small Business Saturday in West Columbia and the onslaught of the holiday shopping season.
Small Business Saturday encourages consumers to shop in your community and support local businesses. Small Business Saturday is this Saturday and it's now the holiday shopping season.
There are lots of West Columbia stores that are ready for Small Business Saturday. And this year there are some new options to shop local. Those small businesses in West Columbia count on your support.
"Our doors are open and we welcome local shoppers," said Sierra Barton, owner of Tall Oaks Boutique that opened on Nov. 5, on State Street in West Columbia. "We're happy to offer a place to buy women's apparel. We have children's clothes, too."
Preserve and Co. opened at 731 Meeting St. Wednesday. It's a women's clothing boutique that markets: hats; outerwear; tops; bottoms; accessories; jewelry; shoes; and dresses. Preserve and Co. offers gift cards too.
"We're a little anxious and a lot excited about our opening," said Shikila Tucker-Curry, Preserve and Co. owner. She said she and her husband have been anticipating their small business in West Columbia and they can't wait to get started.
In addition to those two clothing shops, mom-and-pop shops, restaurants and service providers are looking forward to Small Business Saturday. The Meeting Street Artisan Market is open every Saturday from 9:30 a.m. until 1:30 p.m. It's open this Saturday.
Susie Day found out about the Artisan Market when she came out for the West Columbia Fall Back Fest on Nov. 5. The Artisan Market was open for the evening during the Fall Back Fest.
"I visited all of the vendors at the Artisan Market," Day said. "It was not just shopping, it was an experience. I loved stopping at each booth and talking about the items for sale. I bought a leather bag and I love it. I saw lots of things I like and I will come back for my Christmas shopping."
Studio 221 Interiors opened last Friday at 537 Meeting St. It is owned by Kerri and Brian Hubbard. The business sells furniture, décor items and gifts, among other things.
"We're here in West Columbia because this area is really growing," Brian said. "We've received lots of local support and we invite everyone in to shop for the holiday season."
Another recently opened business in West Columbia is Always Original Bakery. George Grogan is one of the owners and he said he can help you with your baking for the holiday season.
"We've already started baking for the holidays, George said Tuesday at the C-WC Chamber Breakfast.
If you're going to be doing a lot of shopping in the next couple of weeks or so, make West Columbia small businesses your destination.
Small Business Saturday provides an excellent opportunity to patronize some West Columbia's specialty shops and antique stores. Some are listed below:
State Street Trading Co.
134 State Street
(803) 550-9048
Old Mill Antique Mall
310 State St
(803) 796-4229
Three Rivers Antiques
615 Meeting St
(803) 814-2102
763 Meeting Street Antiques
Antique furniture store
763 Meeting St
(803) 796-1516
Meeting Street Interiors
614 Meeting St
(803) 791-0008
Attic Fanatic
251 Charleston Hwy
(803) 828-4036
ADD VINTAGE
1217 Augusta Rd
(803) 821-8208
Parks Furniture Antiques Ltd
3131 Sunset Blvd
(803) 791-4071
The Elephant Trunk
2931 Platt Springs Rd
(803) 791-8765
The Warehouse SC
312 State St
(803) 834-7557