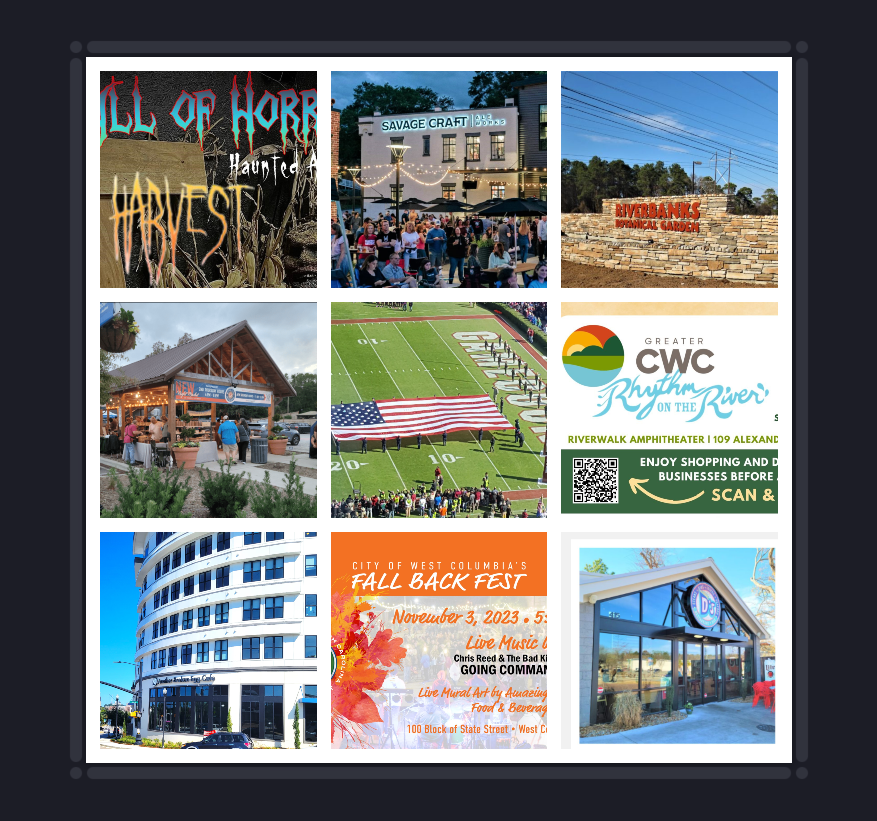 West Columbia fall: Rhythm on the River, Gamecock football, Halloween horrors, Another Broken Egg, new Attic Lounge and D's Wings
October 12, 2023
|
|
Comments Off

on West Columbia fall: Rhythm on the River, Gamecock football, Halloween horrors, Another Broken Egg, new Attic Lounge and D's Wings
|
NEWS, Social Media
Rhythm on the River begins Friday, Gamecock football is Saturday, Boo at the Zoo coming soon, and the Fall Back Fest is Nov. 3. There is so much to do in West Columbia at this time of the year. 
And Another Broken Egg and the Attic Lounge have just opened on State Street, while Ds Wings and Savage Craft Ale Works welcome fall crowds too.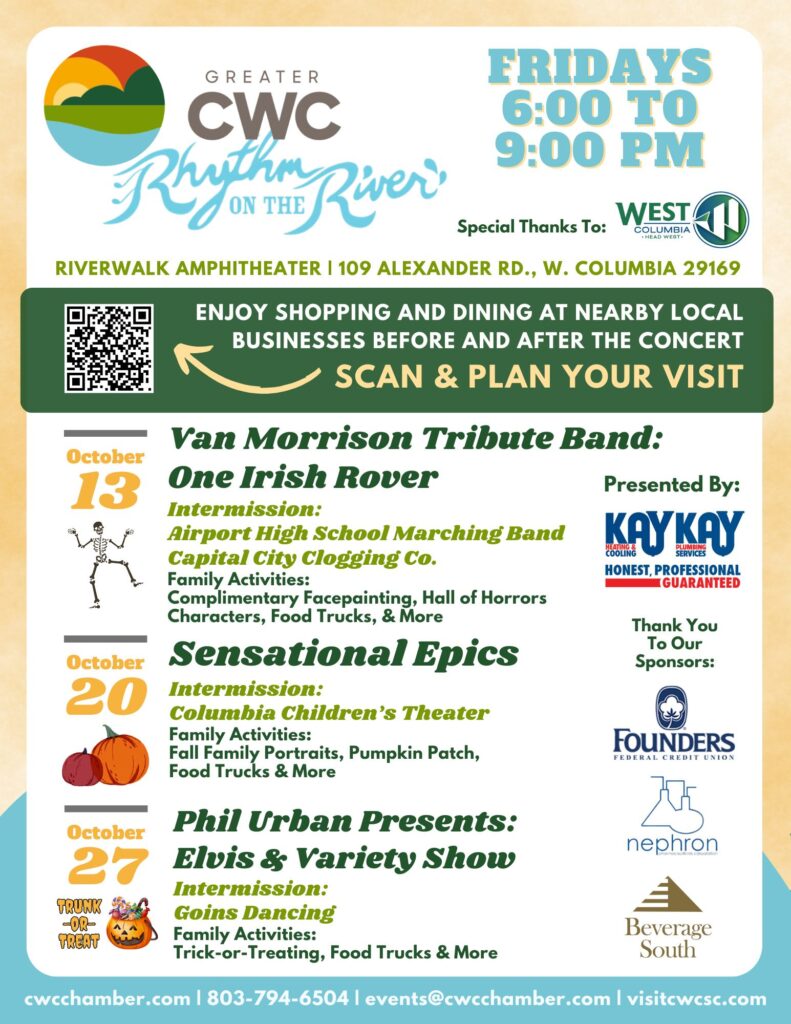 You can kick-off your weekend on Friday evening with the Rhythm on the River concert and then get ready for the Gamecocks to take on Florida at 3:30 p.m., Saturday at Williams-Brice Stadium in Columbia.
But before you go to the game, get breakfast or brunch at Another Broken Egg that just opened at 101 State St. Cafe Strudel, The Hideout in WECO and Breakfast at Ruiz are other popular breakfast and brunch spots on State Street. 
After the game, check out the new Attic Lounge at 134 1/2 State St. or get a craft beer at Savage Craft Ale Works at 430 Center St.
If you would rather watch the USC-Florida game on TV, go to D's Wings at 415 Meeting St. It has been voted as the No. 1 spot in the state for wings and it's also known as the best place in town to watch college football. Billy Rentz owns D's with Scott Thurber. The received a resolution from West Columbia City Council on Tuesday. Billy told the council that moving his restaurant to West Columbia in 2021 has been a huge success and he is very glad to be here. 
The Rhythm on the River Fall Concert Series begins Friday – Van Morrison Tribute Band: One Irish Rover
"We've made an effort to attract an out-of-town audience to Rhythm on the River. We want those who are in town for the Florida versus South Carolina football game to come, too," said Steve Cohen, a 20-year volunteer for Rhythm on the River and a member of the West Columbia Beautification Foundation.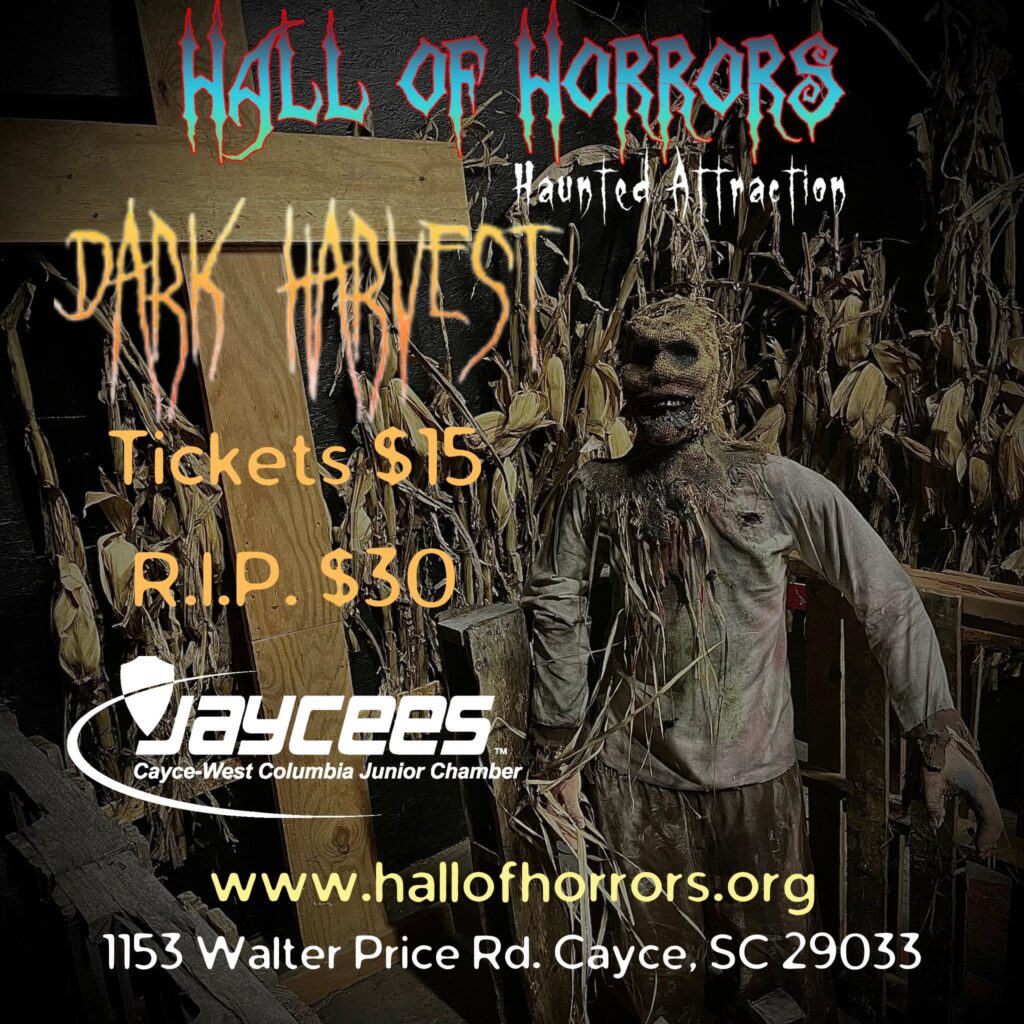 Cohen said Rhythm on the River has been upgraded this year and it has been advertised to college football fans.
The Greater Cayce-West Columbia Chamber presents Rhythm on the River from 6 p.m. until 9 p.m. on Fridays at the West Columbia Riverwalk Amphitheater. The shows are sponsored by the City of West Columbia.
In addition to the music, look for local intermission acts, food, beverages and "spooky fun" throughout the Halloween month."
The Rhythm on the River schedule is as follows: Oct. 13th: Van Morrison Tribute Band: One Irish Rover; Oct. 20th: Sensational Epics; and Oct. 27th: Phil Urban Presents Elvis with Full Live Band and Variety Show.
Boo at the Zoo
Boo at the Zoo begins at Riverbanks Zoo and Botanical Garden begins on Oct. 20 and it runs until Oct. 30. It is a family-friendly place to trick-or-treat and enjoy the Halloween experience this year.
Kids can dress up in their costumes and go trick-or-treating all over the zoo. Click here for more info
Tips fo Boo at the Zoo
Get Riverbanks Boo at the Zoo Tickets in Advance
Don't forget to bring your own trick-or-treat bag
Come in costume, with no full face masks or scary costumes for adults.
Attend on a weekday if you can
Cayce-West Columbia Jaycees Hall of Horrors is open The Hall of Horrors Haunted Attraction returned Sept 29, at 8 p.m. for 15 nights of Halloween entertainment with an all new haunt:
Dark Harvest. Presented by the Cayce-West Columbia Jaycees, it's at 1153 Walter Price Rd. in Cayce.
Darker Scares: "Blackout Nights" – Thurs Oct. 19th and Oct. 26th.
(Minimum lighting used and each group given 1 (ONE) light to navigate the haunt)
Thursday – Blackout Night (Oct. 19 and 26) – 7:30 p.m. – 10:30 p.m.
Friday & Saturday – (Oct. 13-14 – Oct. 20-21 – Oct. 27-28) – 8 p.m. – 11p.m.
Monday & Tuesday (Halloween) (Oct. 30-31) – 7:30 p.m. – 10:30 p.m.
Buy Tickets Online! https://app.hauntpay.com/events/darkharvest
Info, dates, and times: www.hallofhorrors.org
Fall Back Fest is Nov. 3
The 7th Annual Fall Back Fest, on the 100 Block of State Street in West Columbia, is scheduled for 5:30-9:30 p.m. on Friday, Nov. 3.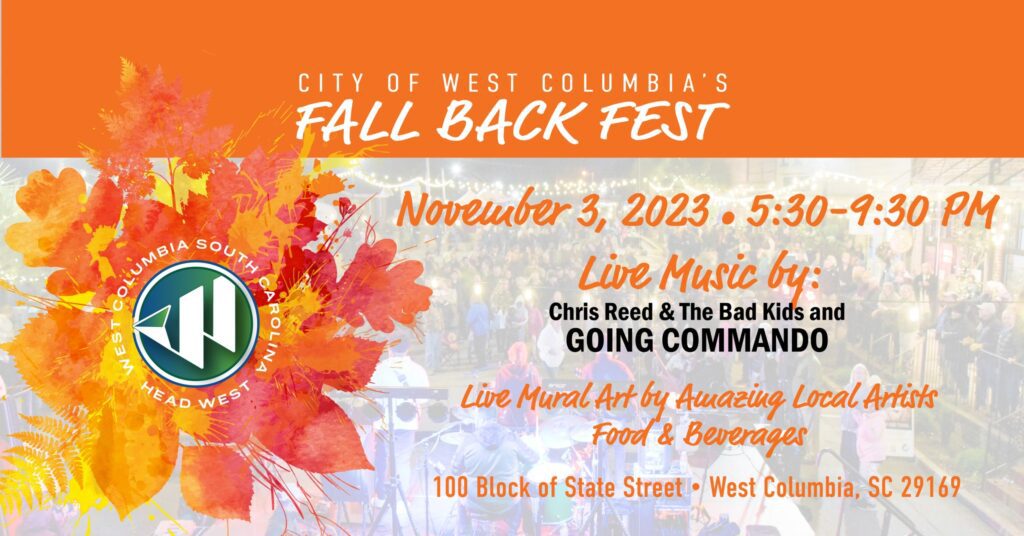 The Fall Back Fest is a great opportunity to come out and spend some time with your neighbors and catch up with old friends you have not seen in a while The Meeting Street Artisan Market will be open, too, along with many of the shops and businesses in the River District.
Fall Back Fest features free live music with Chris Reed and The Bad Kids and Going Commando, live art, a special night edition of the Meeting Street Artisan Market, holiday shopping, and more.
Deceased Farm spooky Halloween attraction
Lexington County's Deceased Farm, at 382 Olde Farm Rd, Lexington, is billed as a terrifying Halloween destination connected to the more family-friendly Clinton Sease Farm which runs throughout the day and into the night along with the haunted house next door.
Beyond the high fenced barrier walls of the attraction lies a creaking abattoir, with mazes, escape rooms, and a high energy midway full of music and life to counteract all the horror. Queue entertainment is abundant and there is never a dull space or moment as you make your way past all the spooky activities and events that you and your party can enjoy. Come early so that you can enjoy the family-friendly corn maze across the way along with the unlimited hayrides, playground activities, and humongous pumpkin patch.
Deceased Farms Open every Friday and Saturday from Sept. 15 – Oct. 28
Ticket Booth Open 7:30 pm – 11:30 p.m.
Open every Sunday from Oct. 8 – Oct. 29, plus Thursdays Oct. 19 and 26
Ticket Booth Open 7:30 p.m. – 10:00 p.m.
List of West Columbia restaurants:
Grecian Gardens Restaurant – 2312 Sunset Blvd – 803-794-7552
Cafe Strudel – 300 State St. – 803 – 926-5255
The Hideout in WECO – State Street
West Columbia Fish Market – 529 N. 12th St. 803-851-1171
Compton's Kitchen – 1118 B Ave – 803 791-0750
Breads and Such – 1220 C Ave. – (803) 851- 0566
Buttercream Dreams – 1230 C Ave. – (803) 708-4485
Another Broken Egg – 101 State St.
Hite's BBQ – 240 Dreher Rd. – (803) 794-4120
The Original Brunches – 2245 Leaphart Rd – (803) 791-7477
Jimmy's Mini Mart/Citgo – 812 Meeting St. – (803) 794-0090
Maurice's Piggie Park – 1600 Charleston Highway – 803-796-0220J
Nick's House of Pizza Restaurant- 1082 A Sunset Blvd – 803-794-9240
DeLuccas 1720 Sunset Blvd. – 803- 926-5255
Breakfast at Ruiz – State Street-
Ariana's Greek Restaurant – 1720 Sunset Blvd. – (803) 796-4430
Lizard's Thicket – 2234 Sunset Blvd. 803 – 794-0923
True BBQ – 1237 D Ave – (803) 791-9950
Jin Jin Chinese Restaurant – 469 Sunset Blvd. (803) 739-8888
Chick-fil-A -2299 Augusta Rd. – (803) 939-1600
Rush's 2332 Sunset Blvd. – (803) 796-5034
Breakfast at Ruiz – 116 State St. – 803 -550-9681