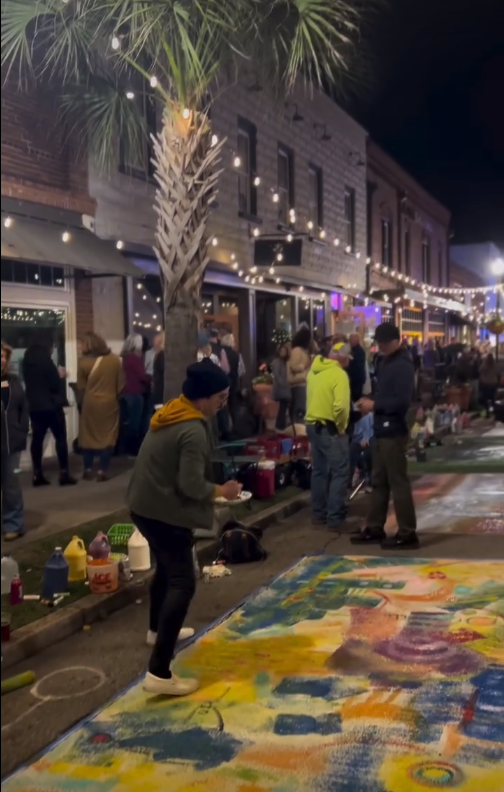 West Columbia businesses rave after successful Fall Back Fest, Tree Lighting Ceremony Dec. 1, on the City Hall lawn
November 6, 2023
|
|
Comments Off

on West Columbia businesses rave after successful Fall Back Fest, Tree Lighting Ceremony Dec. 1, on the City Hall lawn
|
NEWS, Social Media
Last Friday's Fall Back Fest drew a large crown and rave reviews from business owners.
"It was a very successful night for us," said Rob Shaw, owner of Rob Shaw Gallery and Framing at 324 State St.
The City of West Columbia's 7th Annual Fall Back Fest was conducted in the 100 Block of State Street with local artists painting murals on the street and live music featuring Going Commando, Chris Reed and The Bad Kids, and Hampton Hook.
"Fall Back Fest definitely brings people out," said Shaw. His gallery held a reception for artists Anna Majure and Sonja Diimmler. Several pieces of art were sold during the reception.
Steve Cohen, a member of the West Columbia Beautification Foundation said he was pleased with the Fall Back Fest turnout.
"It was phenomenal," said Cohen. "I give a lot of credit to the City of West Columbia for having such a business-friendly event. The organization of it was absolutely incredible. The bands were great and the food trucks were easily accessible and the beverages were fairly priced."
Cohen also said he liked the restroom trailers that were on-site for the Fall Back Fest.
Lainie Lewis is the owner of State Street Trading Co. at 134 State St. Fall Back Fest is traditionally one of her best nights of the year for sales. She was not disappointed by the amount of traffic generated Friday night by Fall Back Fest.
"It was a beautiful night and sales were really good," said Lewis. "I am very happy that the City of West Columbia presents the Fall Back Fest. "It's a chance for the businesses on State Street to show off the West Columbia community."
In addition to the activity on State Street, vendors packed the special edition of West Columbia's Meeting Street Artisan Market.
Another Fall Back Fest is in the books and another success story for the planners and organizers of the event.
And don't forget: The Annual West Columbia Tree Lighting Ceremony is at 6:30 p.m., Dec. 1, on the West Columbia City Hall lawn, 200 N. 12th St.