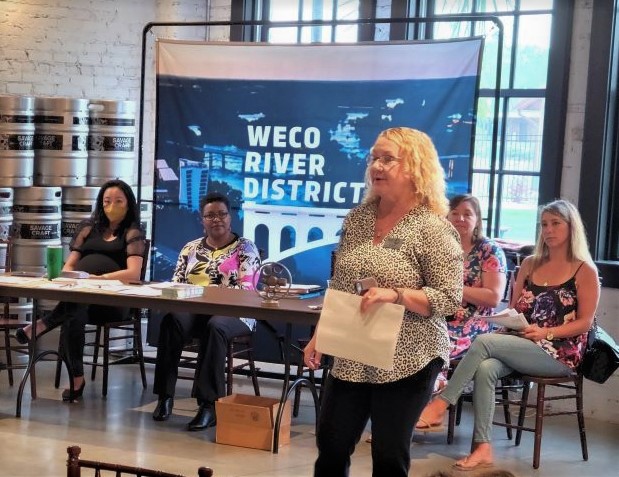 WECO River District Merchants get Kinetic Derby Day report – Volunteers sought and a Ferris wheel in West Columbia
April 15, 2022
|
|
Comments Off

on WECO River District Merchants get Kinetic Derby Day report – Volunteers sought and a Ferris wheel in West Columbia
|
NEWS
Kelli Ricard, City of West Columbia events manager, spoke to the WECO River District Merchants Association, Thursday.
The monthly meeting was held in the Savage Craft War Room, or Old Brick Jailhouse, 430 Center St.
"Please sign up to volunteer for Kinetic Derby Day," Ricard said. "We still need volunteers."
West Columbia's Kinetic Derby Day, is from 10 a.m. until 4 p.m., on April 23. It's a FREE event.
Click here to volunteer for Kinetic Derby Day
Ricard also promoted the West Columbia vs Cayce Police "Grudge Match" in soapbox derby car racing. West Columbia Police Chief Marion Boyce was at the meeting. She also said there will be plenty of free parking spaces and a Ferris wheel – with a fantastic view from the top – at the corner of Meeting and State Streets.
Specifically designed Kinetic Derby Day T-shirts are being printed and Ricard encouraged WECO River District businesses to open and take advantage of the large crowd to market their businesses.
"The city wants you to celebrate West Columbia on Kinetic Derby Day," said WECO River District President Steve Cohen.
Also speaking, Thursday, was Victoria Porter, manager of Savage Craft Ale House. She said the staff at Savage Craft is looking forward to Kinetic Derby Day as a way to become more involved in the local community and to see more of the people of West Columbia.