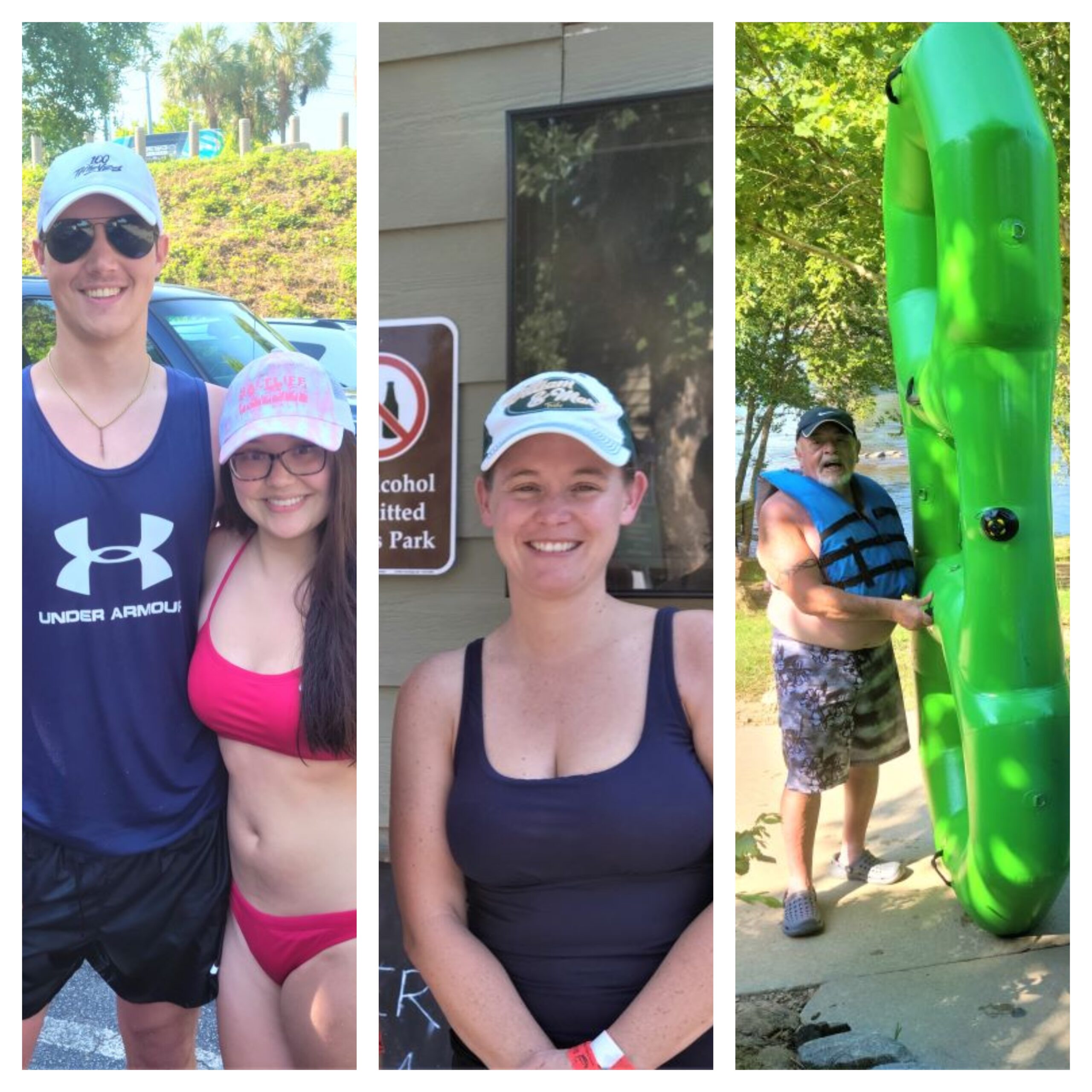 Tubers come to West Columbia from California, Illinois, Sumter and Florence
June 23, 2022
|
|
Comments Off

on Tubers come to West Columbia from California, Illinois, Sumter and Florence
|
NEWS
Tubing down the Saluda River, to the Congaree, may be the most popular tradition of a West Columbia summer. Sometimes hundreds a day tube the clear waters of the rivers, riding the rapids, ending up at West Columbia's Riverwalk Park.
Palmetto Outdoor Owner Michael Mayo tracks the location of those who come to tube. They come from all over the country. When here, many of those visitors visit West Columbia's restaurants or stay at the hotels.
Who comes to tube our river? Audrey Farnan is from Central Illinois.
"This is my first time floating down any river," Audrey said Tuesday as she stood next to the Palmetto Outdoor booth at West Columbia's Riverwalk Park.
Her boyfriend, August Dean, booked a trip for the two of them. He is from Illinois. He's in the Air Force and stationed at Shaw Air Force Base near Sumter.
"It was a surprise," Audrey said of her tubing trip. "The river was awesome. It was beautiful and I loved the Spanish moss. The water was cool and the rapids were fun."
Sheila Bresnan and Marianne Gaskins made the trip over from Florence to enjoy a tubing trip, Tuesday. Between the two of them, they brought five kids."It was a very good day trip," Bresnan said. "It's a perfect day for it, too."
Gaskins said she was impressed with the natural beauty of the river and the wildlife.
"We saw herons and turtles. It was so nice," she said. "I'd definitely like to come over and do it again." Some came from much further away.
Bob Villarreal is from California. "I really enjoyed the river," he said. "It was a very nice trip."
Bob came to the river with his daughter Megan Garvin. She is stationed at Fort Jackson. Bob and Megan tubed in a Palmetto Outdoor Double Tube. This is the first year it's been offered. The tubes accommodate two people, with a space for a cooler or bag in the middle. The Double Tube is perfect for parents and children, friends, or partners.
Karen Johnson has lived in Columbia since 2014. "I've driven by the river so many times, but I never came to Riverwalk," she said. "But in the last month, I've been here three times."
Tuesday, Karen tubed the river. She finished the tubing trip with Bob and Megan. "It was great to meet new people from other places on the river," Karen said. She also said she'll bring a snack next time, because she was hungry after the float of more than four hours.
Martina Musa is from Fayetteville, NC. She tubed the river with Karen. "The trip was awesome," she said. "The temperature of the water was cool and it was relaxing. I loved it."
Details of a Palmetto Outdoor Tubing Trip
Tubers meet at the West Columbia Riverwalk and Amphitheater, just off of the Gervais Street Bridge.
Shuttles are offered hourly, Sunday-Friday, from noon until- 4 p.m. and on Saturdays from 10 a.m. until 4 p.m.
Please arrive at least 30 minutes prior to your shuttle in order to find parking and check in.
From the Riverwalk, Palmetto Outdoor shuttles tubers upstream about 2.5 miles to the put in location.
West Columbia Hotels and Restaurants
Hilton Garden Inn Columbia Airport
Residence Inn by Marriott Columbia West/Lexington
TownePlace Suites by Marriott Columbia West
Hampton Inn and Suites
Grecian Gardens Restaurant – 2312 Sunset Blvd – 803-794-7552
Cafe Strudel – 300 State St. – 803 – 926-5255
Compton's Kitchen – 1118 B Ave – 803 791-0750
D's Wings – 425 Center St.
The Hideout – 116 State St.
Savage craft Ale Works – 430 Center St.
Buttercream Dreams – 1230 C Ave. – (803) 708-4485
Primal Gourmet – 725 Meeting St. – (803) 509-0604
Hite's BBQ – 240 Dreher Rd. – (803) 794-4120
The Original Brunches – 2245 Leaphart Rd – (803) 791-7477
Jimmy's Mini Mart/Citgo – 812 Meeting St. – (803) 794-0090
Maurice's Piggie Park – 1600 Charleston Highway – 803-796-0220J
Nick's House of Pizza Restaurant- 1082 A Sunset Blvd – 803-794-9240
DeLuccas 1720 Sunset Blvd. – 803- 926-5255
Ariana's Greek Restaurant – 1720 Sunset Blvd. – (803) 796-4430
Lizard's Thicket – 2234 Sunset Blvd. 803 – 794-0923
True BBQ – 1237 D Ave – (803) 791-9950
Jin Jin Chinese Restaurant – 469 Sunset Blvd. (803) 739-8888
Chick-fil-A -2299 Augusta Rd. – (803) 939-1600
Rush's 2332 Sunset Blvd. – (803) 796-5034