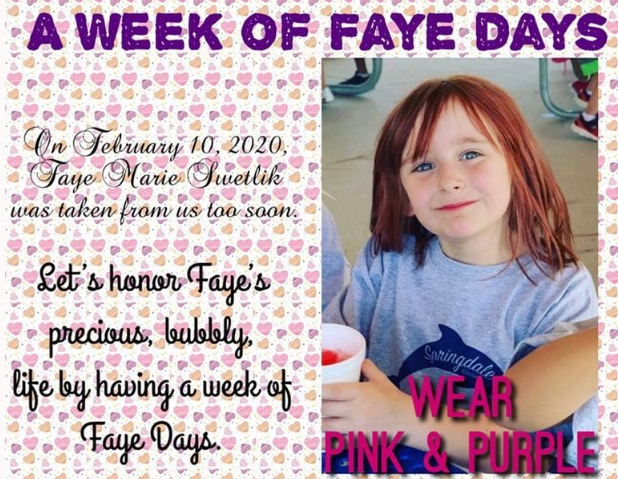 Town of Springdale honors memory of Faye Swetlik a year after her death
February 6, 2021
|
|
Comments Off

on Town of Springdale honors memory of Faye Swetlik a year after her death
|
NEWS
The Town of Springdale is honoring the memory of Faye Swetlik. She was killed last year after being abducted after getting off the school bus in Cayce. Coty Scott Taylor was responsible for her death. He committed suicide after Faye's body was discovered.
Below is a post from the Town of Springdale regarding the "Week of Faye Days" that will begin on Monday (Feb. 8.)
On February 10, 2020, six-year-old Faye Marie Swetlik was taken from us too soon. She lived a bubbly, energetic life full of love and laughter. Over the past year we have remembered her and honored her life by using the hashtag "#haveafayeday." Let's come together as a community to honor her bubbly, energetic life by having a week of Faye Days, February 8 – 12, 2021. We ask that you wear pink and/or purple each day. And randomly show acts of kindness to those around you. Please use hashtag "#fayedayweek2021" or send your photos to Sandy Harrelson at [email protected]. We will compile a slideshow of the Faye Day Week photos and honor the precious life she lived.
Have a Faye Day…everyday. #fayedayweek2021"