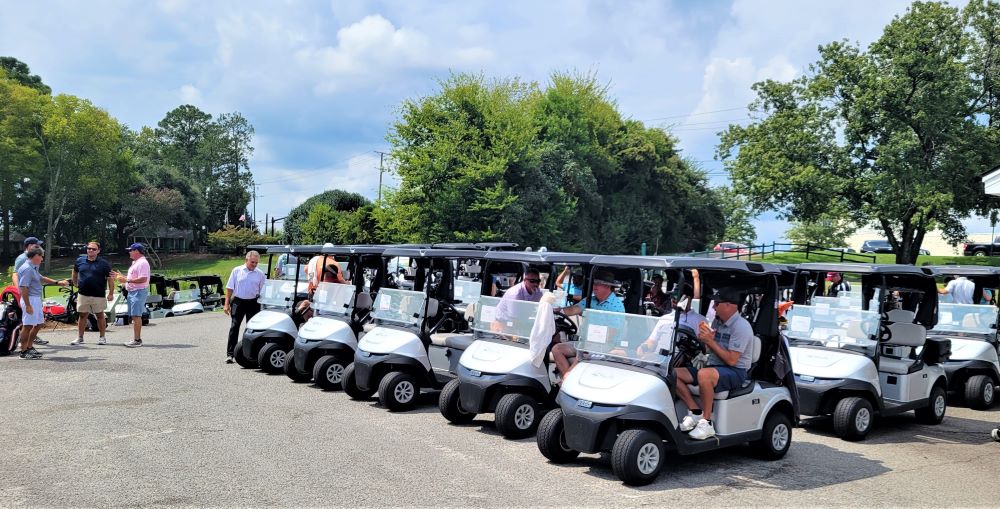 Taylor Watford Foundation Hope Cup Golf Tournament draws 43 teams, proceeds go to fight substance abuse and support positive mental health
September 14, 2023
|
|
Comments Off

on Taylor Watford Foundation Hope Cup Golf Tournament draws 43 teams, proceeds go to fight substance abuse and support positive mental health
|
NEWS, Social Media
It was a perfect day. The Taylor Watford Foundation's 5th Annual Hope Cup Golf Tournament took place Thursday, at Golden Hills Golf and Country Club in Lexington.
"We had 43 teams of four come out to play," said Jade Watford, of the The Taylor Watford Foundation. "The weather is great and everyone is having a good time." The tournament attracted seven more teams this year than it did last year.
"I'm so encouraged to see so many people out here," said TWF Board Member Chris Twitty. "The growth of this tournament has been phenomenal. It's such a great event and so much fun. I look forward to it every year." He also said the proceeds of the tournament will go to address a very important issue.
Jimmy Watford, founder of the The Taylor Watford Foundation, said he saw a lot of friends enjoying fellowship with each other with goodwill and lifted spirits. And that's what it's all about.
"This is a good day to remember Taylor (his son) and all the others who have been a victim of an accidental overdose." I feel good that so many are coming out and supporting our work in the community so that we can help those who need help. We want to save lives, and Taylor would have been real proud of the work we're doing."
Jimmy Watford said the first Hope Cup drew participation from 27 teams and that took a lot of hustling and soliciting. "We've come a long way because of a lot of hard work by our board members," he said. "I'm very proud of all of them and I'm very pleased that we're able to raise funds for such a vital issue that is plaguing our society." 
About TWF:
After losing their beloved son, Taylor, at the age of 28, in late 2018, to fentanyl poisoning, Jimmy Watford, family, and friends, were determined to make a difference in the lives of others, so they founded the Taylor Watford Foundation. In five years, the TWF has raised more than $120,000.