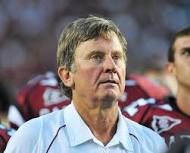 Spurrier's act toward USC is selfless, and rare
October 13, 2015
|
|
Comments Off

on Spurrier's act toward USC is selfless, and rare
|
NEWS
Gamecock Head Coach Steve Spurrier has given a lot in his time at USC.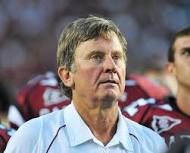 There are unheard of bowl wins for the Gamecocks over Nebraska, Michigan, Wisconsin and Miami.
Spurrier, at USC,  knocked off No. 1 Alabama and recorded wins over Top 10 teams, whereas before South Carolina was just road kill for the true NCAA football powers. The number of big wins under the Head Ball Coach is staggering. 
Defeating quality college football teams is what Spurrier gave because of his talent and skill as a coach. But as a person, Spurrier leaving the program, is a selfless act. And it is rare.
You can compare football coaches to farmers, or gamblers, if that's not redundant. There seems to be a mentality in all three professions that if given just one more chance, I can reclaim, or even surpass, my most glorious moment.
Coaches are usually like defensive backs who get burned. They have short memories about what just happened, in order to be ready for a pick-six on the next play.
But Spurrier did not adhere to that adage because he knew it was a fallacy in his case. Instead of clinging to what he hoped could be, he put South Carolina and its football program first.
"It's time for me to get out of the way," Spurrier said.
Sure, Spurrier – a legend and a Hall-of-Fame coach- could have stayed. USC President Harris Pastides asked him to stay. But if he would have, how much good would it have done? Or how much damage would it have done?
Look at the situations that occurred at Penn State and Florida State. And maybe even include the current situation at Virginia Tech in that group. And how many times have USC coaches who have failed the program – and should have resigned – carried a grudge against USC for letting them go? 
There is the probability that every day a coach overstays his effectiveness, the program sinks just a little bit more; making recovery that much more difficult.
There are many things to thank Steve Spurrier for. There are the wins over Florida, Georgia, Tennessee and Clemson. Those are the obvious gifts he gave us.
But maybe Spurrier's rarest gift to Gamecock Nation is the magnanimity and selflessness to admit it was time to get out of the way and give someone else a try.