Spurrier not quitting, has "wonderful situation" with Gamecocks
July 14, 2015
|
|
Comments Off

on Spurrier not quitting, has "wonderful situation" with Gamecocks
|
NEWS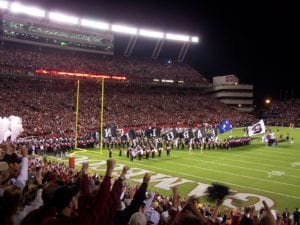 Gamecock Head Football Coach Steve Spurrier said he is not too old to coach football.
"Age is just a number," Spurrier said when asked about his coaching future.
Fall camp begins in less than a month for college players.
Spurrier was interviewed in Hoover, Ala. Tuesday as a part of SEC Media Days.
He said as long as he can think, move around and do what is necessary, he will continue to coach.
"I've got a wonderful situation at South Carolina," Spurrier said. "It's not as stressful as most people think."
"But I have no plans on quitting," he said.
Spurrier said the addition of Defensive Coach Jon Hoke to his staff is one of the big reasons he is not going
to quit. He said the defense would be much improved, and much better than it was in 2014, when the team lost double-digit leads in the fourth quarter.
Spurrier said USC was picked to win the SEC-East a year ago, but that was because of being over-hyped. He said the Gamecocks only had one player on the All-SEC Team Defense, and that was on the third-string team. He said the 2014 defense could not stop anybody.
Spurrier also said he is not sure who the Gamecock quarterback will be when the season begins.
Redshirt Sophomore Connor Mitch is listed on the USC depth chart as the No. 1 QB. Perry Orth and Michael Scarnecchia are listed next.
Spurrier said the Gamecocks have some good quarterbacks, but he is not sure who the starter will be. He said he hopes one of the three separates himself ahead of the other two.
Pharoh Cooper is at the meeting with Spurrier. The coach said Cooper will get some time at QB in the Wildcat formation.
Linebacker Skai Moore is also at the meeting. Spurrier said a lot of new guys could play a lot on defense.
Spurrier said the team camaraderie has been excellent during the summer.
Spurrier said he does not expect for the Gamecocks to be picked to finish too high based on last year's 7-6 record.