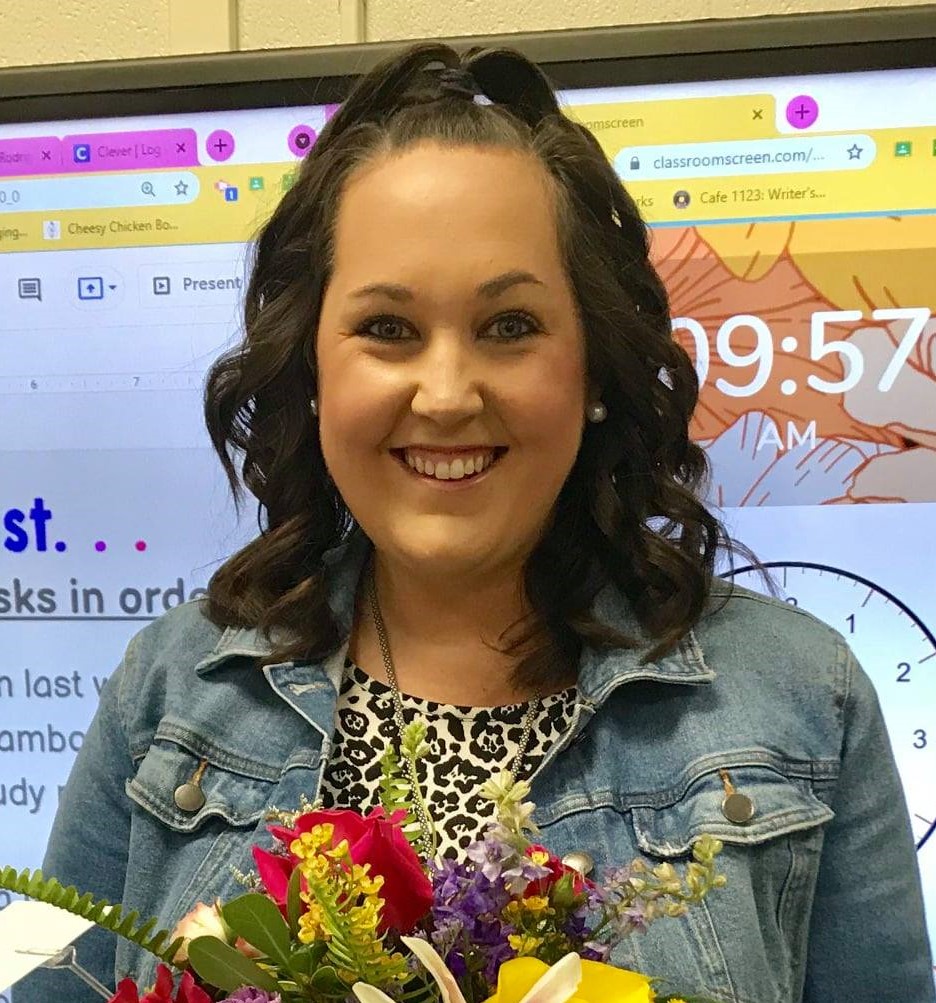 Springdale Elementary's Alie Brantly is Lexington 2's Teacher-of-the-Year
October 5, 2021
|
|
Comments Off

on Springdale Elementary's Alie Brantly is Lexington 2's Teacher-of-the-Year
|
NEWS
From Dawn Kujawa, Lexington Two Commutations Director – Fifth-grade teacher Alie Brantly of Springdale Elementary has been selected as District Teacher of the Year for Lexington Two.
Superintendent Dr. Nicolas Wade, Springdale Principal Hope Vrana and other district administrators surprised Brantly with the news in her classroom Monday, to the applause of her students.
"We all know that learning is relational and Ms. Brantly excels at building relationships with her students," Vrana said. "As a team player, she exudes a positive mindset that enables her to think differently and reach her students."
Brantly said her goal is not only to connect students' learning to the community, state and country but to help them develop personally as individuals.
"My students are more than a test score," Brantly said. "Along with academic achievement, I want my students to develop healthy identities, set personal goals, learn to manage their emotions, and be good decision-makers, critical thinkers and problem solvers, and be aware and accepting of cultural diversity."
Brantly said she counts among her education successes the fact that she makes herself visible to others — not only her students, but fellow teachers. She has made it a mission to support first-year teachers, amid the high rate of educators nationwide leaving the teaching profession.
"My first few years of teaching were challenging, but I was very fortunate to be assigned an amazing mentor," said Brantly, who has paid her own experience forward with Lexington Two's newest teachers.
"I have served as a mentor to multiple first-year teachers, hosted several college interns, and supported teachers through their evaluation process," Brantly said. "My goal has been to help teachers feel successful and keep them in the classroom. … I am investing in the teacher, their students, and every student they will teach in the future."
Brantly graduated in 2011 from the University of South Carolina with a bachelor's degree in elementary education. She held teaching positions in Lexington 1 and Richland 1 before joining Springdale Elementary in 2015. Among her activities, she is a grade-level team leader, SC Teaching Standards 4.0 evaluator, first-year teacher mentor, and a cooperating teacher with the University of South Carolina and Western Governors University. She is a member of the Palmetto State Teachers Association and Columbia Area Reading Council.
"It is such an honor to represent Lexington District Two and my school, Springdale Elementary, as the District Teacher of the Year," said Brantly, who was selected by a panel of judges from the community. "Over the past 11 years I have had the opportunity to learn from wonderful educators across several schools. It goes without saying that I would not be the teacher I am today without the guidance and support of these hardworking and innovative educators. As District Teacher of the Year, I look forward to working with the communities of Lexington Two to ensure opportunities for student success and leadership are endless."
Brantly will represent Lexington Two in the SC Teacher of the Year competition. The statewide winner is named in the spring.