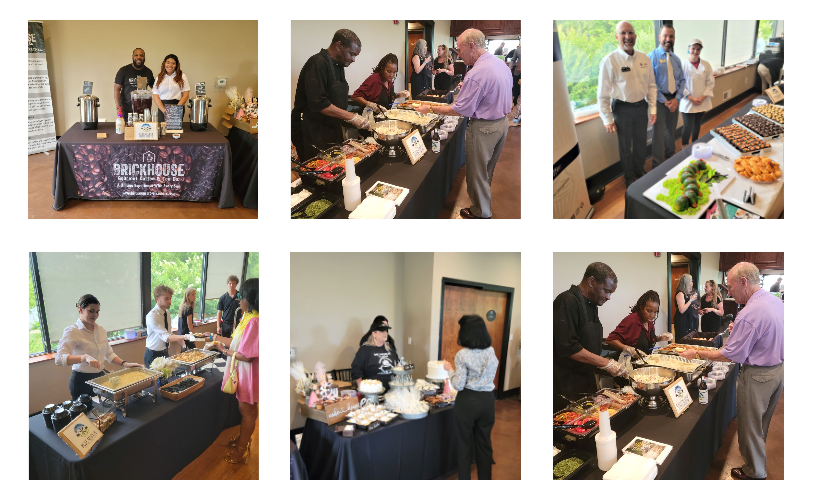 Sold-Out crowd shows for West Columbia Beautification Foundation's Taste on the River – See photos
June 14, 2023
|
|
Comments Off

on Sold-Out crowd shows for West Columbia Beautification Foundation's Taste on the River – See photos
|
NEWS, Social Media
By the time it began, the Seventh Annual West Columbia Beautification Foundation's Taste on the River was sold out. Masses packed the Stone River complex on the Congaree River to see the inventive and delicious food creations that were offered by the area's highest-quality and most-popular restaurants and chefs. 

Kathy Whetzel chairs the Board of the West Columbia Beautification Foundation. She stood and chatted with TV station reporters along with WCBF Vice-Chair Lainie Lewis and Board Member Connie Martin Vaughn as attendees sampled the many dishes all around the room. 
"There has been a lot of enthusiasm around the planning of this year's Taste on the River," Whetzel said. "The response from the community has been awesome. Everybody is interested in Taste on the River. It's good for the restaurants, and the sponsors have been super excited about being a part of this event. You see, the crowd is great. We've spent months planning it and it's been a lot of work by a very dedicated West Columbia Beautification Foundation Board. I'm very pleased to see that everyone's effort and all the support has paid off in such a wonderful evening."
Whetzel said the proceeds received from the Taste fundraiser would be directed toward work to improve the aesthetics in the Augusta Road or US 1 corridor.
"Everything we do throughout the year is all a part of the effort to beautify West Columbia," Whetzel said. "It's good that we can have so much fun and community support as we work for the West Columbia Beautification Foundation."
Steve Cohen is a West Columbia Beautification Foundation Board member. He was at the 'Always Original Bakery' station marveling at a cake that was shaped like a caterpillar. The cake had green icing and the face of it had a big smile.
"I love the creativity that must go into that," Cohen said, "and everything I've tasted from this table is unbelievable. All of the food at this event is outstanding."
Seth Lewter and Laurin Miller were at the Grecian Gardens stop on the indoor food circuit.
"Most of the people stopping by, but not everyone, are familiar with Grecian Gardens. They are glad to see us here," Lewter said. "It's a lot of fun talking to customers who know us and it's great to meet some who will become new customers."
Akera Sellers of Brickhouse Coffee was on hand to meet and greet people with his daughter, Amiah. Sellers said Taste on the River gives him a chance to offer his coffee to new customers and tell them that his business is moving from 725 Meeting Street to 729 Meeting Street in August.
"I just love the opportunity to chat with people in the community," Akera said. "And this gives us that chance."
Kaitlyn Hite and Hampton Hook offered a taste of Hite's well-known barbeque and Dave Shaw greeted food lovers at his SakiTumi table. In all, there were 12 restaurants were offering various food samples for the night. Others, not mentioned before are:  Black Rooster; Di Vino Rosso; Café Strudel; Blue Marlin; Cucinella's Pizzeria and Italian Ice; Brookland Conference Center; and The Cake House Casa de Pastel.
There were also several more than 90 silent auction items donated by local supporters for attendees to bid on. 
In all, the Seventh Annual Taste on the River was not only an attendance success, it was a wonderful night for the people, and restaurants, of the community to come together for a night of culinary delight.