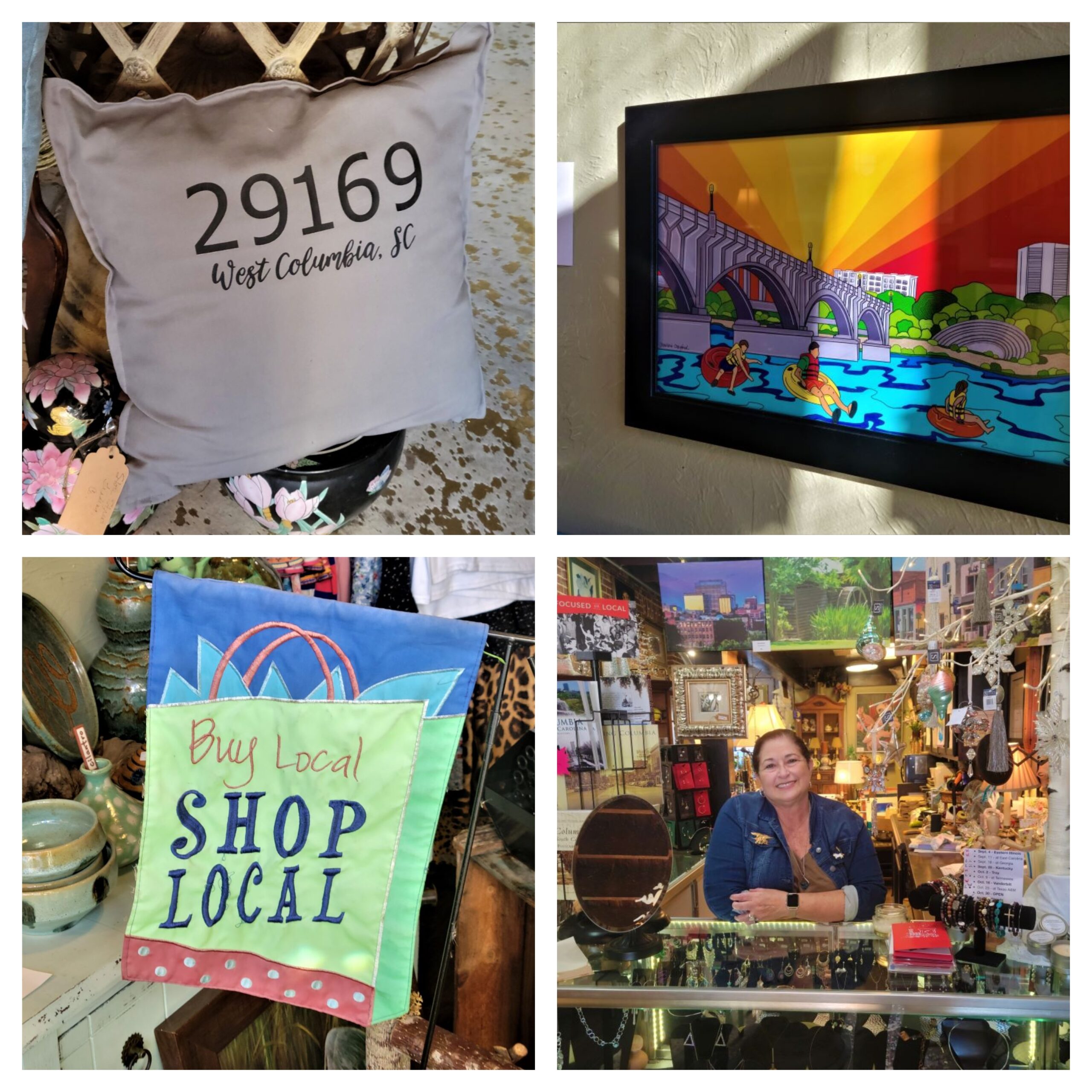 Shop local at State Street Trading Co. with Lainie Lewis, C-WC Chamber member
November 2, 2021
|
|
Comments Off

on Shop local at State Street Trading Co. with Lainie Lewis, C-WC Chamber member
|
NEWS
Why should you shop local?
Amazon owner Jeff Bezos is not going to serve on the West Columbia Beautification Foundation, but State Street Trading Co. Owner Lainie Lewis does.
"Local merchants pay local taxes. we sponsor your child's Little League Baseball team and we shop local, too," Lewis said. Local merchants also support the Greater Cayce-West Columbia Chamber of Commerce and special events.
State Street Trading Co. will be open for the Fall Back Fest, Friday (Nov. 5.) It's in the 100 block of State Street beginning at 5 p.m.
Local businesses also offer unique merchandise, so that you can get that perfect gift or interesting item for your home.
"I offer paintings, jewelry, and pottery. So much of it is created by local artists," Lewis said.
One of the most-popular artists on display at State Street Trading Co. is Jim Cheatham. His images include the old Brookland City Hall that is now Savage Craft Ale Works. Janice Hayes is another popular artist, along with Christina Crawford, who painted the mural in the alleyway between The Hideout in WECO and New Brookland Tavern on State Street.
Virginia Scotchie is a nationally known ceramics artist who is also the head of USC's School of Visual Art and Design. Her pottery is available at State Street Trading Co. Valerie Hawkins' black and white leaf pottery is a top seller, too.
Art is not all State Street Trading Co. offers. There are dresses, T-shirts and the popular Adluh Flour and "29169" pillows.
"We have something for everyone," said Lewis, "and I love seeing some of the looks of awe when new customers come in. There is a lot of inventory in this space and we have had a lot of satisfied customers. They are very glad they shopped local."