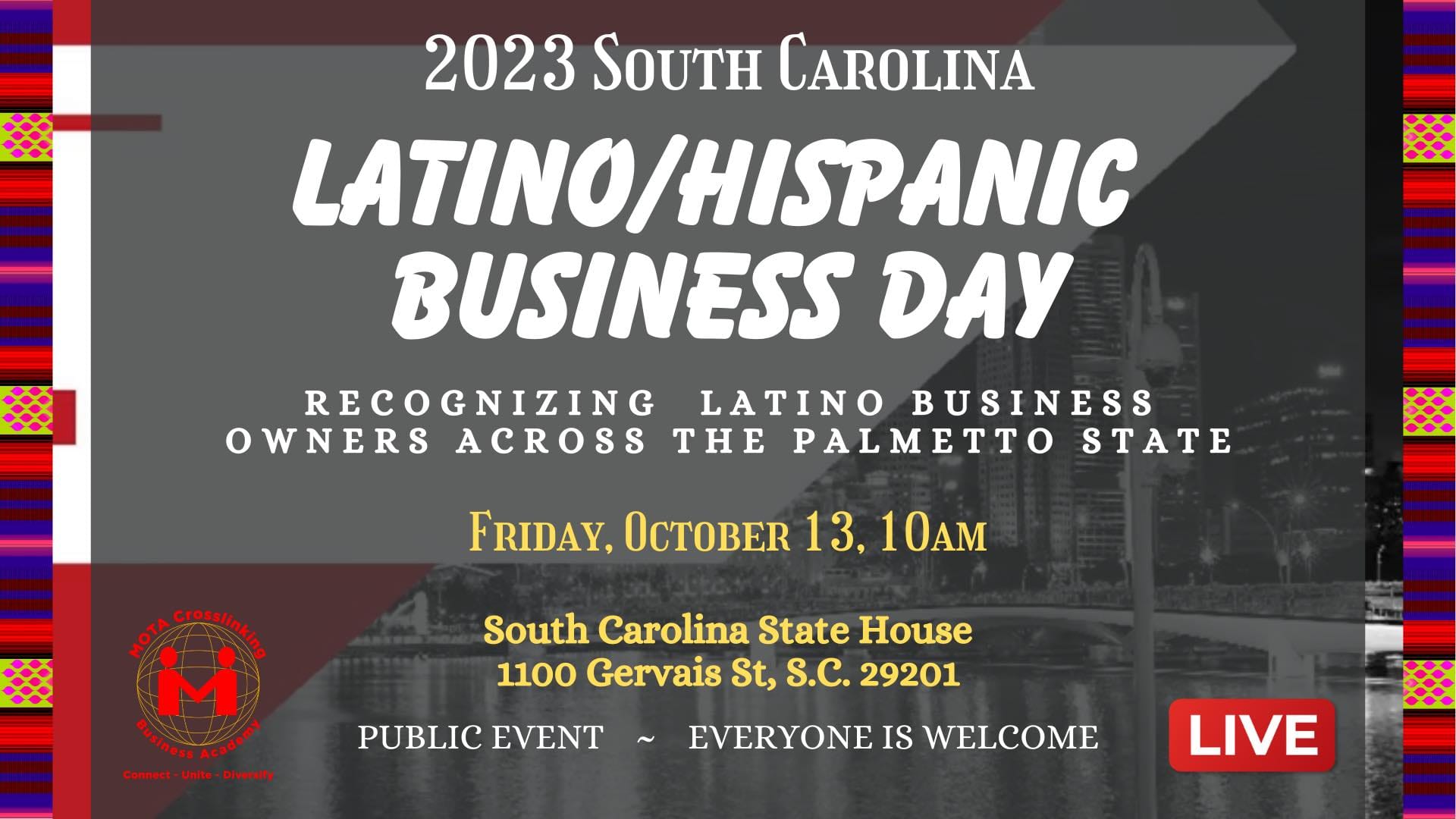 SC Latino Hispanic Business Day Proclamation celebration is Friday at the State House
October 13, 2023
|
|
Comments Off

on SC Latino Hispanic Business Day Proclamation celebration is Friday at the State House
|
NEWS, Social Media
Mota Enterprises, Mota Crosslinking Business Academy to celebrate the 4th Annual South Carolina Latino Hispanic Business Day Proclamation on October 13th, 2023 at 10 am at the SC State House located at: 1100 Gervais St. Columbia.
THIS IS A PUBLIC- OUTDOORS EVENT, everyone is welcome to attend.
During the celebrations of this multicultural event, the audience will witness the readings of the SC Business Day Proclamations written by MCBA and proclaimed by the SC Governor's Office, City of Columbia, West Columbia,
Cayce, and Charleston respectively. Moreover, the ceremony will combine culture, food, and music and will award and acknowledge individuals and business owners from the Latino – Hispanic community based on their contributions and economic impact to our state. Congress members and local city majors will attend the ceremony.
About Mota Enterprises and MCBA
Directed and founded by Vanessa Mota, Mota Enterprises has served as a vital bridge between the business community, public, and private organizations in our state for more than 10 years. In 2019, Mota Enterprises spearheaded the movement and wrote proclamations recognized and signed by the governor and counties in the state of South Carolina such as: SC Latino – Hispanic Business Day, SC European Business Day, SC Celebrando Black Business Day, SC Native American Business Day, and SC AAPI Business Day respectively.