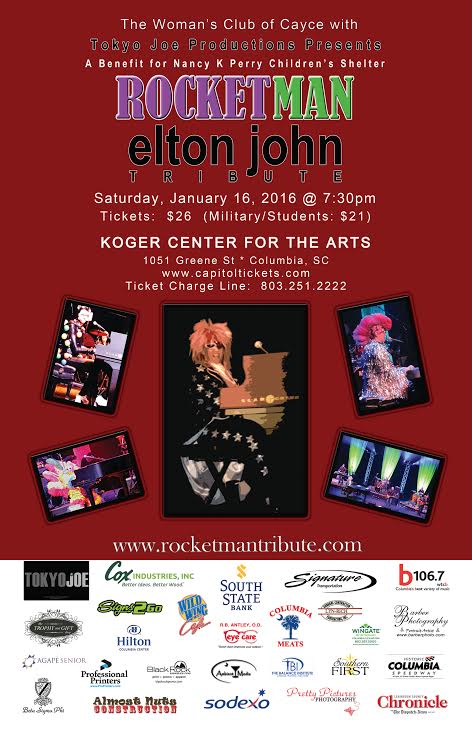 Rocketman, Elton John Tribute, is Jan 16 at Koger Center
January 7, 2016
|
|
Comments Off

on Rocketman, Elton John Tribute, is Jan 16 at Koger Center
|
NEWS
Tokyo Joe's ROCKETMAN is an annual show that is A Tribute to Sir Elton John.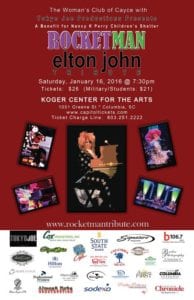 It's a benefit presnted by The Woman's Club of Cayce for the Nancy K. Perry's Children's Home. It's at the Koger Center. Show time is: 7:30 p.m. on Jan. 16.
When many people think of Elton John they immediately think of his trademark sunglasses and outrageous costumes. However, anyone who has seen a live Elton John performance knows that it has always been first and foremost about the music.
Tokyo Joe's – Rocket Man Tribute conforms to the model of a real Elton John concert. While going to great lengths to wear costumes that are exact replicas of those worn by Elton himself, and to entertain visually with state of the art lighting, Rocket Man is ultimately about the songs that are like a soundtrack to the lives of so many people.
Performed by the Columbia, SC based rock quartet Tokyo Joe, Rocket Man is sure to leave every Elton John fan feeling as though they have experienced a tribute performance worthy of the original.