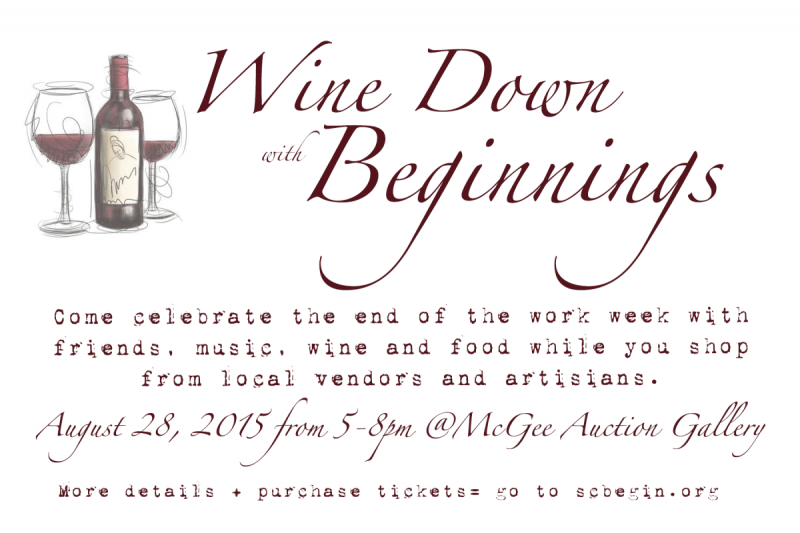 Reminder, Beginnings SC holding "Friend"-Raiser, Friday
August 27, 2015
|
|
Comments Off

on Reminder, Beginnings SC holding "Friend"-Raiser, Friday
|
NEWS

The "Wine Down with Beginnings" Friend-raising Summer Event is scheduled for 5 to 8 p.m. Friday, Aug. 28, at McGee Auction Gallery, 725 Meeting St. in West Columbia.
Beginnings SC, based in West Columbia, is a non-profit that was formed to bring awareness about childhood hearing loss to members of the Midlands' community.
The Aug. 28 "Wine Down" Friend-raiser will feature a Wine and Jazz Happy Hour with live jazz music from the Adam Gardner Ensemble.
There will be a wine bar with organic wines manufactured in Lexington at Mercer House Estate Winery.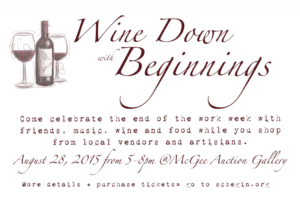 The Friend-raiser will include a happy hour full of shopping, art, food, wine, and music. The event also features a showcase of local artists, including Christy Buchanan of All Things Painted, visual artist Rachel Tenny, and local writer Sandy Vassallo.
There will be an opportunity for guests to shop with Midlands-based retailers, including Inglenook Soaps, Saint & Rambler, White Rose Artisans Boutique, and Soda City Sewing.
Finger foods, cookies, and non-alcoholic beverages are complimentary for guests. Kingsman Restaurant and Ristorante Divino will join together as the food vendor for the event, serving barbecue plates and other dishes.
About Beginnings SC
EMPOWERING PARENTS OF CHILDREN WHO ARE DEAF OR HARD OF HEARING THROUGH EDUCATION AND SUPPORT
Beginnings SC is a nonprofit serving South Carolina families impacted by hearing loss, providing education, guidance, and support. "After the diagnosis of a hearing loss, parents and professionals ask, 'What now?' " says Beginnings's executive director, Cara Senterfeit. "Beginnings SC has the answers."
Beginnings program assistant, Alli Willingham, says the organization is excited to meet new members of the community and let them know the services and resources they have to offer. "Our goal is to host an elegant mixer. We want to interact and talk to guests while they peruse local arts and crafts vendors, drink wine, and eat food that is made here in the Midlands. It really is about connecting to the community we serve."
That sentiment is why the organization chose to partner with a Lexington-based vineyard to create an event they feel represents the community's personality. "Mercer House is the first and only winery in the Midlands," says Shannon Mercer, president and CEO of Mercer House Estate Winery.
Tickets are $15 at the door, but a $5 discount is given to individuals who purchase tickets online at www.scbegin.org prior to the event. The public is invited and encouraged to attend, but the event is only for ages 21 and up. Questions about Wine Down with Beginnings may be directed to [email protected].