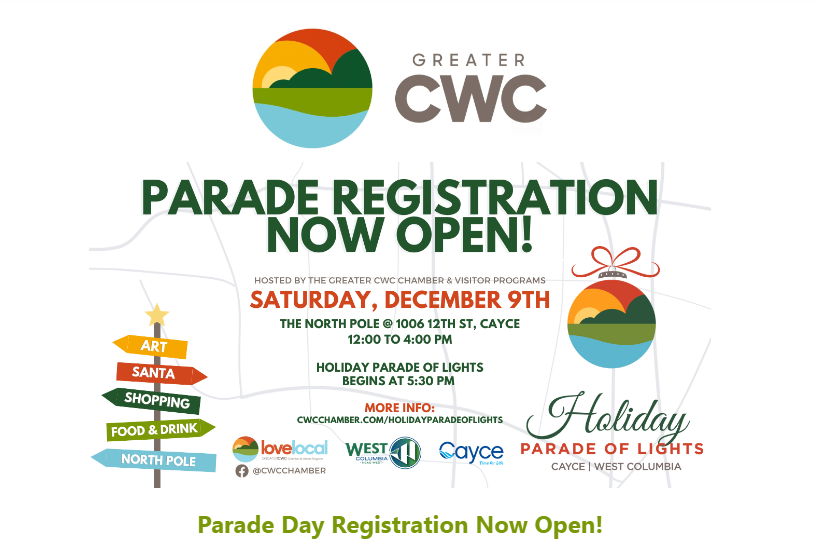 Registration for the Cayce-West Columbia Chamber's Holiday Parade of Lights has opened
October 17, 2023
|
|
Comments Off

on Registration for the Cayce-West Columbia Chamber's Holiday Parade of Lights has opened
|
NEWS, Social Media
It's that time of year again! We the Greater Cayce-West Columbia Chamber of Commerce is gearing up for its 2023 Holiday Parade of Lights to be held Saturday, Dec. 9, down 12th St. from Cayce to West Columbia. This is the BEST advertising your business can utilize. 
Click for link to Registration Page
Each year the Greater CWC hosts the Holiday Parade of Lights – evening with the largest holiday nighttime parade in the midlands. Last year there were more than 200 units and an estimate of twenty thousand people along 12th St. viewing the parade.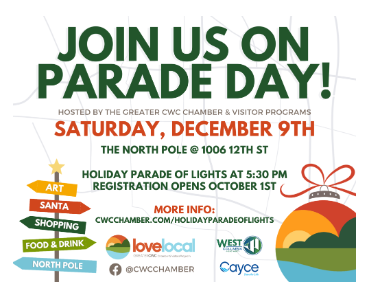 ---
Important Dates:
Registration Opened Thursday, September 28th at noon
Mandatory Driver's Meeting Nov. 27th at 6:00 pm at Calvary Chapel
Holiday Parade of Lights – Staging begins at 2:00 pm, Units to be in place by 5 pm, Parade promptly starts at 5:30 pm
Be sure to register early as The Holiday Parade of Lights always sells out and with a waitlist beginning in August.
Pricing:
Registration is $25 per Parade Unit. A discounted registration fee is available for Chamber Members and nonprofit organizations. If you qualify for a Chamber discount, be sure to login to register. If you are a nonprofit, please use the promo code NPHPOL.
Registration:
Please make checks payable to: The Greater CWC and mailed or dropped off at the Chamber Office at 1006 12th St., Cayce with your completed registration form.
Once registration is completed online, you will receive a confirmation email with a link to the online Parade Unit Form. This information is essential for parade line up and due by November 21, 2023.
Your space in the Holiday Parade of Lights is not confirmed until you have paid the registration fee and completed a Holiday Parade of Lights Parade Unit Form.
North Pole Vendors:
If you are interested in setting up at the North Pole on Parade Day from 12:00 to 4:00 pm, we would love to have you!

Registration for Chamber members is $125 and includes a tent, table and two chairs.
Vendor registration for the public is $250 and includes a tent, table and two chairs.
Vendor set up for the North Pole begins at 9:30 and breakdown begins at 4:15 pm. We will have short break before the Holiday Parade of Lights begins at 5:30 pm. If you are participating in the parade, Chamber volunteers will be on site to cart you down to staging for the parade once the North Pole closes.