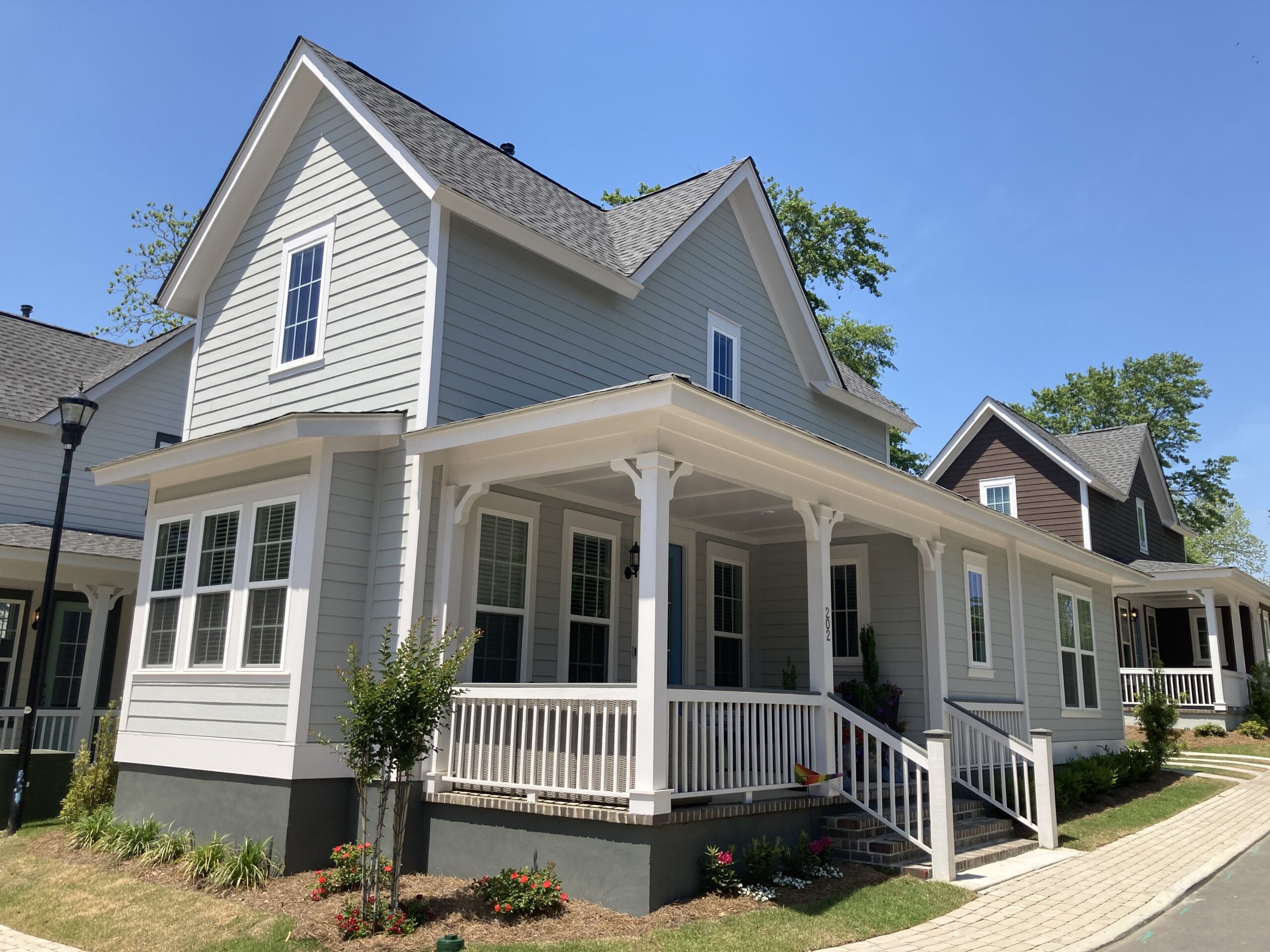 Phase I of St. Anns Alley has sold, update on West Columbia urban neighborhood
May 26, 2021
|
|
Comments Off

on Phase I of St. Anns Alley has sold, update on West Columbia urban neighborhood
|
NEWS
From Grant Jackson, GrantJax Communications – Looking to own a home in a walkable, urban neighborhood with proximity to great restaurants, entertainment, shopping, outdoor recreation and community activities?
Spring Street Partners announce Phase II of St Anns Alley (www.stannsalley.com), an in-town community of quality, single-family homes bounded by Center, Spring, Herman and Augusta streets in the booming West Columbia River District. Phase II will include 15 homes. Ten of the 15 lots have been released for sale, with five homes under construction and expected to be ready for occupancy in July. Two homes in Phase II have already been purchased. Five additional homes will be ready for occupancy later this summer.
All 11 of the homes in Phase I of the anticipated 34-home development are either under contract or sold, closed and occupied. Susan Scoff, who has been living in her Herman Street home since September, says St. Anns Alley was exactly what she was looking for. The first resident to buy, Scoff says, "I wanted somewhere that was going to be walkable. That is really hard to find in Columbia. I just didn't want to live out in the suburbs. I wanted to live close in town, somewhere I could get out and walk different places."
Alan Bevard, who like many of the new homeowners is single, says that livability, walkability and proximity to downtown Columbia played a major role in his decision to buy in St. Anns Alley. "I work downtown, so something close to everything was something that I was definitely looking for." He likes "being able to walk to the Riverwalk. All of these attractions over in West Columbia that are popping up over the last couple of years was definitely big."
Bevard purchased his Augusta Street home in March. Residents of St. Anns Alley tout easy walkability to some of West Columbia's biggest attractions including restaurants such as the new Savage Craft Ale Works, Black Rooster, Café Strudel and Terra; State Street shopping; the West Columbia Riverwalk & Amphitheater; Carraway Children's Park; and the Interactive Art Park, site of the Saturday morning Meeting Street Artisan Market.
In addition, St. Anns Alley is only a bridge away from the Congaree Vista, downtown Columbia and the University of South Carolina campus.
"I really enjoy my home, and where it is, and the location and how easy it is to get to wherever else I want to go," Scoff says. "Being close to everything is really nice," says Bevard. "I think walkability is something that is attractive and that you can't get in a lot of Columbia. It is a pretty quiet neighborhood, which is something that I like. It's an upscale development that is walkable, and that stood out to me."
The homes of St Anns Alley are all two or three bedrooms and two and a half baths and range in size from around 1,100 square feet to just over 1,600 square feet. Each house has two parking spaces. The neighborhood also features a park, landscaping and sidewalks.
Each home has 9-foot ceilings, fiber cement siding, and extensive trim and quality finishes, including stainless steel appliances, a tankless hot water heater and granite countertops. Each home also comes with a 10-year Quality Builders Warranty.
Scoff also loves that her small yard is taken care of through the HOA. "I didn't really want something that had a large yard because I didn't want to have to deal with yard maintenance," she says. Emphasizing the urban infill nature of the development, many of the homes in Phase II will have little or no yard.
Allison Ramsey Architects of Beaufort (www.allisonramseyarchitect.com) has designed four basic models with varying interior layouts and color schemes. Each house is uniquely designed by plan and color for each lot to ensure the character of the neighborhood.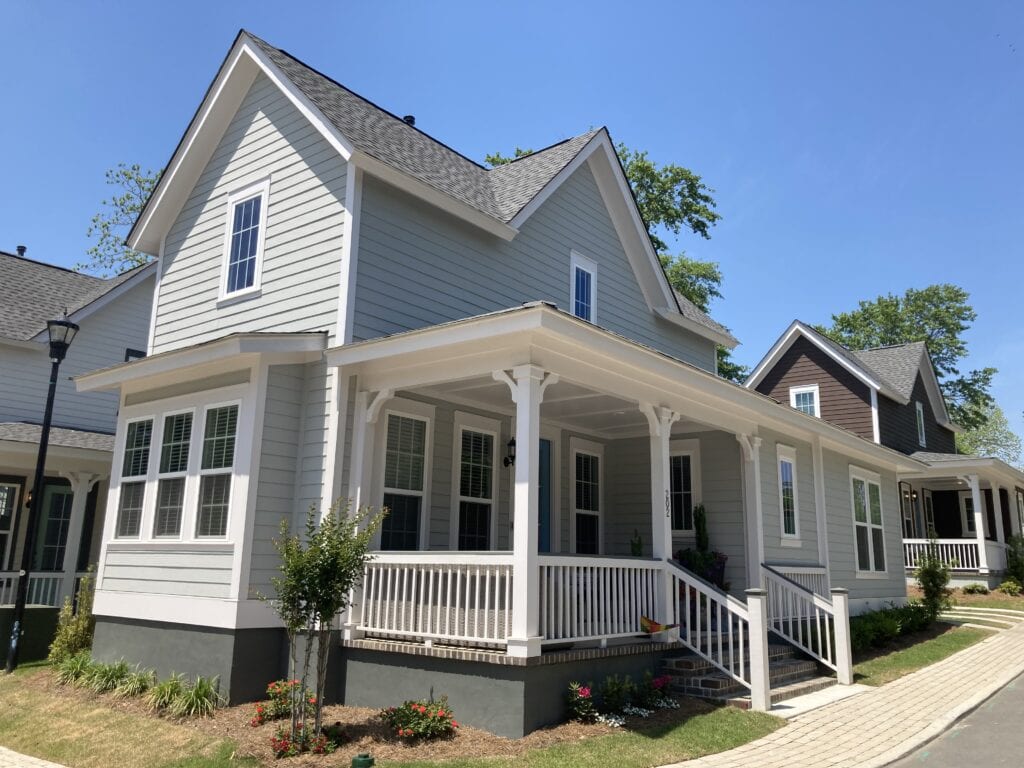 The urban nature of the neighborhood is attractive to many buyers. "It's just a small, community here of fill-in houses, really a mixed development with new homes mixed in with older homes. I felt like it was a safe area of Columbia, a growing area of Columbia. It was the first thing that I found that I could see myself living in this area," Scoff says.
"It is a nice community and is definitely an up and coming area," Bevard says. "I'm excited to be a St. Anns Alley resident."
Developer Tyler Baldwin says, "St. Anns Alley is a unique, first-of-its kind in the Midlands, urban housing development offering single-family home ownership with walking access to work and play options close by. These new homes offer high-end finishes in a growing community, all at prices below the monthly rent of popular new rental units in the local area." Spring Street Partners includes Baldwin and developers Joe Taylor and Mark James.
Mungo Construction, Irmo, is the builder for St Anns Alley, and Civil Engineering of Columbia is handling the site work. Marketing and presale for St Anns Alley is being handled exclusively by The Wheeler Group licensed with Coldwell Banker.