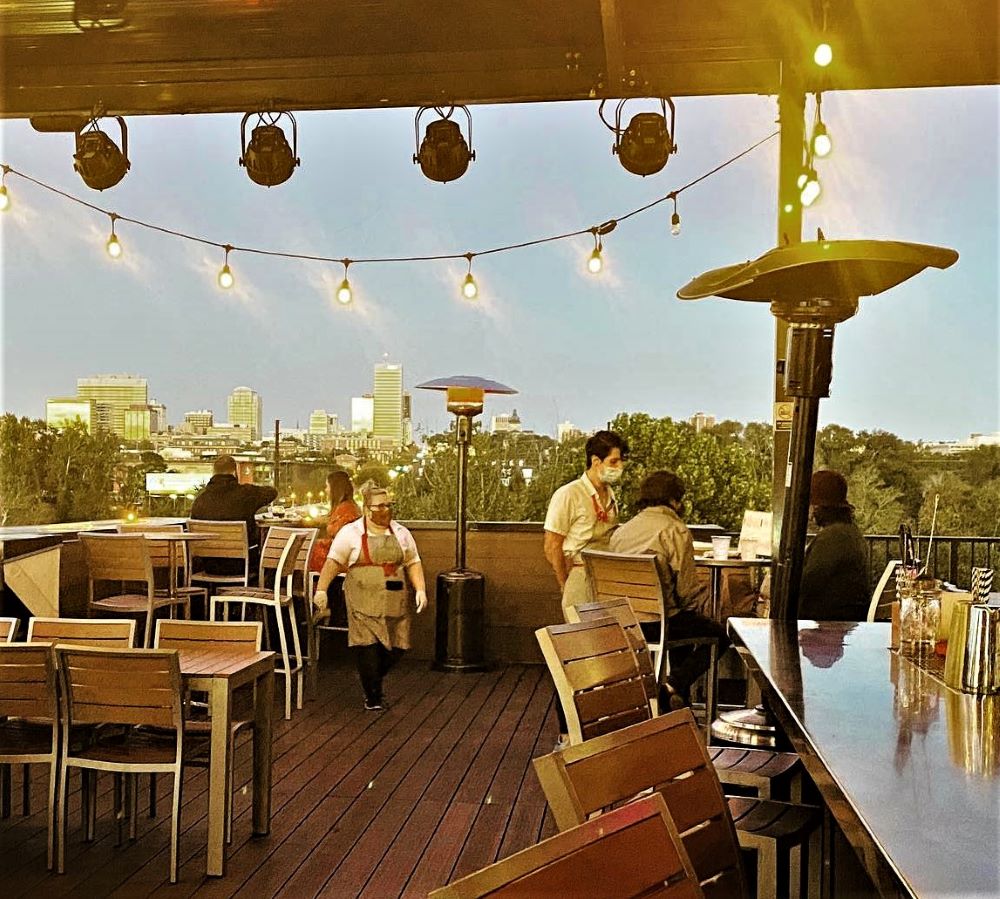 Outdoor dining more popular in West Columbia as temperatures rise
April 8, 2021
|
|
Comments Off

on Outdoor dining more popular in West Columbia as temperatures rise
|
NEWS
It's a beautiful spring in West Columbia and that means an increase in outdoor dining options.
"We want to see more people come out," said Greg Williamson, a manager at Black Rooster in the northwest corner of the Brookland development. "We're looking for a great year."
To attract more diners, Williamson said Black Rooster has added more outdoor seating and the French bistros full menu is available from the outside tables on the first floor and from the rooftop bar.
"We're excited about our expanded menu," he said.
Williamson also said diners come to Black Rooster for the great view of the Columbia skyline and the Congaree River waterfront.
Savage Craft Ale Works opened in January and this is the first spring for the microbrewery and restaurant.
"I'm really looking forward to the warm weather, said Victoria Porter, Savage Craft's manager.
Savage Craft's rooftop pavilion has become a quick favorite for outdoor diners. Porter said the courtyard and outdoor soundstage are already drawing outdoor crowds. Savage Craft is also offering live music at its "Jazz on the Rooftop on Thursdays." Reggie Sullivan Duo played last week and Mary Clare Gatch and Richard Maxwell were there Thursday. Robert Gardner Duo is scheduled for April 15 and Aaron Terrapin for April 22. Cat Galan Duo is scheduled for April 29. All shows are at 7 p.m.
In addition to evening dining outside, there are also morning and lunch venues in West Columbia.
Cafe Strudel at 300 State Street opens at 8 a.m. most days. It has a covered outdoor patio that is large enough to accomodate 40-to-50 people.
"I love the patio at Cafe Strudel," said Amanda Lepper. She began dining at Cafe Strudel when she worked in West Columbia. "I live in Chapin, but when the weather gets warmer I love to come to West Columbia to dine."
Cafe Strudel Owner Trip Turbyfill said his patrons, especially those with dogs, love to dine outside. And even more so in the spring.
Levi Whitlock is the owner of Palate at 116 State Street. He said, Tuesday, a couple of diners have requested outdoor seating at his restaurant and he expects more to do so in the future.
"It's spring break and people are on vacation this week, but we expect the number of outdoor diners to increase.
It's warm and the options for outdoor dining abound in West Columbia. So make sure to get a table as soon as you can.
Other River District restaurants that offer outdoor dining:
The Hideout in WECO 118 State Street
Palate at 116 State Street
WECO Bottle and Biergarten at 626 Meeting Street