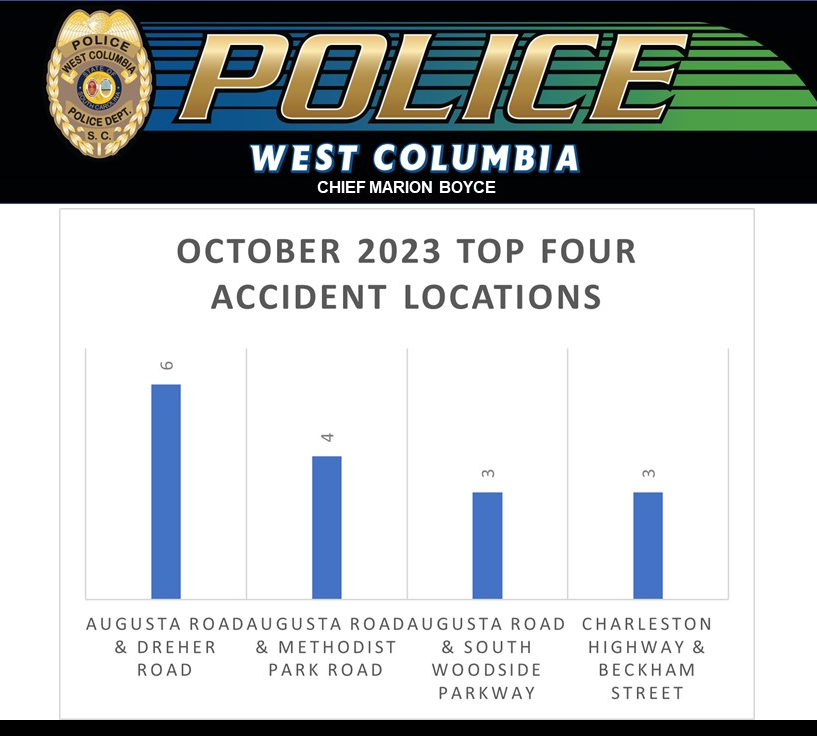 No. 1 site of vehicle crashes in West Columbia was intersection of Augusta Road and Dreher Road for the month of October
November 9, 2023
|
|
Comments Off

on No. 1 site of vehicle crashes in West Columbia was intersection of Augusta Road and Dreher Road for the month of October
|
NEWS, Social Media
The West Columbia Police Department released its police activity report for the month of October, including information on vehicle collisions.
Click here to see complete report
There were six vehicle crashes at the intersection of Augusta Road at Dreher Road, in West Columbia, in October. That was the site with the most collisions for the month. There were four crashes at the intersection of Augusta Road and Methodist Park Road and three each at the intersections of Augusta Road and South Woodside Parkway and Charleston Highway and Beckham Street.
There were 11 collisions for the month and 236 citations issued, along with 188 warning tickets.
There were 2,600 calls for police service to the WCPD in October. The top reason for a call (188) was suspicious person followed by alwarm (143), accident (123) civil issue (109) and larceny (91.)
The WCPD investigated 11 vehicle break-ins, 7 burglaries, 14 DUIs and 7 vehicle thefts.