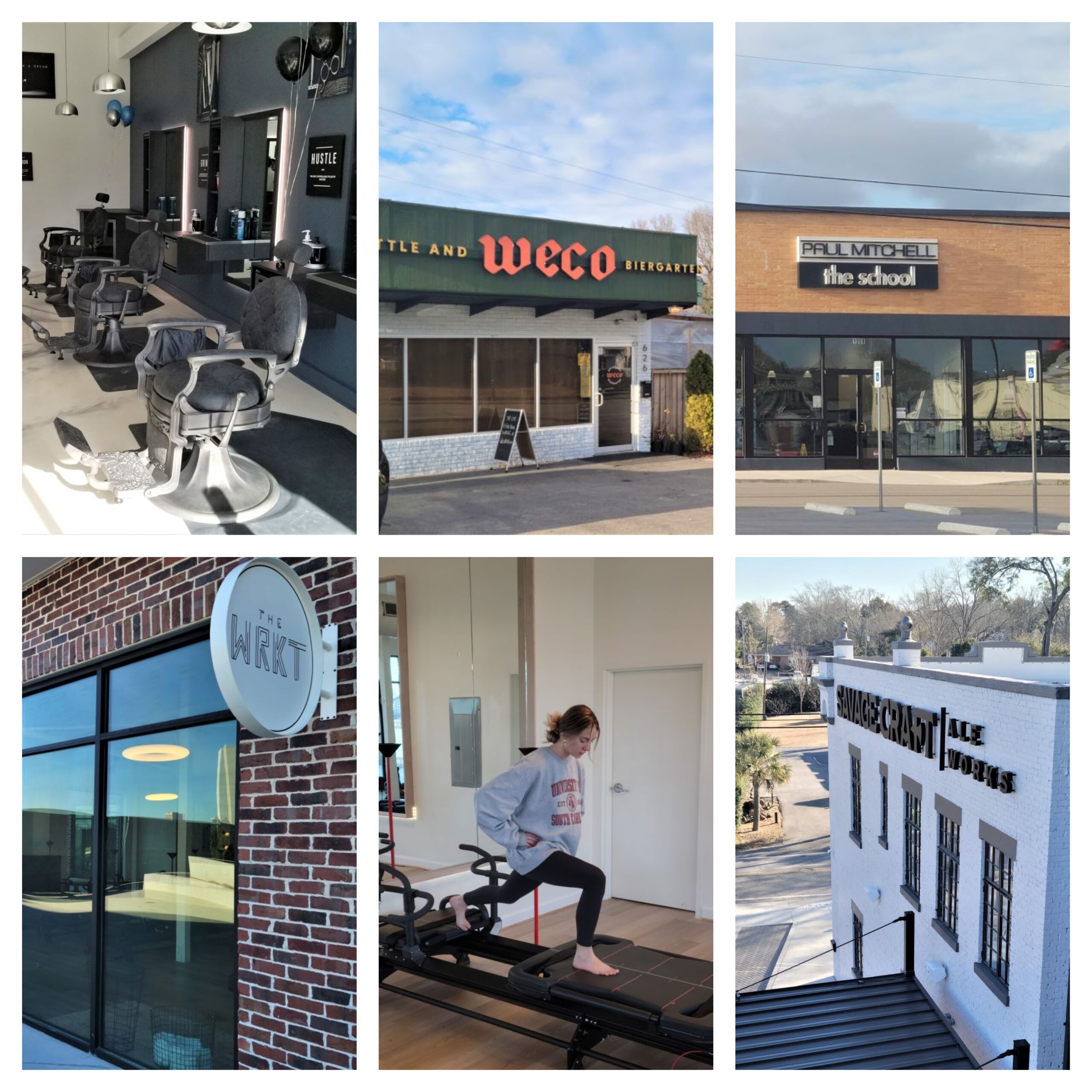 New West Columbia businesses attract a regional clientele
February 17, 2022
|
|
Comments Off

on New West Columbia businesses attract a regional clientele
|
NEWS
An influx of new businesses have opened in West Columbia and those businesses are drawing a regional clientele.
"I could not have picked a better place," said Dominic Peterson, owner of Gentleman's Quarters Barbershop at 117 State St. It is in the Brookland Development in the WeCo River District. "I have people come in from Northeast Columbia, Forest Acres, Lexington, Cayce, and Columbia. Our clientele is diverse, from ages 25-to-55, including many young professionals."
WRKT is also in the River District, beside Gentleman's Quarters at 121 State St. It opened in October. Using Megaformer M3 machines. WRKT instructors teach 45-minute classic Lagree classes, to shape, tone, and strengthen muscles.
Madelene Saxon said WRKT Owner Karis Loewen loved the space in the Brookland Development. She also said the WRKT location in West Columbia attracts users from Chapin, Blythewood, Columbia, Lexington and other places.
"Our lunchtime classes are filled, usually," said Saxon. She said many of the guests who come to WRKT, like that there is less traffic congestion in West Columbia. There is also free parking in the City of West Columbia Parking Garage at the corner of State Street and Court Avenue.
Paul Mitchell The School – Columbia teaches cosmetology. The school moved from Columbia to 1008 Meeting Street in October of 2020 in a building that first opened in 1958 as a Winn-Dixie grocery store.
"It's been great since we opened here," said Scott Brills, the school's director. He said Paul Mitchell students come from miles away.
"We have them coming from Lexington, Irmo, Chapin, Blythewood, Hopkins," said Brills. "We also have some coming from Aiken, Orangeburg and Florence. Our national reputation tends to draw students from all over."
Brills loves his location. He said the City of West Columbia has been supportive and easy to work with and the city's streets are less congested.
In addition to service-related establishments, West Columbia has added some high-profile hospitality-oriented businesses recently.
Savage Craft Ale Works at 430 Center Street, in the old Brookland City Hall, celebrated its first year in business in late January. In warm weather, the courtyard is filled with diners and those sampling the latest craft beer brewed by Savage Craft. The unique microbrewery, in a historical structure, is a regional draw and it is often packed. Many come from other locales for the experience.
"I love this place," said Andy Gardner, a Savage Craft patron. "I live in Columbia, but I come here a lot. I'm even looking for a place to live in West Columbia. I did not come over here much until I came to Savage Craft, but now I'm a regular."
WECO Bottle and Biergarten, at 626 Meeting St. is another hospitality lure in the River District.
The clientele of WECO Bottle and Biergarten comes from all over. It has a patio and outdoor garden seating with a regular line-up of popular food trucks on the property. Large crowds are common at the business. WECO Bottle and Biergarten customers love the place's unique set-up and they have been loyal.