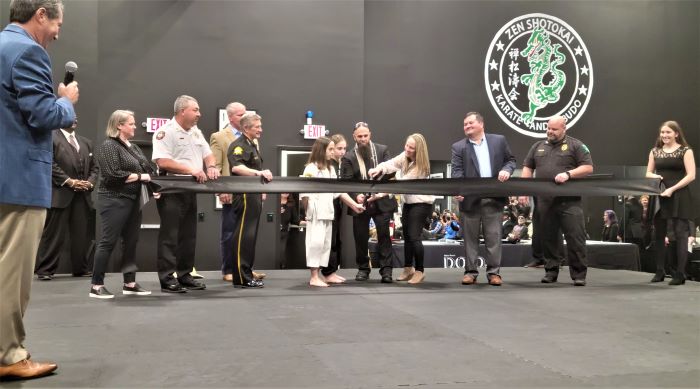 New Karate Dojo Grand Opening draws huge community support, overflow crowd
January 3, 2022
|
|
Comments Off

on New Karate Dojo Grand Opening draws huge community support, overflow crowd
|
NEWS
Sensei Brian Pena christened his new Karate Dojo, Sunday afternoon with the help of hundreds of friends. People filled the Dojo and the crowd overflowed into the parking lot, where there were bouncy houses and even a live camel.
The huge outpouring of community support came to the Karate Dojo at 2225 Sunset Boulevard. The brand new 16,000 sq.-ft., two-story complex is located next to the former Dojo in Sunset Court in West Columbia. It includes large indoor and outdoor training areas, observations windows, homework stations and a coffee shop.
Sunday at the Grand Opening, Pena was presented with several commemorations for his contributions to the world of martial arts over the years.
Sen. Nikki Setzler was on hand, and said Pena has been a tremendous asset to the community for a long period of time.
The Cayce-West Columbia Chamber of Commerce sponsored the ribbon-cutting. West Columbia Mayor Tem Miles, WCPD Chief Marion Boyce, WCFD Chief Chris Smith and Richland County Sheriff Leon Lott were also on hand for the three-hour grand opening that included demonstrations from African Martial Arts Science, the Little Dragons Dojo students and Pena's daughters Lainie and Gabby.
Miles said Pena and the Dojo staff offer the services beyond just karate. He said the discipline taught at the Dojo is a part of the foundation of our society.
Smith thanked Pena for building relationships in the community and he gave Pena a WCFD helmet.
Cayce-West Columbia Chamber President Tim James said the Dojo has out its "heartprint" on the community and James thanked Pena for training his daughter Taylor at the Dojo. Lott said Pena teaches respect and accountability and it helps curb violence among our youth.