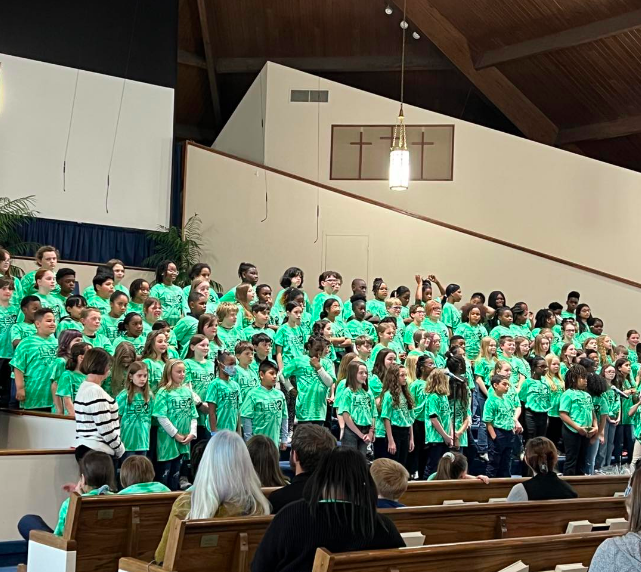 Nearly 260 Lexington 2 students are performing in district-wide Choral Clinics
March 23, 2023
|
|
Comments Off

on Nearly 260 Lexington 2 students are performing in district-wide Choral Clinics
|
NEWS, Social Media
Nearly 260 choral students from Lexington Two schools are performing in March and April as part of district-wide Choral Clinics.
Roughly 133 elementary school students, in third through fifth grades, participated in the Lexington Two Choral Clinic on Thursday, March 16. The students performed in concert after a day of rehearsal under the guidance of guest clinician Camille Jones at Springdale Baptist Church.
On Tuesday, April 4, about 126 auditioned students, in sixth through 12th grades, will be participating in the Lexington Two Honor Choir Clinic. Under the direction of guest clinician Dr. Don Campbell, these students will spend the day rehearsing music at the Innovation Center. Their day will conclude with a free performance, open to the public, at 4pm.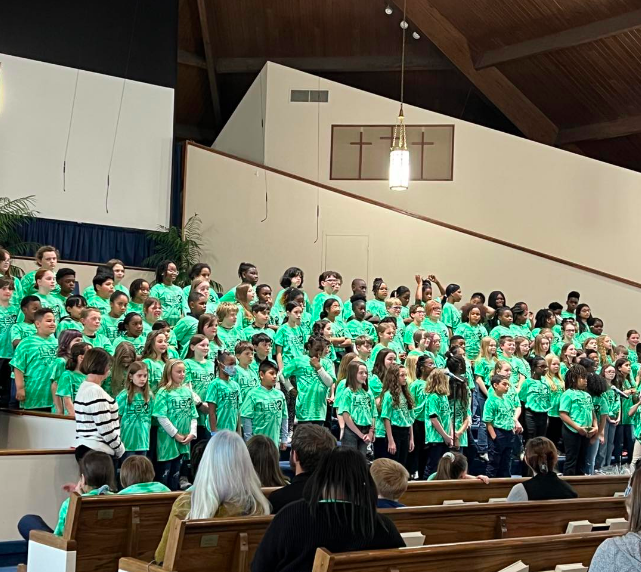 Among the Lexington Two students who performed with the Lexington Two Choral Clinic:
ELEMENTARY SCHOOLS
Cayce Elementary: Kylee Akens, Hannah Amaker, Jaelyn Bernier, Aleena Becerra, Leila Burton, Sara Davis, Marcos Diaz Rivas, Mariyah Downing, Dakaraiah Dorrah, Giavanna Dugan, Omani Edwards, Melisa Estes, Bobbianna Favor, Aaliyah Flores, Justice Green, Richanna Hamlet, Genesis Harvey, Shamiya Hines, Alyssa Iniguez, Naomi Jones, Sa'Miya Jones, Allyssa Keel, Grayson Knight, Brenin Knotts, Piper Lovett, Noah Lugay, Tillie Martin, Cam'Ron Morrison, Noah Nutter, Israel Palafox Juarez, Zarihanna Porter-Wash, Rosa Ramirez, Josiah Robinson, Piper Robuck, Alexis Schmidt, Justice Smith, James So, Kimaria Thompson, A'Nya Tobin, Paul Welli, Naomi Williams, Kameryn Wakefield, Kourtney Warren, Michael Wilson
Congaree Elementary: Diego Acevedo, Reagan Barker, Samuel Berry, Kamden Brisbon, Aubrey Cade, Jasmine Carino, Eavin Chambers, Madallyn Cribb, Jayden Diaz, Diana Garcia Santos, Hannah Godwin, Faye Gwaltney, Samantha Harris, Kaleb Jeffcoat, Nevaeh Johnson, Rayven Johnson, Heather Krause, Mhyuana Ludley, Winter Price, Nathan Santamaria, Blake Stephenson, Jasmine Watkins
Riverbank Elementary: Renee Balkema, Jayson Barrientos,Wilder Bolton,Madelynn Byrd,Jahmir Cunningham, Justin Cunningham, Daniel Ericksen, Aubree Gault, Nia Goodrich, Laicee Harris, Bodie Johnson, Peyton Joyner, Ransome Lifsey, Briggs Morrison, Dillon Middleton, Hamsini Panchal, Ibiza Parrilla, Luciana Piedrahita, Aubree Polluck, Elleigh Quinn, Kenneth Ramirez, Roxmeri Silva-Alvadado, Sadie Stamps, Ramona Villines, Aaliyah Vitalis, Asher Waddell, Ethan White, Ayden Wilder-Johnson
Saluda River Academy for the Arts: Olivia Argoe, Gunner Brooks, Abbeygale Checkovich, Londyn Coker, Maddilyn Hull, Shaki Oliver, Haley Pharr, Noelle Richardson, Kevin Robinson, Evelyn Sellers, Anderson Sturkie, Samiya Taylor, Ava Thompson, Cohen Williamson
Springdale Elementary: Preston Dufries, Aleah Evans, Bentley Hite, Zachary Humpries, Ainsley Krantz, Chloe Lawrence, Mercy Lawrence, Kallie McCants, Korlie McCants, Conner Nutter, Eva Pope, Rebekah Rabon, Brice Trimnal, Ille Grace Waters
Wood Elementary: Erik Avendano, Christopher Branch, Mattisyn Brunnemer, Galax Kabar, Dawson Hipp, Zoey Horn, Hannah Houtchings, Owen Hutto, Savannah Little, Sophia Lopez, Abbie Perkins
Among the Lexington Two students who are performing with the Lexington Two Honor Choir Clinic:
Busbee Creative Arts Academy: Miyah Smith, Sophia Brooks, Averie Bailey, Ky'Nori Pittman, Serenity Thompson, Timia Riley, Ymani Key, Charlotte Wojcik, Claudia Aguilar Mejia, Jewll Klicka, Vanessa Tran, Adrian Tirado, Antowian Barker, Elijah Dalencourt, Brandon Cruz Espinoza, Collin McCarthy, Dylan Bridges, Emerson Ayala Cruz, Marcellus Mosley
Fulmer Middle School: Emerson Hendrix, Lilly Davis, Parris Brown, Isabella Szczechowski, Addie Harrel, Alma Mendez Rosas, Annagale Platt, Haley Davis, Arianna Helgeson, Dixie Wise, Hannah Rabon, Isabella Rabon, Jade Ramos, Julianna Melendez-Rosendo, LauraBell Boatwright, Scarlett Breton, Sophia Floyd, Al'eyah Thorton, Annaly Reynoso-Vera, Ayanna Thorton, Keighly Zein, Lore Ann Stabler, Madison Akers, Mary Ella Rogers, Me'kaylah Hayes, Shelby Straube, Trinety Williams, Zoe Carter, Austin Lee, Chanan Singletary, Andrew Platt, Ashton Boyd, Caleb Jenkins, Corbin Hooker, Joseph Rojas, Reece Caughman, RJ Milburn, Ben Humphries, Kaylin Gilles
Northside Middle School: Lily Warble, Lessly Arriola-Salazar, Addy Barrett, Anna Cate Hook, Faith Martin, Brody Cline, Hannah Truong, Lorely Gaspar, Mary Kate Galloway, Olivia Long, Xavier Peart, Antwain Lawson, Case Ray, Cort Pryor, Jack Fisher, Riley Jimenez, Yker Baez Cortez
Airport High School: Bridget Paniagua-Ilagor, Brien Graham, Leah Conrad, Toby Barker, Vannah Jordan, Samantha Mendez Palaez, Abigail Beveridge, Allicen Caulder, Dixie Dangerfield, Janya Howell, Maddy Ekmalian, Tara Isbell, Anthony Carr, Dementrix Corley, Landon Allison, Ty'ron Williams, Andy Roldan-Garcia, Beck Kyzer, Michael Hatchell, Timothy Weston
Brookland-Cayce High School: Bradlynn Sturkie, Diana Palafox, Lauren Waters, Lucy Barry, Riley Myers, Alexis Toller, Daniela Castaneda, Destinie Klicka, Elliott Bridges, Jayla Williams, Jenna Pownall, Karen Cruz, Kaylee Andrews, McKenna Dodson, Callie Burgess, Ella Everett, Hannah Breese, Karsyn Earle, Olivia Wright, Raeleigh Hafer, Tamia Bowman, Brock Jones, Ginger Libbey, Ian Barnes, Kalvin Valentine, Carlos Mejia, Davion McGill-Boykin, Jonathan Honeycutt, Quener Ramirez, Kamenye Williams, Lucas Burr