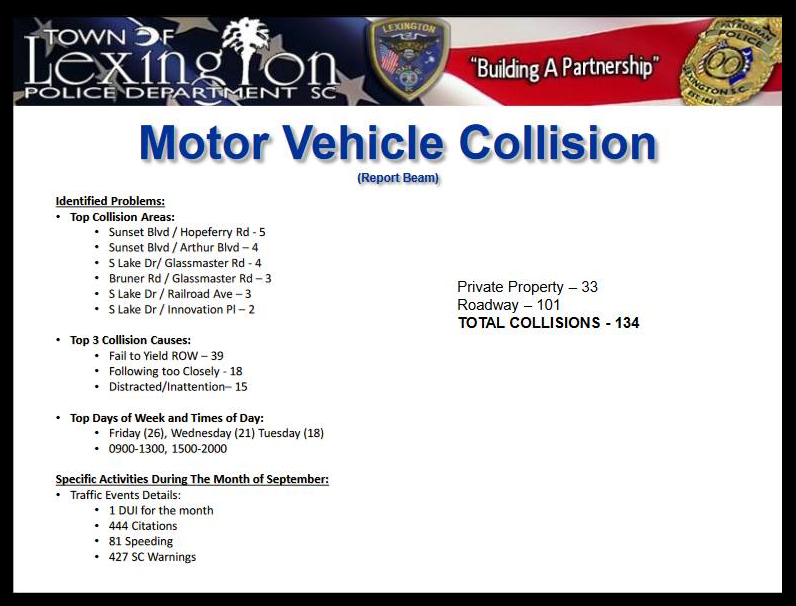 Most Lexington collisions occurred at Sunset Boulevard and Hope Ferry Road in September, according to police department data, 134 crashes for the month
November 17, 2023
|
|
Comments Off

on Most Lexington collisions occurred at Sunset Boulevard and Hope Ferry Road in September, according to police department data, 134 crashes for the month
|
NEWS, Social Media
Most vehicle collisions in the Town of Lexington occurred at Sunset Boulevard and Hope Ferry Road in September, according to data released by the Lexington Police Department.
There were 5 crashes at that intersection. There were 4 crashes at Sunset and Arthur; 4 at South Lake and Glassmaster; 3 at South Lake and Railroad Ave.; 3 at Bruner and Glassmaster; and 2 at South Lake and Innovation Place.
Overall, there were 134 collisions in Lexington in September.
Failure to yield right-of-way (39) was the top reason for wrecks; following too closely was second (16) and distracted driver (15) was third.
There were 26 crashes on Friday Oct. 26. That was the highest number of any day of the month for collisions. There were 81 speeding tickets issued. See data below: