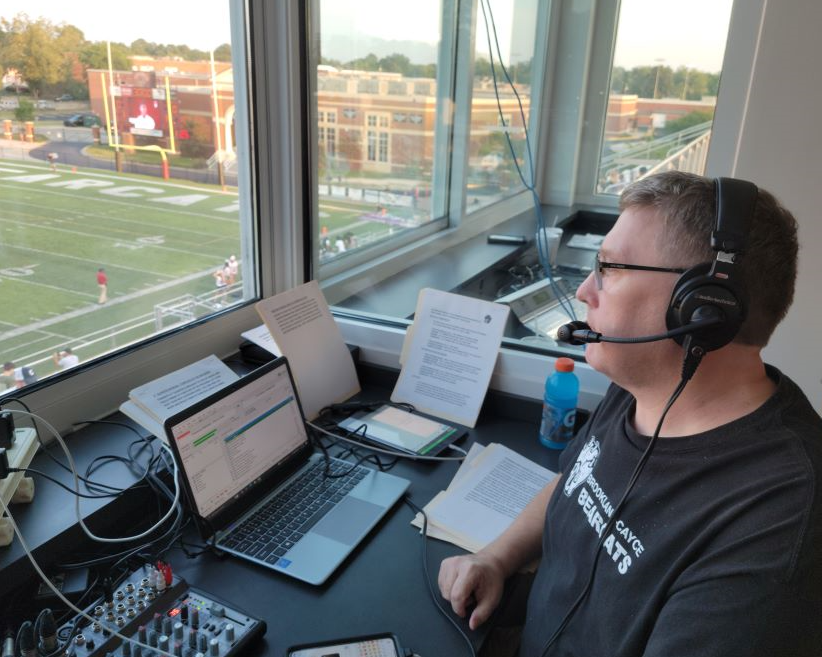 Mike Hagins, The Voice of The Brookland-Cayce Bearcats, is stronger than ever
October 7, 2022
|
|
Comments Off

on Mike Hagins, The Voice of The Brookland-Cayce Bearcats, is stronger than ever
|
NEWS, Social Media
He is the voice of the Brookland-Cayce Bearcats. For 14 years, fans of BC football, basketball and baseball have been tuning into the online stream of The Dove 1620-AM Radio. They listen from Germany, Japan, France and Afghanistan. Thousands tune in from Cayce, West Columbia, and Lexington too.
Click here to listen to The DOVE – 1620 and download the app The Bearcats host Lower Richland Friday night. Pre-game air time is 7 p.m. The game starts at 7:30 p.m.
The man behind the microphone is Mike Hagins. He has become that familiar friend and broadcaster to anyone who follows the Bearcats. And his voice is sounding better than ever these days. Two years ago Hagins' life changed. He received a new kidney from a family friend. And it was not a moment too soon.
"I was on dialysis three hours a day before the transplant," Hagins said. "It was draining me of all my strength. But then I got the new kidney. I spent a month in Atlanta to allow my body to get used to it. The first year was critical. My doctors are pleased, they are impressed, with the progress."
Hagins now walks 30 minutes a day and has lost 30 pounds." He's very grateful for how far he has come. "I thank God every day," he said. His energy level is high and he needs that.
"When we're broadcasting a game, there's so much excitement. The adrenaline is pumping. It's like you're playing," Hagins said. "When the game is over, I feel like I played."
Hagins gets a 100 percent grade on his call of the game. He's as colorful as you can get, with lots of spirt and style thrown in. Hagins said the team, and Football Coach Rusty Charpia are like family to him. He's close to BC's other coaches and teams, too. Hagins also said it's difficult to stay neutral sometimes when the Bearcats get a bad call. He's always fair and professional about it, but has the savvy to let his listeners know what is going on without being blatant.
Hagins is not by himself. Kirt Pichey is the owner of Creekside Restaurant in Lexington's Old Mill. Pichey, like Hagins, is a Brookland-Cayce graduate and he is in the booth with Hagins to provide color and commentary.
When it's not BC sports, 1620 The Dove provides Christian programming and songs formatted to the Cayce-West Columbia area as well as the World.