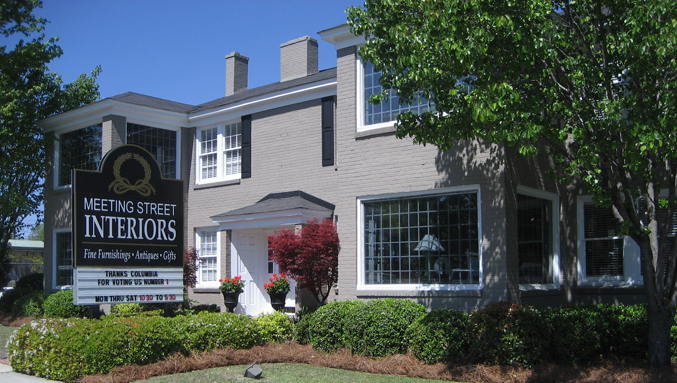 Meeting Street Interiors featured in West Columbia Newsletter
June 14, 2021
|
|
Comments Off

on Meeting Street Interiors featured in West Columbia Newsletter
|
NEWS
Meeting Street Interiors is the epitome of elegance in home décor.
The business is featured in the West Columbia Newsletter – Click here for link
It has been at 614 Meeting St., West Columbia, since 1998.
"We've seen it grow," said Marion Scott, "a lot is happening in West Columbia."
Marion owns Meeting Street Interiors with his wife, Pam. He calls the business her brainchild. Marion describes Meeting Street Interiors as a multi-merchant store that specializes in quality new, vintage and antique home furnishings and gifts. It also offers home design services by Interior Designer Tim Brown.
Meeting Street Interiors has a great selection of unique mirrors and chandeliers. There's history, too. The business is housed in a structure that was once a quadruplex, built in 1938.
"We renovated it," said Marion, including the floors, the walls and the ceilings. The stately, re-done home is the perfect setting for the antiques, vintage furniture and the new modern classics it offers.
"If you need a one-of-a-kind statement piece or pieces to refresh the look of your family room we can help," said Marion.
He also said Meeting Street Interiors offers its customers a rotating mix of merchandise.
And with so much new construction going on in West Columbia, Meeting Street Interiors is in the right place.
"For a while we have been able to see it coming our way," Marion said. "There is a lot going on, and we're glad to be a part of it."