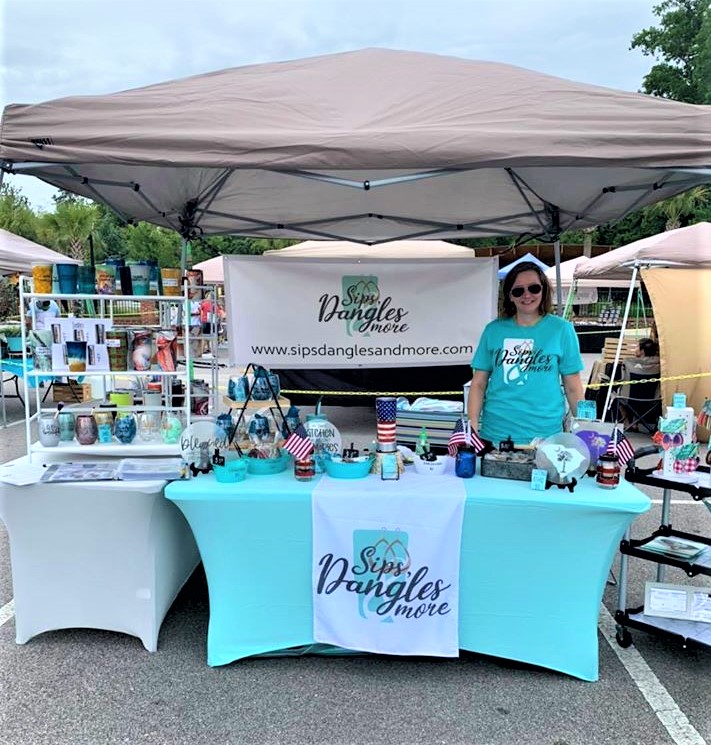 Meeting Street Artisan Market is a valuable asset to vendors in the COVID era
July 16, 2020
|
|
Comments Off

on Meeting Street Artisan Market is a valuable asset to vendors in the COVID era
|
NEWS, Social Media
Despite the uncertainty caused by the coronavirus, vendors at West Columbia Meeting Street Artisan Market are finding success.
The market meets under the pavilion at 425 Meeting Street, West Columbia, in the public parking lot behind Terra Restaurant. All COVID safety protocols, including the wearing of masks, are followed at the market. It's from 9 a.m. until 1 p.m. There is parking in the city's Art Park lot and more parking in the city's garage on Court Avenue.
"The artisan market has been a very positive experience," said Marny Conley. She opened her business Sips, Dangles and More in December. "I started coming to the Artisan Market to get name recognition for my new business."
She sells tumblers, handmade earrings and holiday décor. "I sold out all of the tumblers the first week I was at the artisan market," Conley said. "The next week I sold out of all of my handmade items."
Conley has been on-site at all but one Saturday since the artisan market opened in June.
Ty Rowe operates the New Brookland Tavern Food Truck. It has been featured at the Artisan Market and the result has been successful on many levels.
"When doing the market, it's always a great experience," said Rowe. "I love to meet fellow West Columbia citizens and talk with them. I actually do a pop-up tent out there so while I'm cooking their food, I'm able to talk to them and get to know who I'm cooking for. It's an overall wonderful experience."
Rowe said the market also provides the opportunity to promote New Brookland Tavern to potentially new patrons.
"I think (the artisan market) has been awesome," Rowe said, "mainly because when I'm down there most the people I serve haven't been in to visit us yet, since we primarily are open at nights for bands to perform."
Jenny Harrison is owner and chandler of Seminole Candle Company. She said she loves candles and started the business to share healthy and high-quality candles.
Harrison has been a vendor of every Meeting Street Artisan Market since it opened in 2019. She described the buyers of her products at the market as intentional.
"The people who visit me get in and get out," Harrison said. She also said the market is very well organized and the City of West Columbia makes it easy to come back. "It's such a good market," said Harrison. And part of the reason is vendors are required to purchase a one-time $10 license from the city. There is no recurring fee.
All of the vendors said they are impressed with the coronavirus safety precautions taken to ensure health and safety. "We have lots of hand sanitizer and the booths are spaced 10 feet apart," said Harrison.
And if you forget your mask, you can buy one at the Meeting Street Artisan Market.
"Mopickles is there with handmade fabric masks, said Conley. One of the vendors is Holli McGee. "Holli said she is going to make a mask for me with my logo on it."
Retail outlets may not be experiencing large volumes of customers, but the West Columbia Meeting Street Artisan Market is establishing itself as a valuable option until we get the all-clear.
The Meeting Street Artisan Market list of vendors for this week is:
Benji Hicks Art
Downstairs Stitchery
Fluid Art by Joni Trezza
IjArt by Ija Charles
Mopickles
Seminole Candle Company
Simpson's Boiled Peanuts
Sips, Dangles and More
Soda City Art
State Street Trading
The Hope Chest
Topstitch Leather and Glass
For information, go to: https://westcolumbiasc.gov/meeting-street-artisan-market/ or: Contact market manager Colleen Otte, at 803-622-8598 or [email protected] with any questions.