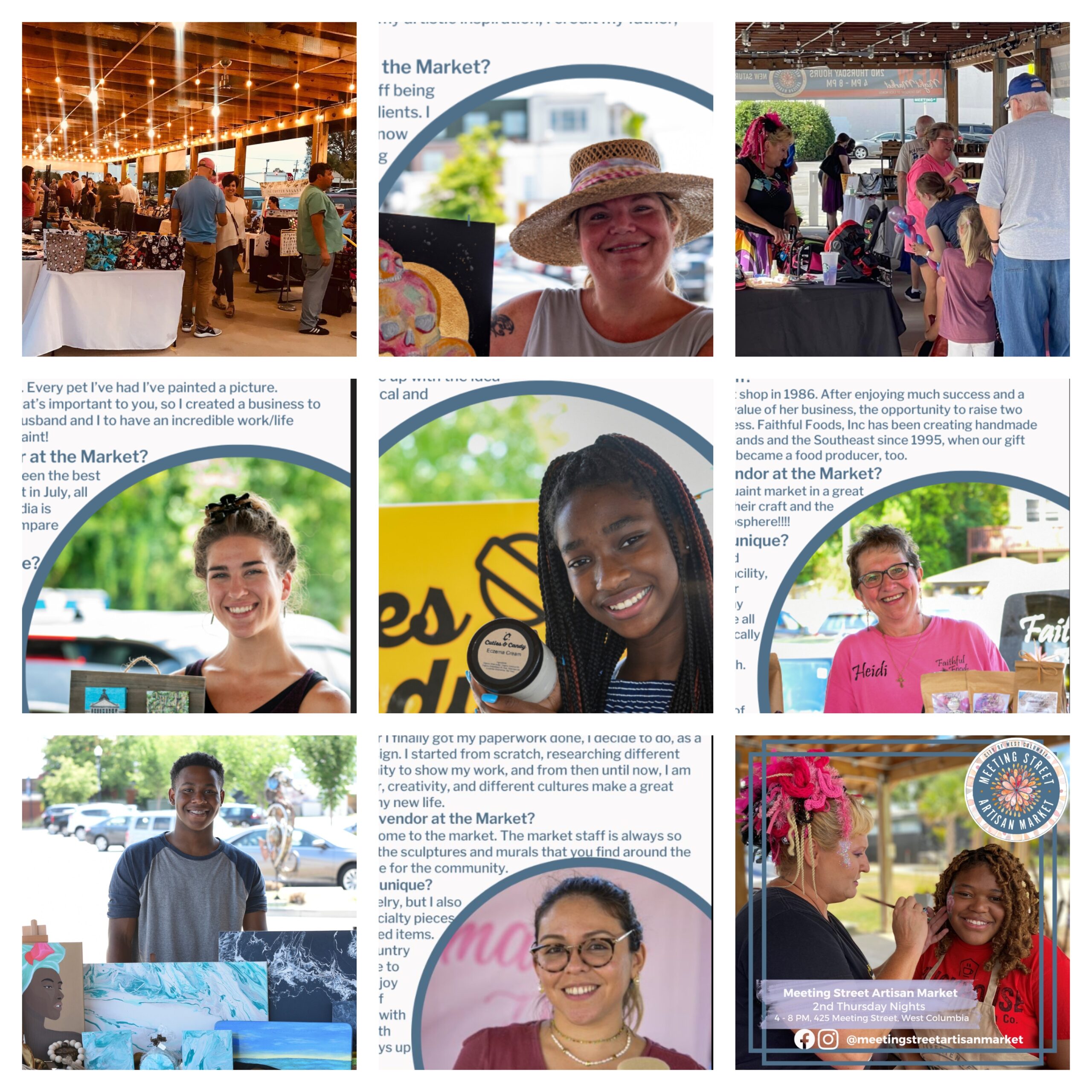 Meeting Street Artisan Market creates energy in West Columbia's River District
January 19, 2023
|
|
Comments Off

on Meeting Street Artisan Market creates energy in West Columbia's River District
|
NEWS
When the Meeting Street Artisan Market opened in September of 2019, West Columbia Mayor Tem Miles said the goal was to create energy and drive activity to West Columbia's River District. State Sen. Nikki Setzler looked forward to seeing the Artisan Market succeed and expand.
Three years-plus later, the Artisan Market is meeting expectations and then some.
"There's a lot of vitality surrounding the Artisan Market," said Brittany Raven, City of West Columbia Event Coordinator and Artisan Market Manager.
The market is open from 11 a.m. until 3 p.m. every Saturday. There is a special Thursday version of the Artisan Market from 4 p.m. until 8 p.m. on the second Thursday of every month.
Vendors include: painters, candle-makers; leather works; jewelry makers; growers; face painting; photographers; bakers; produce and more.
Raven said the market provides opportunities to vendors that may not be available elsewhere.
"The market gives artisans a chance to talk about their creations with the people of the community," Raven said. "A lot of artists do commission work. They make unique creations. They can tell a client what they can do when they are set up at the market."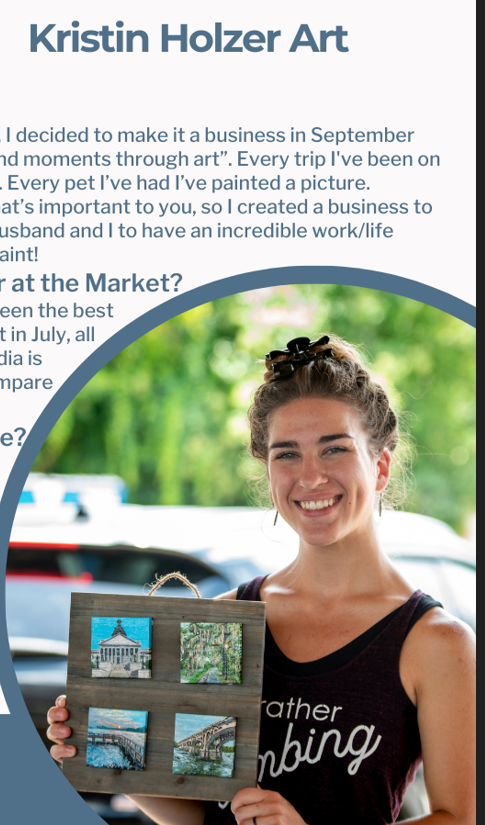 Kristin Holzer is an artist who presents her art and services at the Artisan Market. It's a great outlet for her.
Holzer specializes in painting realistic, yet unique representations of memories and moments of life. The artisan market is a wonderful setting for her to meet with people.
Barbara Alexander owns 22 Memory Lane. The business is a regular vendor at the Artisan Market and is dedicated to touching on the nostalgic senses via custom scents. The scents offered include the beach and rain in the woods.
22 Memory Lane offers you the chance to experience your childhood and dearest memories through a vast collection of scents. You can take a walk down memory lane by your sense of smell.
Raven said in the three-plus years since the Artisan Market opened, the momentum has increased.
The Artisan Market is adjacent to West Columbia's Interactive Art Park and it's close to several restaurants, the Brookland complex, antique shops, galleries and a florist, a spa and and two styling salons. Savage Craft Ale Works, a large brewery and beer garden, and D's Wings are also neighbors.
"The market has generated more and more traffic," Raven said.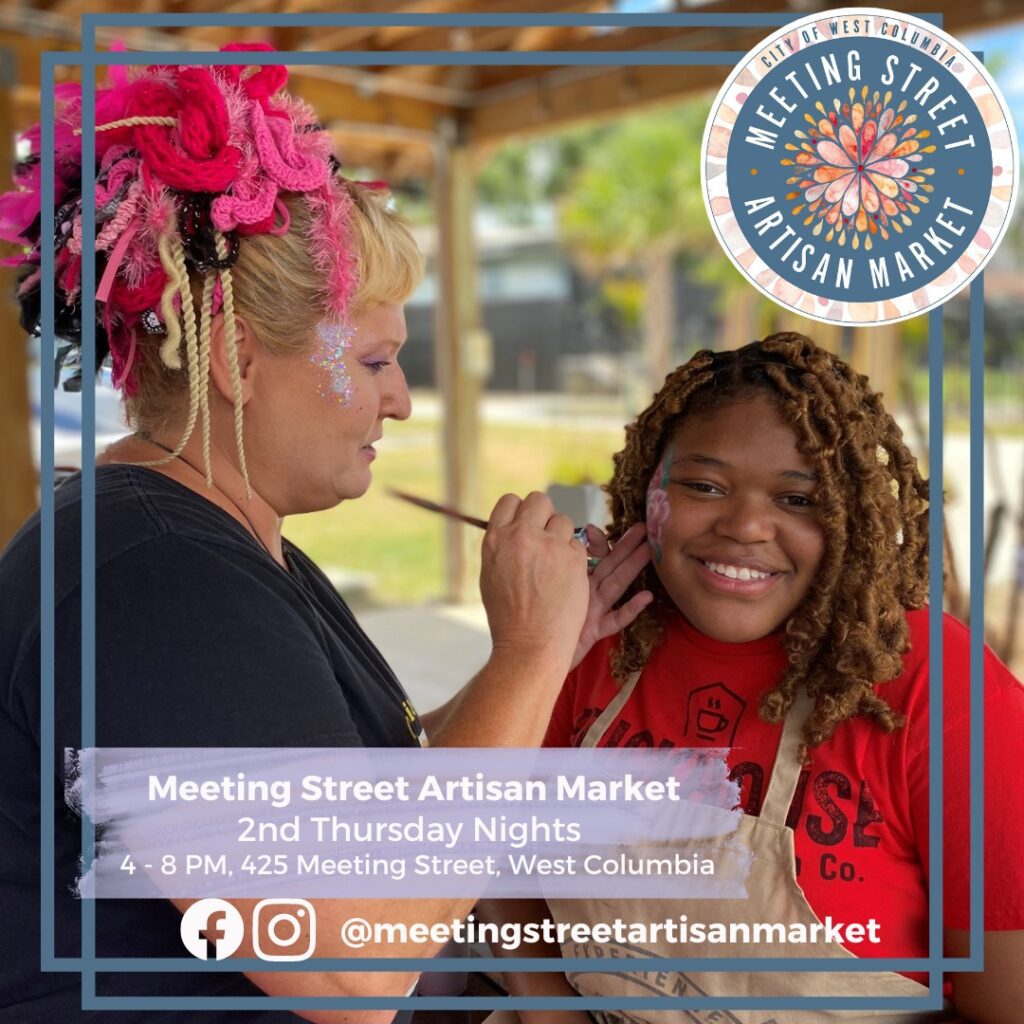 Aside from the unique products offered at the Artisan Market, Raven said it has lifted the spirit of the community.
"The market is where friends and even relatives, who may not have seen each other in a while could run in to each other. It's a great place to get out and experience on a Saturday morning or on a Thursday evening."
So if you have not gotten out to the Meeting Street Artisan Market, now is the time to go. If you have been, but it's been a while, there's no reason to put it off.
Visit the Meeting Street Artisan Market and find out what you have been missing. Or you may want to become a vendor. If so, here's some information: Contact Brittany, Market Manager, at 803-791-1880 Ext. 279 or [email protected] with any questions.