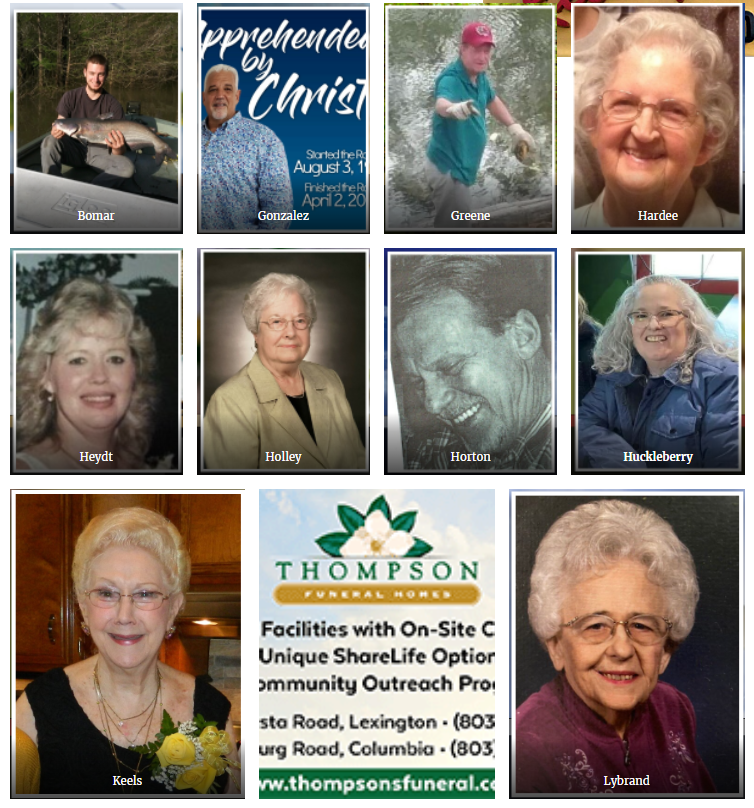 Lexington County Obituaries for April from Thompson Funeral Home
April 19, 2022
|
|
Comments Off

on Lexington County Obituaries for April from Thompson Funeral Home
|
NEWS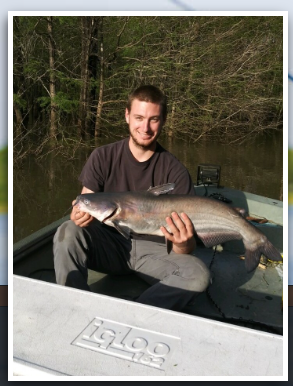 Ann Simmons Zavala
Ann Simmons Zavala, 78, of West Columbia, SC passed away on April 14th, 2022. Ann was from Wallasey Cheshire, England and was the Daughter of Andrew Simmons and Blanche Clare Simmons. Ann is preceded in death by her parents, her brothers Bob, Andrew, John, and David, as well as her sister Frances. Ann is survived by her beloved husband of 59 years, Nathan Zavala, her sisters Blanche Simmons Knight, Irene Simmons Yates, and Marjorie Simmons Ashburner, her daughters Natalie Zavala (David Leslie) Hamlett and Leah Zavala (Kenneth Scot) Taylor, her grandsons Jonathan Spencer David Hoover and Kyle David Hoover, and their father Johnathan David Hoover, her granddaughters Jamie Grae Taylor and Gabrielle Scot Taylor, and her great-grandson Finn Spencer Hoover.
Ann Zavala served in the British Royal Air Force as a Communications Specialist and married Nathan Zavala in 1961 while they were both stationed at High Wycombe, England. Ann came to the United States in 1966 and became a U.S. citizen in 1967. Upon her husband's military retirement in 1984, Ann was employed by a construction company, GMK, where she worked as Chief Secretary to the CEO until her retirement in 2017.
A memorial service will be held for Ann S. Zavala at Saluda River Baptist Church, 5459 Sunset Boulevard, West Columbia, SC, 29169 on May 7th, 2022 at 12 pm. The family will receive guests starting at 11 am.
In lieu of flowers, donations can be made to Saluda Baptist Church.
Doris A. Brown
Doris A. Brown, of Springdale, SC passed away Sunday April 10th at her home. Doris was born August 16, 1935 to the late Fred and Leila Ammons. She was the loving wife of the late Herman M Brown.
Doris was a faithful member of West Columbia First Church of The Nazarene. She is survived by her four children, Derek Brown, Kathy (Phillip) McMillon, Jeffrey (Jennifer) Brown, and Rodney (Alicia) Brown; seven grandchildren, Derek Jr. (Miranda), Layla (Seamus), Matthew, Amber (Chase), Carley, Haley and Mason; six great grandchildren; and sisters and brother, Adelaide Freeman, Geraldine Sanders, and Freddie Ammons. Doris was predeceased by her brother, John C. Ammons; and sister, Lola Small.
A private graveside service was held. In Lieu of flowers please make donations to the West Columbia First Church of the Nazarene.
Carolyn H. Hardee
Mrs. Carolyn H. Hardee, 91, of West Columbia, passed away peacefully on April 10, 2022, surrounded by her loving family. Wife of the late George L. Hardee, Carolyn was the daughter of William Ruthen Holladay and Ida Isabelle Huggins Holladay Owens, one of 14 surviving children. Upon her father's death, Carolyn and three of her siblings were placed in the Crosswell Home for Children in Sumter, S.C. She graduated Sumter (Edmunds) High School and attended Draughan's Business College where she received a degree in bookkeeping. After her children were grown, she returned to the workplace at Seibels Bruce Insurance Agency, Dixie Electronics, Trasco and Neil Parts Rebuilders, Inc., which she and George operated until their retirement. Carolyn was a charter member of Trinity United Methodist Church in West Columbia where she taught children's Sunday School classes for several years. She was a devoted wife and mother of six children, eight grandchildren and two great-grandchildren. She was a genuinely kind, softspoken woman who was an avid reader, enjoyed sewing, cooking, baking, gardening, swimming, loved music and was an enthusiastic supporter of the interests of her family.
Carolyn is survived by daughters Lynn (Chuck) Martin, Peggy Jo (Dean) Nadler and sons Sonny, Gary (Myriam), Joey (Shayne), and Randy Hardee; grandchildren Bryan and Chris Spencer, Jon (Erin) and Matthew (Madeline) Martin, Wessli-Ann (Zack) Singleton and Alyx Hardee, Ayden and Kyler Hardee, and great-grandchildren Audra and Madison Spencer; sisters Mary (Jim) Watson and Willene Johnson, and numerous nieces and nephews. Carolyn was preceded in death by her loving, devoted husband of 63 years and by her brothers and sisters: Will, George, Hattie, Isabell, Joe, Libby, Vernon, Johnny, Lottie, Robert, Sammie and Margaret Alice.
The funeral service for Mrs. Hardee will be held at 11 a.m. on Tuesday, April 19, 2022, at Trinity United Methodist Church in West Columbia. Burial will follow at 1 p.m. at Fort Jackson National Cemetery in Columbia. Visitation will be held at Thompson Funeral Home, Lexington Chapel, from 6:30-8 p.m. on Monday, April 18, 2022. In lieu of flowers, memorials may be made to Trinity United Methodist Church, 1201 Mohawk Drive, W. Columbia, SC 29169, or to the Crosswell Home for Children, 11 Crosswell Drive, Sumter, SC, 29150. The family wishes to thank the compassionate and dedicated team of caregivers in the Congaree Neighborhood of the Greenway Building at Still Hopes Episcopal Retirement Community who cared for Carolyn over the past 2 ½ years and who provided comfort and support in her final days.
Patsy Ann Treece Keels
Patsy Ann Treece Keels, 88, of West Columbia, passed away peacefully on Sunday, April 10, 2022. Born in St. Petersburg, Florida on September 22, 1933, she was the daughter of the late Margaret Luella Gibson Treece and David Glenn Treece and the wife of the late Henry Gamewell Keels. She worked for many years in the apparel manufacturing business as the Floor Manager in the sewing department. She enjoyed taking care of her granddaughters and nephews. She also loved baking cakes for weddings, birthdays, anniversaries, and her family. She was a loving wife, sister, mother, grandmother, great grandmother, nanny, and friend.
She is survived by her daughter, Pattie Mikell (David) of West Columbia, SC and sister Daisy Hartin (Jim) of West Columbia, SC. She is also survived by her granddaughters, Janine Mikell and Melanie Mikell Yoder (David) and great-grandchildren, Harper and Hudson. Along with her nephews and nieces David Wallace (Virginia), Johnny Treece, Troy Lowman (Karan), Craig Lowman (Carolyn), Patsy Tanner (Phil), Gloria Whitehead (John), Barbara Loftis (Wendell), Maggie Lowman, Penny Treece, and great-nephews Joshua Treece (Leigh-Ann), Caleb Treece, and many more great-nephews, great-nieces, and cousins.
A graveside service was held on Friday, April 15, at Elmwood Cemetery officiated by Rev. Wes Church.
In lieu of flowers, memorials may be made to First Baptist Columbia, Television Ministry, 1306 Hampton Street, Columbia, SC 29201.
Karen C. Heydt
Karen C. Heydt, 63, of West Columbia went to her heavenly home on April 9, 2022.
Born in Hope Mills, N.C. on September 28, 1958, to Nadine (Robert) Clark and the late Joseph (Linda) Pate. She graduated in the top of her class at South View High School (Fayetteville, '76). She grew up attending Green Springs Baptist Church, shelling butterbeans on her family farm and eventually meeting the love of her life, Mark Heydt, who preceded her in death on June 10, 1995.
She devoted many years to the Department of Social Services helping to provide families with the assistance that they so desperately needed. She had a profound love of music, traveling, and going to the beach to stick her toes in the sand and hear the crash of the waves. Her door was always open for anyone who needed a place to lay their head as she generously gave to anyone in need and deeply cared for others. But her most treasured time was that spent with her grandchildren. She will always be remembered for her heart of gold, beautiful smile, and giving nature.
Her beautiful, caring life will forever be cherished by her many loved ones including her children, Nikki Britt (Wes) of Valdosta, G.A., Michelle Villegas (David) of Goldsboro, N.C and Brandon Heydt (Amy) of Lexington, S.C.; grandchildren, Wesley and Lorelai Britt, Abigail, Ethan and Olivia Villegas, Cooper, Jackson, William and Payson Heydt; stepchildren, Christopher and Lindy Welch; and her beloved partner of 20 plus years, Lonnie "Mitch" Welch.
A Memorial service was held on Saturday, April 16 at RADIUS Church – White Knoll; 5181 Platt Springs Rd, Lexington, SC 29073.
In lieu of flowers her children ask that you pay it forward and show kindness to help someone in need, as she was always there to help others.
Harriet Holley
Harriet Corbin Holley, 90, of West Columbia, SC, passed into the hands of the Lord on April 8, 2022, at Carroll Campbell Place in Lexington, following a long battle with dementia. Services for Harriet will be held on Wednesday, April 13, 2022, at 11 a.m. at Thompson Funeral Home of Lexington, with burial following immediately after at Southland Memorial Gardens. The family will celebrate her life and receive friends one hour prior to the service at the funeral home.
Harriet was born August 31, 1931, in Hampton, SC. She graduated from Hampton High School, and then from Columbia Hospital as an R.N. in 1953. She spent many years in the service of others through her nursing career. She enjoyed being with people and loved to be with her family and especially enjoyed cooking for family and friends over the years.
Harriet was a long-time member of Northside Baptist Church. She was preceded in death by her husband, Willie Holley of West Columbia; sisters, Caroline Wilson of Bamberg, and Elizabeth Corbin of Hampton; and parents, Paul and Caroline Corbin of Hampton. She is survived by her children and their spouses, David and Donna Holley of Chapin, Glen and Janet Holley of Easley, Bruce and Mary Ann Holley of York, and Sandra and Jeff deMontbrun of Black Mountain, NC; beloved grandchildren and spouses, Travis and April Holley, Laura and Andrew Frick, Jacob and Jessica Holley, Rachel and Bryce Paull, Sarah Holley, Hannah Holley, Kelly deMontbrun, Robyn and Ellis Edwards, and Michael deMontbrun; and great-grandchildren, Hunter and Emma Holley, Caden and Olivia Frick, and Lainey and Cora Holley.
In lieu of flowers, memorials may be made to the Carroll Campbell Place c/o Harriet Holley, 802 Old Cherokee Road, Lexington, SC, 29072, or the Dementia Society of America online at https://dementiasociety.charityproud.org/donate.
Harriet was a loving wife, mother, grandmother, sister, and aunt. She will be truly missed.
William Barron Horton
William Barron Horton, of West Columbia, SC, passed away on November 24, 2021. Born on October 10, 1955 in Columbia, SC to Robert A. and Katie Clark Horton, he was the youngest of four children.
After he graduated from Irmo High School, William went to work for Honda. Known for his love of anything automotive, he also worked for Jim Moore as a service advisor, as well as Rhino Linings.
Thirteen years ago, he found AA and became an ardent supporter and member. Thru his sponsors, AA helped him re-find himself. He truly loved helping others with their struggles. It became a large part of his life and we, his family, got our sweet, fun loving brother back.
Barron is survived by his siblings, Dianne Risher (Thomas) of Hilton Head SC, Donna Brown (Pete) of Wilmington, NC, and Robert A. Horton, Jr (Donna) of Greer SC; as well as his beloved nieces, nephews, grand-nieces, and grand-nephews who so loved their "Uncle Barney".
A memorial service was held on Saturday, April 9, 2022, at Thompson Funeral Home of Lexington.
Malcolm Tanner Bomar
Malcom Tanner Bomar of Lexington, S.C., passed away on Tuesday, April 5, 2022.
Tanner was born on February 23, 1995. He attended White Knoll High School and graduated from Beaufort Marine Institute. He was a welder with D & T Steel and Owen Steel.
Tanner enjoyed fishing with his dad. On many occasions he found delight in satisfying his competetive nature, and trying to outdo his dad.
He loved, and was loved by his family.
Tanner is survived by his father, Mal Bomar and stepmother, Della Bomar of Lexington; his mother, Rebekah McCall Carswell of West Columbia; and his grandparents, Harold and Sherry Bomar of Manning, and Mary McCall of Columbia.
A memorial service was held Monday, April 11, 2022, at Thompson Funeral Home of Lexington Chapel.
Memorials may be made to St. Jude's Children's Hospital.
Lena K. Wessinger
Lena K. Wessinger, 101, of West Columbia, passed away on April 3rd,2022 in the Presbyterian Community after a long battle with dementia. She was born January 29th, 1921 to the late Lillie Bell Knighton and William Thomas Knighton. Services will be held at the Greenlawn Memorial Chapel on April 6th, 2022 at 2:30pm, officiated by A.C. Allen. Burial will follow at Greenlawn Memorial Park. The family will receive friends 1:30-2:15pm. Memorials may be made to Mt. Hermon Lutheran Church,3011 Leaphart Road, West Columbia, SC 29169.
During her life Mrs. Wessinger worked 27 years in the Shakespear Line Division in Columbia, SC. She was a member of Mt. Hermon Lutheran Church. Mrs. Wessinger was a member of Young at Heart. She and her husband were active members of the activities taken by this group, dinners at the Church, and trips. Lena loved to fish and camp.
Mrs. Wessinger is survived by her daughters, Mary Lou Thornberg, and Pat Wessinger; her daughter-in-law; several grand children; and several great grandchildren.
Lena was predeceased by her husband, Otis Wessinger; and one son, Charles Wessinger. Special thanks to the nurses at Presbyterian Home for their loving care.
Carlos Miguel González
If you asked a million different people who Carlos Miguel González was, they'd all give you a different answer. One would say Husband. Two would say Dad. Three would say Brother. A few would say Wabue. Hundreds would say pastor. And thousands would say friend. He was all of those and at the same time none of those.
He was a man after God's own heart.
Carlos Miguel González, of West Columbia, passed away on April 3rd, 2022. Carlos was born on August 3rd, 1958 in Havana, Cuba, to his parents Rev. Miguel Angel González and Noemi Carvajal González. He lived there together in a small house with his parents, three siblings, Juan Miguel, Noemi and Miguel Angel II (Mike), his grandmother, Joaquina Carvajal, and uncle Raul Carvajal. In 1967, they came to the United States where they cherished their opportunity to start a new life of freedom.
They quickly found their home in Hollywood, FL where his father went into ministry. His father ministered to thousands of families, one of which was Rafaela Rivera and her children. Rafaela had a daughter that made quite the impression on Carlos. Her name was Anabelle. They began a relationship that has lasted the test of time and married on November 25, 1977.
They quickly started their family and welcomed their son, Carlos Jr. in 1979 and their daughter, Anabelle Jr. in 1980.
To say that Carlos was a family man is a huge understatement. He lived and breathed for his family…most of the time going without so that they would have. His love was the definition of sacrifice.
In 1987, along with his siblings and parents, Carlos was proud to become a naturalized citizen of the United States. He loved the country that made him one of her own.
In 1990, Carlos surrendered to full-time ministry and became the Pastor of Worship and Youth at Calvary Baptist Church in Columbia, MS and served there for two years. He then moved to Jacksonville, FL where he took the equivalent position at Cedar Hills Baptist Church and served there for two years. He moved on to Kings Street Baptist Church in Cocoa, FL as their Pastor of Worship and Youth as well for two years. Eastside Baptist Church in Dover, FL called him to serve as their Pastor of Worship and Youth, where he served for another two years.
Finally in 1998, he helped his brother Mike start and birth Columbia World Outreach and served as the Pastor of Worship and Administration for 20 years and Senior Pastor for his last two years of ministry.
He has led countless people in worship and helped to usher them into the presence of God.
His voice, God-given…his love for the house of God, boundless…his love for others, immeasurable…and his zeal for the Lord, limitless.
Carlos is preceded in death by his parents Rev. Miguel Angel González and Noemi Carvajal González. He is survived by his wife, Anabelle R. González, children, Carlos M. González Jr. and wife Adelaida (Cheena), Anabelle Medina and husband Victor, grandchildren, Noah Miguel González, Eva Marisol Medina, Zoe Milagro González, Elias Miguel Medina, Alyana Noemi Medina, Mia Rene Medina, Yesenia Nazario, Dahiana Rodriguez, Nathalie Castellano,
Nathaniel Lopez and Jeffrey Rose, his siblings, Juan Miguel González, Noemi González Williams and Miguel Angel González II (Mike), and numerous nieces and nephews.
In lieu of flowers the family is asking any gifts be done in memory of Pastor Carlos to ICON Church Thrive Campaign. You can give at www.icon.church/give and in the memo box please type In Memory of Pastor Carlos – Thrive Campaign.
Viewing service was held Friday, April 8, at Thompson's Funeral Home, 4720 Augusta Rd., Lexington, SC 29073.
HomeGoing service was Saturday, April 9, at ICON Church, 1230 St. Andrews Rd., Columbia, SC 29210.
Gravesite service followed at Woodridge Memorial Park, 138 Corley Mill Rd., Lexington, SC 29072.
Blanche Lybrand
WEST COLUMBIA – Minnie Blanche Lybrand, 92, died peacefully on March 30, 2022, while surrounded by family. Born on August 3, 1929, in West Columbia, she graduated from Brookland-Cayce High School in 1947 and began a long career with the F.W. Woolworth Company, where she worked until retirement. Blanche was a lifelong member of Mt. Tabor Lutheran Church, West Columbia.
Blanche was predeceased by her parents, Tom and Minnie Corley Lybrand; brother, Walter Lybrand and sister, Irene Lybrand. She is survived by nephews and nieces-in-law, Wayne and Marie Lybrand of West Columbia and John and Vicki Lybrand of Pendleton; great-niece and husband, Meridyth and Daniel Robinson of Greenville; great-nephews and wives, Hampton and Nicole Lybrand of Charleston, Matthew and Stephanie Lybrand of West Columbia; and great-great-nephews and nieces, Jack, Luke and Graham Robinson and Avery, Finley, Deklan and Stone Lybrand.
The family would like to thank Ann Robinson for her loving care and special friendship to Blanche at her home, and the staff of Columbia Community Hospice House—Agape Care for their kindness and compassion. Also, a special thank you to Terri Woodruff, APRN, whom oversaw Blanche's medical care and was a loving friend for many years.
A funeral service will be held at 2:00PM on April 3, at Mt. Tabor Lutheran Church, 1000 B Avenue, West Columbia. Pastor Rus Stilwell will conduct the service, with burial in the family plot at Mt. Tabor Cemetery, West Columbia. Honoring Blanche as pallbearers are: Hampton and Matthew Lybrand, Daniel Robinson, Jeff Hutto, Dean Hutto and Sid Stokes. The family will be at the home of Wayne and Marie Lybrand.
In lieu of flowers, memorials may be made to Mt. Tabor Lutheran Church. Thompson Funeral Home of Lexington is assisting the family with arrangements.
Charlotte Ann Huckleberry
Charlotte Ann Huckleberry, 58, of Pelion, SC, passed away March 29th, 2022. Charlotte was born to Hiram and Marjorie Hineline on March 24th, 1964 in Okinawa, Japan. Charlotte is preceded in death by her parents, Hiram (Retired U.S. Army) and Marjorie Hineline; her late husband, James Huckleberry (Retired U.S. Navy); her sister, Robin Follin; and "Downstairs Cat", Manny.
Charlotte Huckleberry is survived by her Husband, Chris Murray (U.S. Air Force Veteran); her children, Jayme Lynn (Austin) and Sean; her sisters, Vicky and her family, Walt and Cindy; Connie and her family, Chris and Sarah; David and his family, Fannie, David Jr, and Ashlyn; Leslie and her family, Trey and Zach; and Robin Follin's family, Bobby, David, Michael, and Kariann; her pet, Molly (aka Bedroom Cat) and grand puppies Draiko, Cali, and Benji! And so many other, Nieces, Nephews, and Cousins.
Charlotte was known to her parents as "Peanut Ann", though only they could call her that name. She had a beautiful singing voice that was worthy of Julliard! She and her siblings were very close and had a wonderful childhood! That is not to say she didn't have her share of hardships!! She is in the Medical Journals for being the youngest child (3 years old) to have a cyst of pancreas and live!! She also endured her late husband, Jim's passing from brain cancer! During this time she never faltered being by his side and taking care of her daughter, Jayme!!! She was very independent, stubborn, and caring. Charlotte placed much importance on Sunday dinners and family game nights. She was known to always make holiday baskets and care packages for her co-workers, and family for every occasion. There was also nothing she couldn't learn. Her family says she was the smartest person they knew, and she was always looking up and learning new skills that she would use to bless her friends and family. Above all, Charlotte's family was the most important thing to her. She will be remembered as someone who taught others how to love and to be more selfless. Charlotte Ann Huckleberry will be deeply missed by all her friends and family.
Samuel Marvin Greene
Samuel Marvin Greene (Sammy), 62, of Leesville, SC passed away March 28th, 2022.
Samuel was born to Hank Greene and Virginia (Gigi) Pendelton in Greensboro, NC on June 4th, 1959.
Sammy is preceded in death by his parents, and his stepdaughter, Jennifer Buchanan.
Sammy Green is survived by his daughter, Nicole Greene; his son, Dylan Greene; his stepdaughter, Laura Midmer; his grandchildren, Isaiah Mungin, Kevin Mungin Jr., and Caiden Greene; and his sister, Robin Joy (Freddie).
Samuel M. Greene was a graduate of Airport High School Class of '77 in West Columbia. He enjoyed playing horseshoes and ping pong, having a good time, and he loved NASCAR. Sammy ran a carpet cleaning business for many years, and he had the best mottos like "If it ain't clean, my last name ain't Greene!" or "I scream, you scream, they all scream for Sammy Greene!" Sammy always knew how to make friends and be the life of the party. Samuel Marvin Greene (Dad), you will be greatly missed!