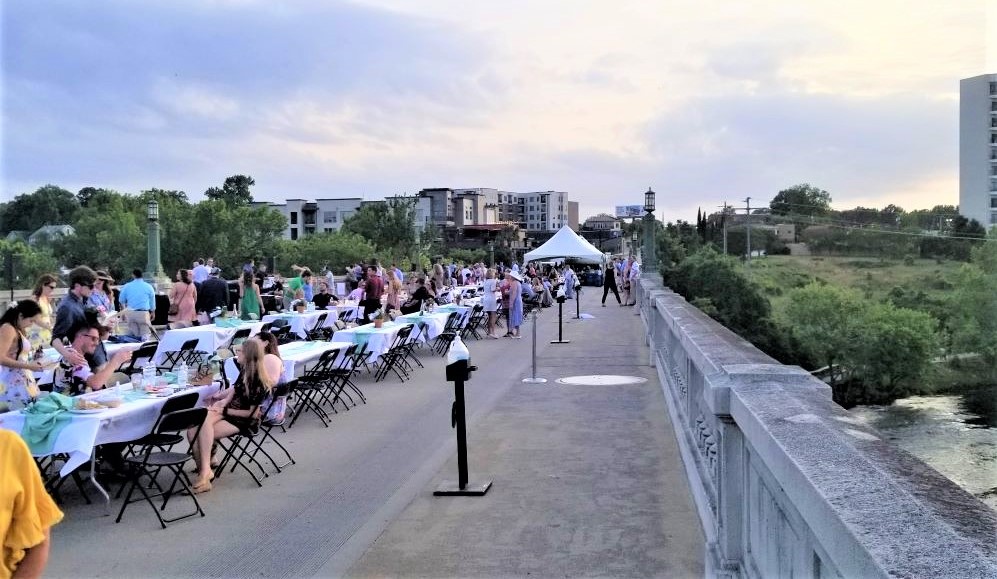 Large Gervais Street Bridge Dinner crowd happy to socialize again
May 3, 2021
|
|
Comments Off

on Large Gervais Street Bridge Dinner crowd happy to socialize again
|
NEWS
The Gervais Street Bridge Dinner took place Sunday under beautiful skies and there was not an empty seat.
"We're so glad to offer an event that brings everyone out after more than a year of lockdowns," said Neil Boone, Carolina Together marketing and communications director. "The weather is great and we're thrilled with this event."
Sunday's Bridge Dinner was the first under new sponsor Carolina Together. Soda City Friends was the previous sponsor.
Steve Cohen, founder of Carolina Together, said the 1,000 seats for the Gervais Street Bridge Dinner sold out in less than five minutes. It was a make-up for the 2020 Bridge Dinner that was lost to COVID. There will be another in October, Boone said.
West Columbia Mayor Tem Miles said the Bridge Dinner is a symbol of the spirit of cooperation between Columbia and West Columbia. "I'm so pleased to have a chance to get out and enjoy everything these two communities represent," Miles said. "This is a beautiful day and a great event."
The first guests arrived at 3 p.m. Something Borrowed set up the tables and tents for the Bridge Dinner. The Reggie Sullivan Band provided entertainment. Southern Way catered it.
Proceeds from the Bridge Dinner go to: The River District; The West Columbia Beautification Foundation; The River Alliance; Canoeing for Kids; and Serve and Connect. Mental Illness Recovery Center Inc. was added to the list of beneficiaries this year, Boone said.