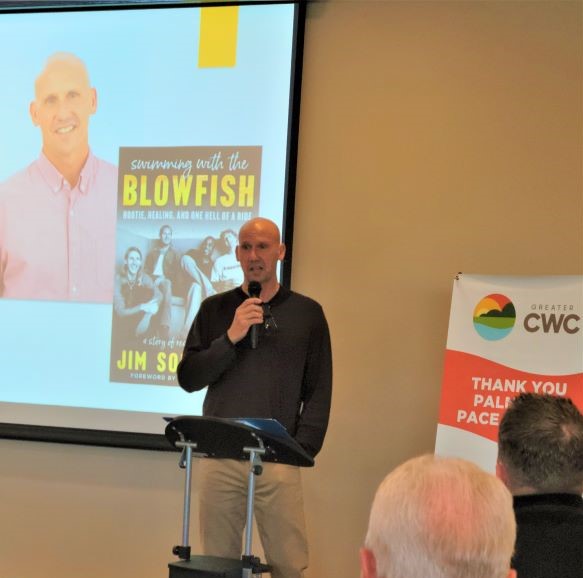 Hootie and the Blowfish Drummer Jim Sonefeld recounts his journey from star-status to redemption at C-WC Chamber Breakfast
October 27, 2022
|
|
Comments Off

on Hootie and the Blowfish Drummer Jim Sonefeld recounts his journey from star-status to redemption at C-WC Chamber Breakfast
|
NEWS, Social Media
Jim Sonefeld, drummer for Hootie and the Blowfish, recounted his story of addiction to redemption at the Cayce-West Columbia Chamber Breakfast, Tuesday.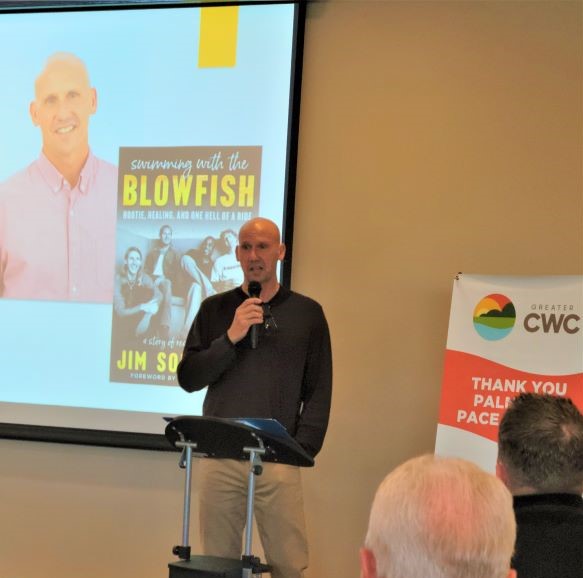 "What a wonderful message," said Tim James, C-WC president. "He spoke from the heart."
In 1995, the careers of the members of Columbia-based Hootie and the Blowfish took off after an appearance on the David Letterman show. On the success of their album "Cracked Rear View" the band went from playing clubs and joints to large arena and concert halls. The album eventually sold more than 10 million copies.
"It was our big, breakthrough year," Sonefeld told the full house at Stone River in West Columbia.
Sonefeld recently released a book entitled Swimming with the Blowfish: Hootie, Healing, and One Hell of a Ride. When the band was summoned to Los Angeles to record their first big album, Sonefeld kept a journal. The book originated from the journal and includes a downward path for Sonefeld when the ride slowed for the band.
"We had five years at the top," Sonefeld said. "We traveled the world."
As the Hootie star began to fall, around 2000, Sonefeld said he began to obsess over the empty seats. "We're waning," he said. "We had peaked, but I celebrated every night."
Because of his use of substance, friends held an intervention for him, but it did not change Sonefeld's bad habits.
"I had no spiritual beacon," Sonefeld said. By 2004, his life had gotten dark, he said. It was not until his 4-year-old daughter came out to a house he was living in on his property, sat on his chest and said: "What are you doing?" Sonefeld said he began to realize he could not handle alcohol and he wanted to change.
"I discovered I had a God that was accessible," he said. From there he took an inventory of his life, citing the failures, the resentment, anger and pride, among others. He then approached his life with the acronym HOW for Honesty, Open-Mindedness and Willingless.
Now, Sonefeld said, he's closer to God and he has found peace in his life. He now records Contemporary Christian music with a hopeful and positive theme.