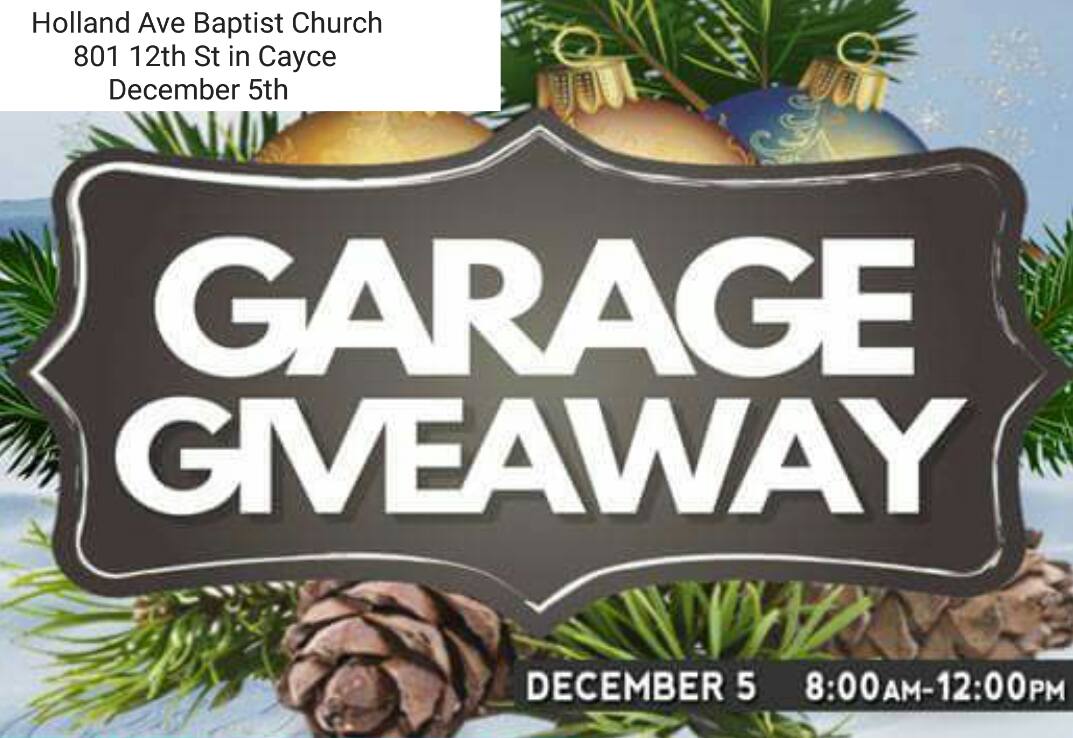 Holland Avenue Baptist Hosts 3rd Annual "Garage Giveaway"
December 4, 2015
|
|
Comments Off

on Holland Avenue Baptist Hosts 3rd Annual "Garage Giveaway"
|
NEWS
Release From:  Chuck Underhill
Holland Avenue Baptist at  801 12th St. in Cayce will host the 3rd Annual "Garage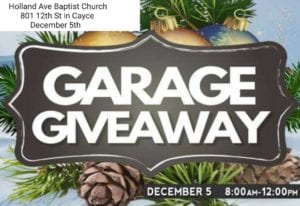 Giveaway" Saturday from 8 a.m. 'til noon.
"Garage Giveaway" started in 2013 as way to help families throughout the community that have
varying needs and could use assistance.
All items are FREE and include: clothing, furniture, toys, Christmas decorations, home goods, electronics and much more.
Giveaway Coordinator Caron Moore had a vision for one way HABC could commit and care for
families right here in our community. She shared the vision of a completely free garage sale
where individuals and families that need assistance could come and shop and fill any needs they
might have.
Originally held in the spring, last year the event was moved to December to coincide with
the Christmas season.
"Difficult times are not specific to a given time of year" Moore said, "but
the Christmas season often enhances those needs, hence the schedule change."
Moore also said, "my favorite part of 'Garage Giveaway' is that we also give children the
opportunity to shop. They can pick out anything, but many of them choose to shop for presents
to give their parents. It is really something special."
Part of the event is a room dedicated to gift wrapping. "It is one of the busiest places in the
building," said Lindsay Shupe, Director of Preschool Outreach. "Everyone we meet is so
appreciative; it is an honor to meet so many amazing families."
Holland Avenue Baptist has been part of the community for over 60 years and continues to serve
with the desire to share the love of Jesus. Their mission statement is: Connecting with Jesus,
Connecting with Others, Connecting Others with Jesus.
Anyone having questions can contact the church office on Monday or can attend the event on
Saturday