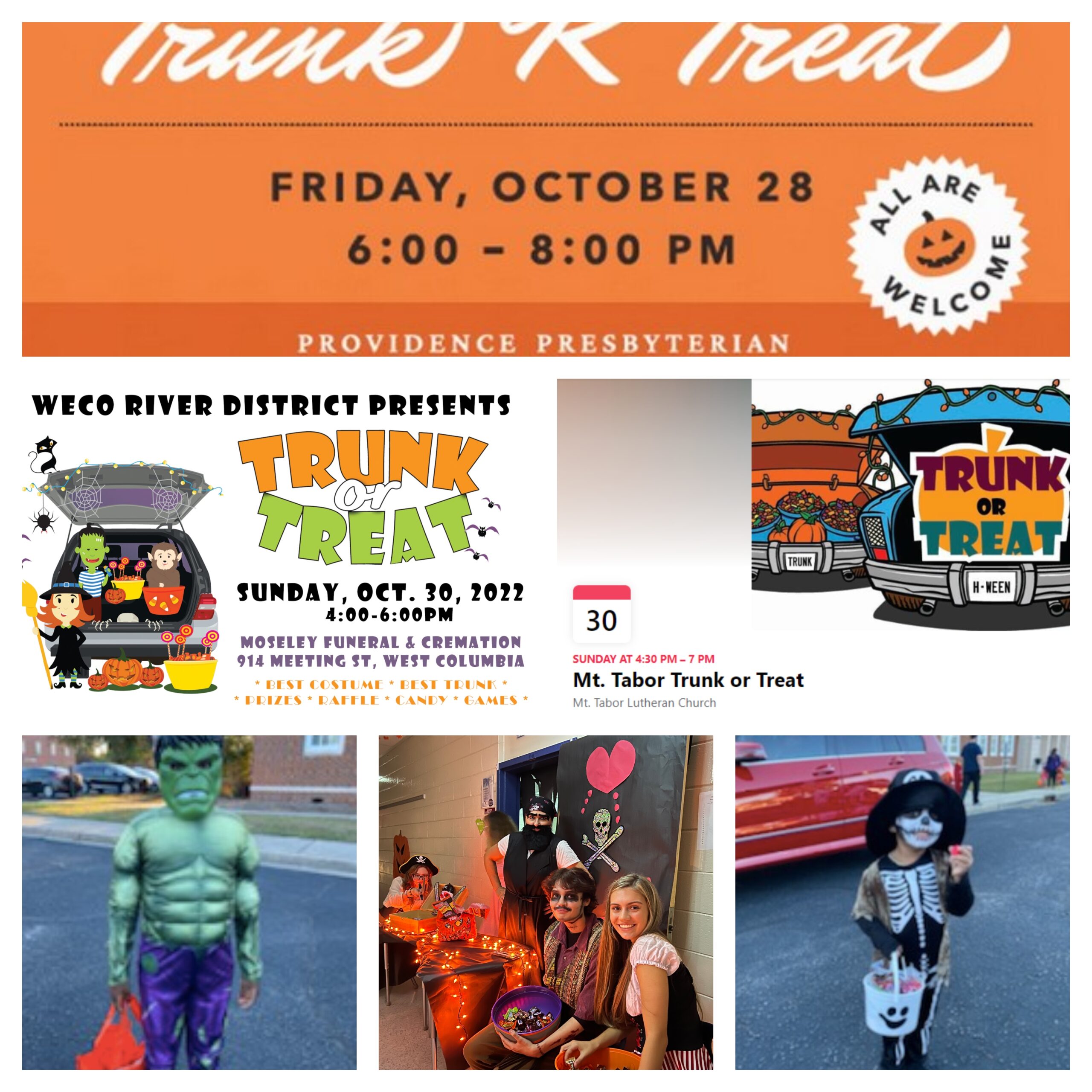 Halloween is Monday, Trunk-or-Treats abound, but be sure to be safe
October 28, 2022
|
|
Comments Off

on Halloween is Monday, Trunk-or-Treats abound, but be sure to be safe
|
NEWS, Social Media
Halloween is Monday, Oct. 31, and the kids are eager to get out on the streets, but don't let Halloween be a date of regret.
On average, children have a higher likelihood to be hit by a car on Halloween than on any other day of the year, according to Kidsafe.org, so be sure to put safety first.
West Columbia Police Chief Marion Boyce said there are precautions that should be taken to help protect your children. The WCPD will help.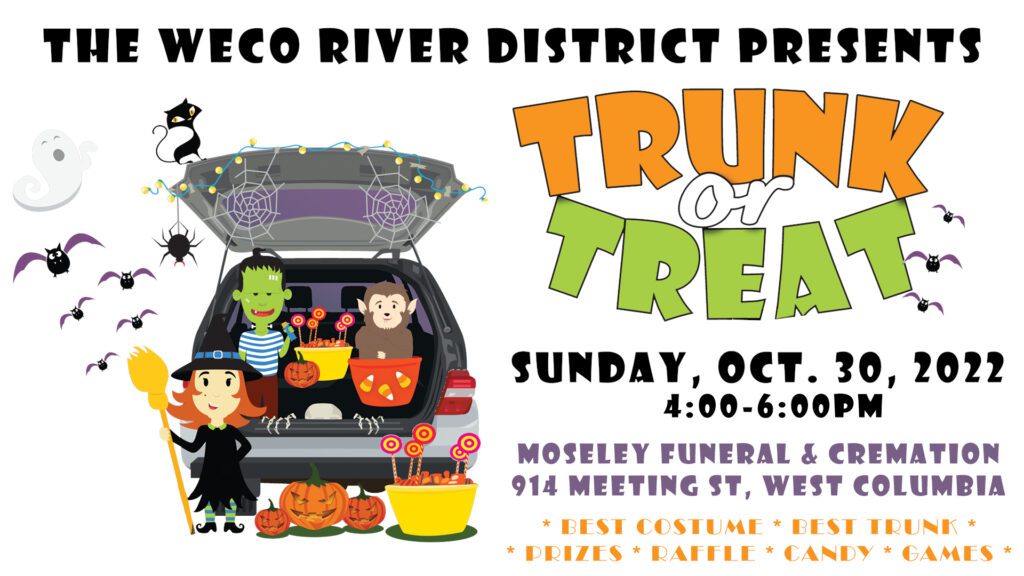 "We'll have patrols out on Halloween," said Boyce . "We'll have a presence for Halloween."
Boyce said police officers will work to help make sure the streets are safe for kids who are trick-or-treating. He offered some safety tips, too.
"First of all, look out for traffic," said Boyce. He also said children should be accompanied by an adult. "Don't go out alone," Boyce said.
He said it's a good idea for Trick-or-Treaters to wear bright clothes. Carrying flashlights of glow sticks in order to be seen is also advised. Also, as children go door-to-door, Boyce said it is important to be cautious. "Walk your child to the door and don't go inside."
Once the treats are collected be cautious.
"Screen the treats," Boyce said. "Inspect the candy. Make sure none of it has been re-wrapped. If anything looks suspicious or like it's been tampered with; if it looks out of place, don't eat it."
Kim Barrett of West Columbia said Hallowenn is a favorite time of the year for her children, ages 10, 8 and 6. "It's usually warm enough to enjoy the evening and we go out to Trick-or-Treat," Barrett said. "And there are so many Trunk-or-Treats at churches. We go to as many as we can. West Columbia is a great place for Halloween."
Boyce also said there are online resources that outline precautions for kids on Halloween. A popular site is Kidsafe.org. Below are some safety tips from that site.
Lexington Two's high schools put on two favorite Halloween events for community families. Airport's annual Trick or Treat Lane, coordinated by Student Council, featured free candy handed out by school clubs and community members, plus a haunted hall. Brookland-Cayce's Trunk or Treat, presented by the school's DECA organization, drew costumed little ones for trick or treating in front of the school, with free candy handed out by student clubs and groups.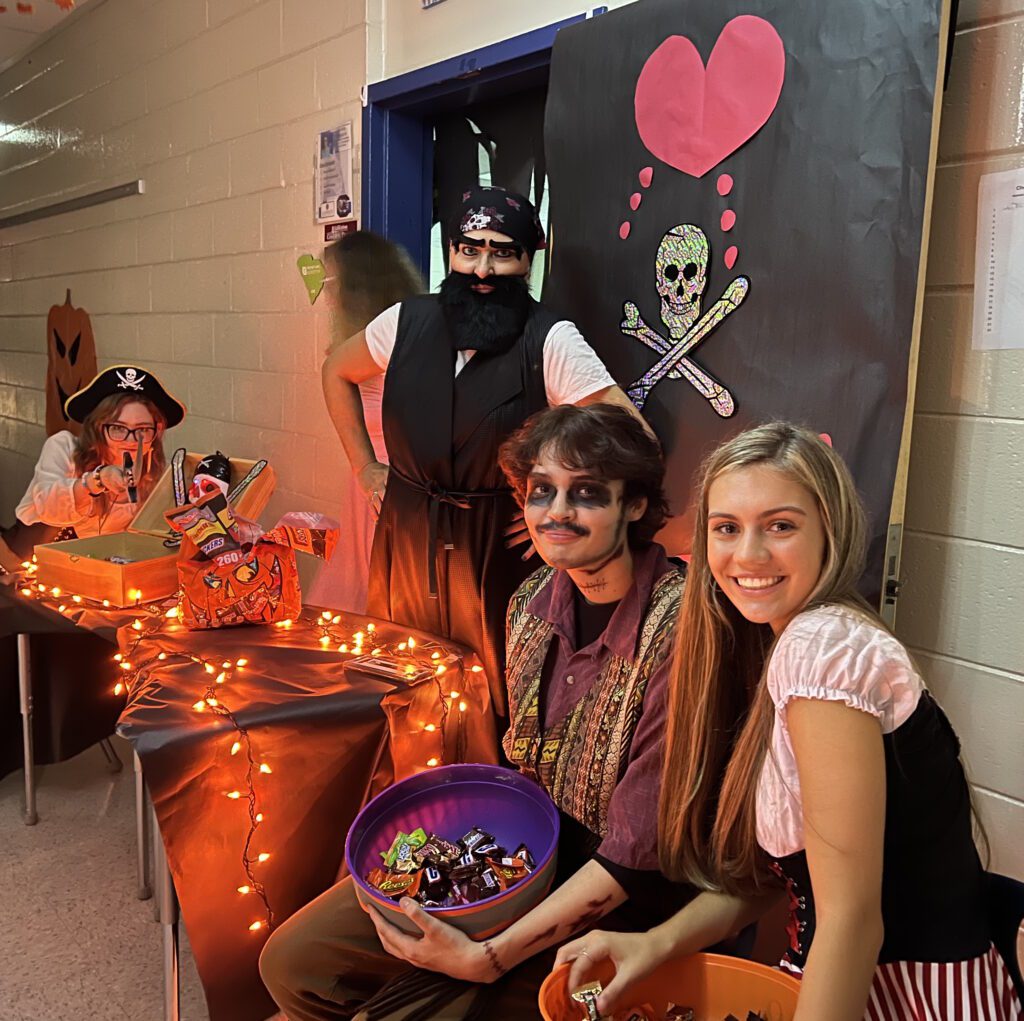 WeCo River District Presents Trunk or Treat at Moseley's Funeral & Cremation, Parking Lot, 914 Meeting Street, West Columbia, SC, 29169 on Sunday, October 30, 2022, 4-6 PM.
** Free Admission **
** Candy & Games **
** Prizes & Raffle **
** Best Costume **
** Best Trunk **
** Meet WeCo River District Businesses **
PARTICIPATING BUSINESSES:
Moseley Funeral & Cremation
About Face Wellness and Medical Spa
Always Original Bakery
BrickHouse Gourmet Coffee & Tea Co.
Cafe Strudel West Columbia
Carolina Law Group
Brookland Realty
Inspection Pros
Kerri Hubbard – SC Insurance Agent & Designer
Nordan & Foster Custom Upholstery
Bri L. Designs
Thompsons Funeral
WE's
Mooneyhan Auto
Pedego Electric Bikes Soda City
Healthy Roots Chiropractic
West Columbia Police Department
And many more…
Featuring The Travel Food Truck for all your craving needs!

Top Tips for Halloween Safety
Carry glow sticks or flashlights, use reflective tape or stickers on costumes and bags, and wear light colors to help kids see and be seen by drivers.
Join kids under age 12 for trick-or-treating.
Slow down and be alert! Kids are excited on Halloween and may dart into the street. Turn on headlights early in the day to spot kids from further away.
Remind kids to cross the street at corners or crosswalks.
When selecting a costume, make sure it is the right size to prevent trips and falls.
Choose face paint over masks when possible. Masks can limit children's vision.