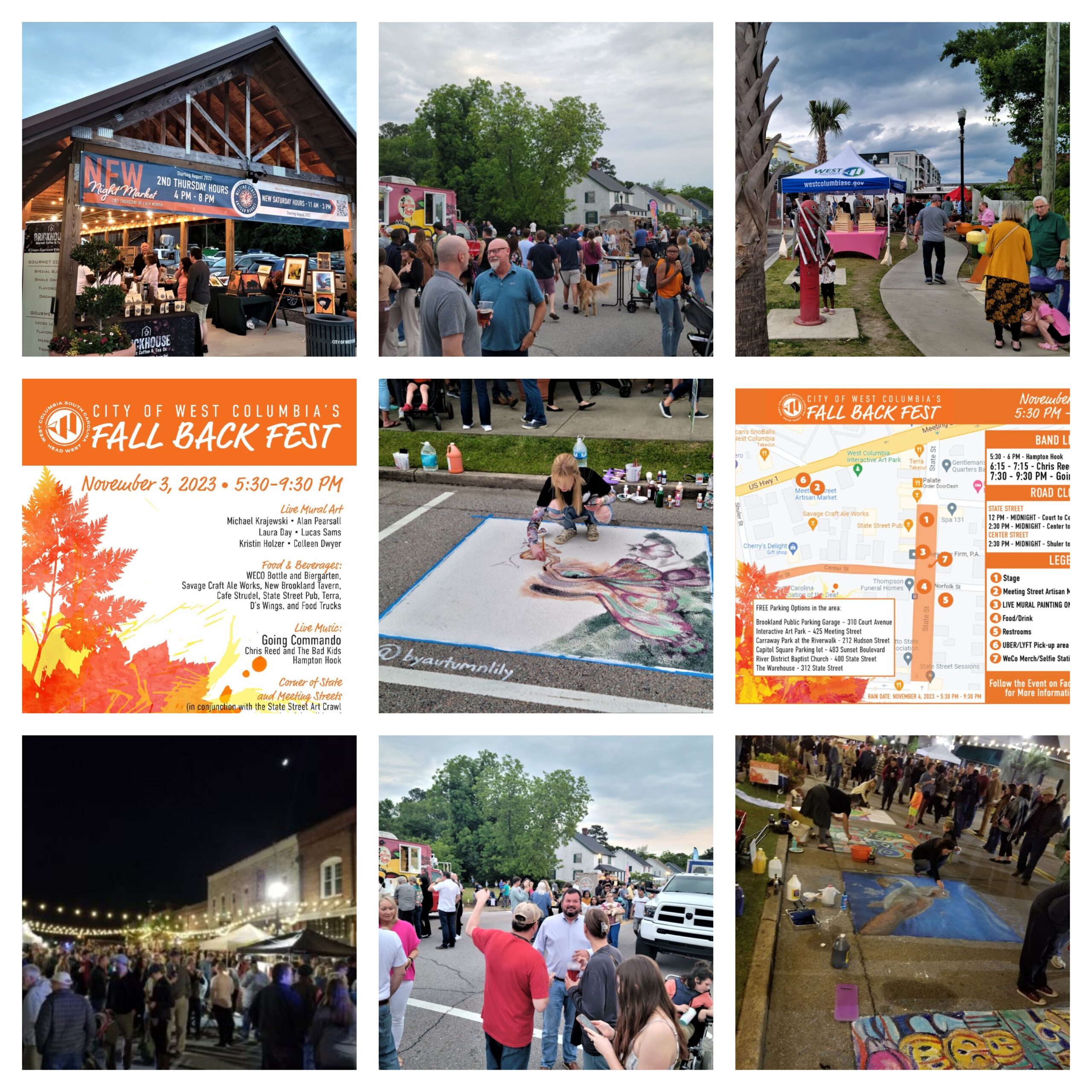 Guide to West Columbia's FREE Fall Back Fest and Meeting Street Artisan Market Night Edition, this Friday – Free Parking Details, too
October 31, 2023
|
|
Comments Off

on Guide to West Columbia's FREE Fall Back Fest and Meeting Street Artisan Market Night Edition, this Friday – Free Parking Details, too
|
NEWS, Social Media
The City of West Columbia's 7th Annual Fall Back Fest is from 5:30 p.m. to 9:30 p.m. Friday, Nov. 3, in the 100 Block of State Street.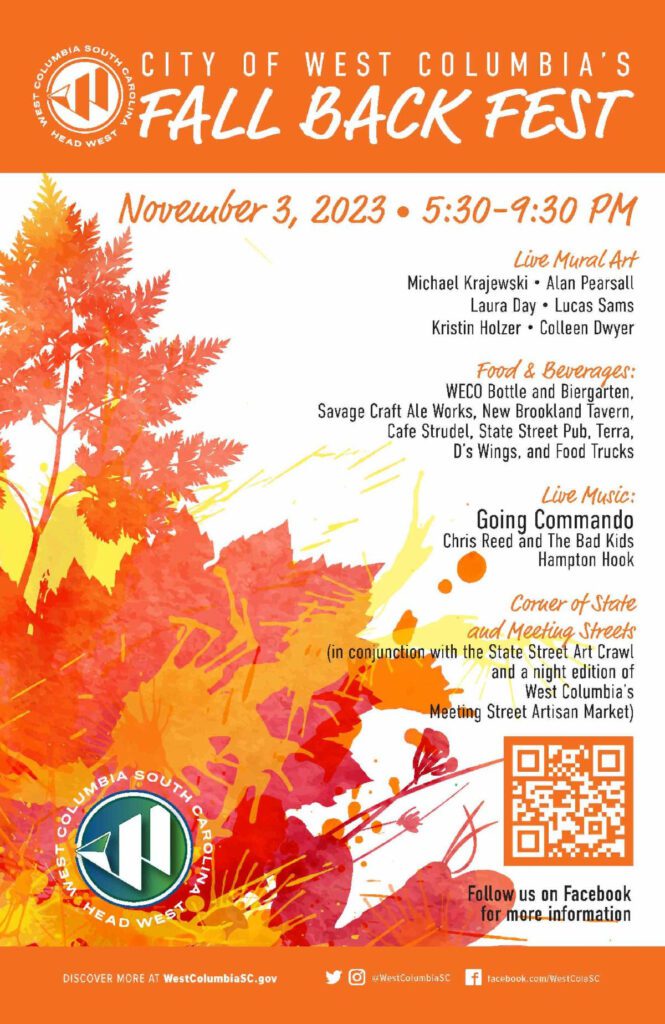 Local artists will be painting temporary murals on the street. The band lineup features Going Commando, Chris Reed and The Bad Kids, and Hampton Hook. Food and drinks are available from local vendors.
"It's a chance to join your friends and family for this free event to celebrate the fall season with live music from very good musicians, see live art, and enjoy food and drinks," said West Columbia Mayor Tem Miles. "It's one of our best festivals and a chance to socialize with your neighbors."
Several businesses in the State, Center and Meeting Street area will be open and there will be a Special Meeting Street Artisan Market Night Edition in the Interactive Art Park. It's a great opportunity to shop for unique gifts and a chance to support local artists.
"Because so many folks come out, the Fall Back Fest is great exposure for our businesses," Miles said.
Meeting Street Artisan Market vendors are ready. "I am very excited for the Fall Back Festival. I have been making some new macramé pieces just for the event," said Brooke Kitzhaber of Mrs. K's Kreations. "West Columbia events are always so welcoming and fun. And I am looking forward to seeing so many people come out to celebrate fall."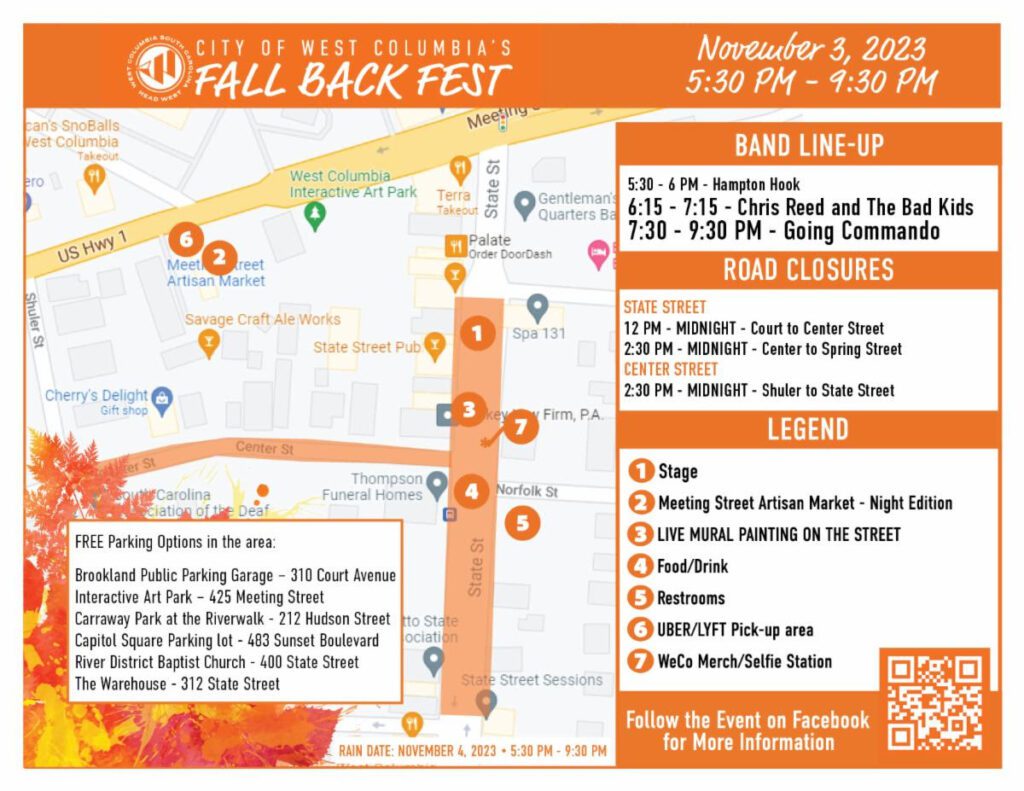 There will be something new Friday evening at Savage Craft Ale Works at 425 Center St., said Victoria Porter, manager.
"We are inviting people attending the Fall Back Fest to come by and see us at Savage Craft," Porter said. "We will be debuting our fall menu and fall cocktails. We have been working really hard for that taste of fall, we have five new menu items and we have 8 new cocktails. We have a new sour as well called 'Apple Ginger.'" There will also be live music at Savage Craft from 7 p.m. until 10 p.m.
Event Details
FREE Parking Options
Brookland Public Parking Garage – 310 Court Avenue
Interactive Art Park – 425 Meeting Street
Carraway Park at the Riverwalk – 212 Hudson Street
Capitol Square Parking lot – 483 Sunset Boulevard
River District Baptist Church – 400 State Street
The Warehouse – 312 State Street
Uber/Lyft
The City of West Columbia provides $5 off to those taking Uber/Lyft to and from Fall Back Fest. Here are the codes for Friday, November 3, 2023:
Live Music
Going Commando: 7:30 – 9:30 PM
Chris Reed & The Bad Kids: 6:15 – 7:15 PM
Hampton Hook: 5:30 – 6:00 PM
Shops
Ed's Editions BookStore
Gentleman's Quarters
Spa 131
State Street Trading Company
Rob Shaw Gallery and Framing
Cherry's Delight
The Warehouse SC
West Point Coins
HotWorx
Gentleman's Quarters Barbershop
State Street Salon
Live Mural Artists
Alan Pearsall
Michael Krajewski
Colleen Dwyer
Kristin Holzer
Laura Day
Lucas Sams – Interactive Art Park
Justin Vorhis – Forge
Food & Beverages
State Street Pub
New Brookland Tavern
The Attic Lounge
Terra
WECO Bottle & Biergarten
The Hideout in WECO
D's Wings
Cafe Strudel Restaurant
Black Rooster
Al's Upstairs
Parabellum
Cafe Strudel Food Truck
Cox Family BBQ
Tacos Oink Oink
Haute Dog Lady
Truly Scrumptious Creamery
Road Closure Information
State Street
12 PM – Midnight – Court to Center Street
2:30 PM – Midnight – Center to Spring Street
Center Street
2:30 PM – Midnight – Shuler to State Street