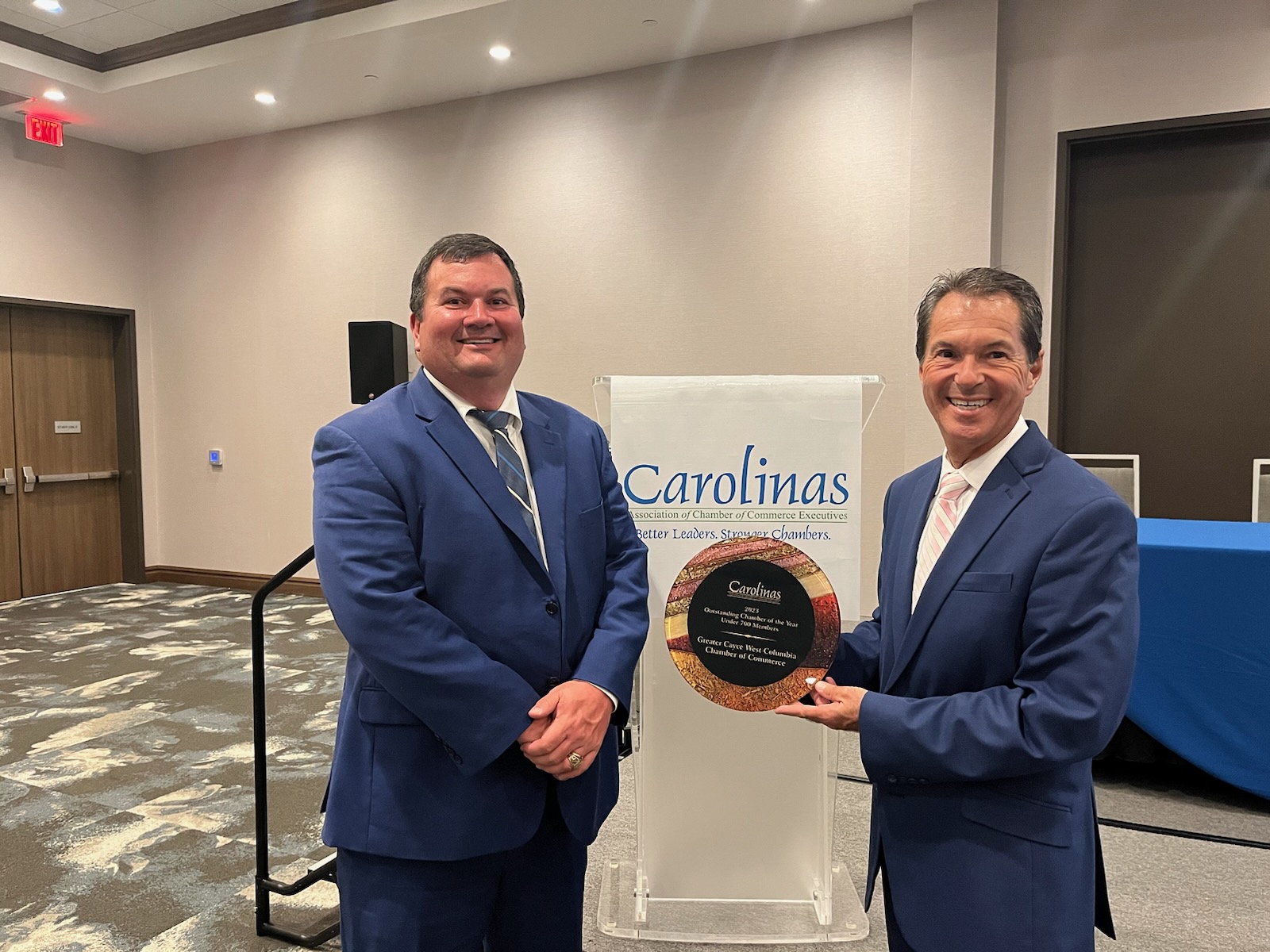 Greater Cayce-West Columbia Chamber of Commerce recognized as the Carolinas Outstanding Chamber of the Year
October 20, 2023
|
|
Comments Off

on Greater Cayce-West Columbia Chamber of Commerce recognized as the Carolinas Outstanding Chamber of the Year
|
NEWS
The Greater Cayce-West Columbia Chamber of Commerce was recognized as the Carolinas (South Carolina and North Carolina) Outstanding Chamber of the Year (Under 700 Members) by the Carolinas Association of Chamber of Commerce Executives.
"This recognition is a direct testament to the commitment of the Chamber membership, it
is our members that create the success for the local economy. And now their hard work
has created success for the Chamber", said Tim James, Chamber President and CEO.
The award was announced at the Annual Management Conference awards ceremony in Summerville. James announced the honor around 8:10 Thursday night. West Columbia Mayor Tem Miles was invited to the ceremony and was on hand for the announcement that the Greater Cayce-West Columbia Chamber of Commerce had won. Salutes came from dignitaries.
"Congratulations to the Cayce West Columbia Chamber on being named the best chamber," said State Sen. Nikki Setzler. "The Chamber under the leadership of Tim James and the staff working with its members is a tremendous force and asset to the Cayce West Columbia area. Its members are energetic and committed to the citizens and businesses of our area. We are so proud of this well deserved recognition of our Chamber"
West Columbia Mayor Tem Miles also weighed in.
"I'm so very proud of the job Tim James and the Chamber staff and the Chamber Board have done," said Miles. "Small business is our lifeline and the Chamber is the beating heart of the business community. This is such a big night, such a wonderful accomplishment for our Chamber, and I was honored to be a part of it."
Lindsey Miles, Chamber Board Chair, was exuberant with the news of the award.
"On behalf of our Board of Directors, we are proud to receive the honor of Most
Outstanding Chamber of Commerce in SC and NC. Our Chamber has professionally
grown, and we are proud to now be in the same award-winning list of names as
Wilmington, NC, Greenville and many others who have worked hard to achieve such
recognition" said Miles.
Other leaders were complimentary, too.
"The Columbia Chamber and the Greater C-WC Chamber have a long standing
relationship and have always worked together. We are thrilled to see the Greater C-WC
Chamber receive this honor. Tim James and his team have strengthened the Cayce-
West Columbia business community and will continue to add economic growth to the
Midlands Region for many years to come," said Carl Blackstone, Columbia Chamber
CEO.
The CACCE Outstanding Chamber of the Year Award recognizes significant achievements and accomplishments that a Chamber has initiated, stimulated, and/or led in its respective service area during the past 18 months. Award winners are selected based on a competitive application process judged by peer chamber leaders. More than 150 Chambers from across North and South Carolina were eligible to apply.