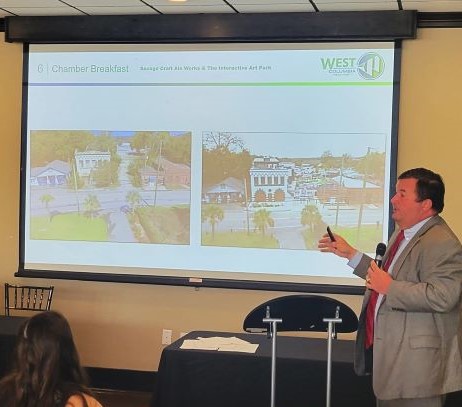 Great things happening in West Columbia, Mayor Tem Miles speaks at C-WC Chamber Breakfast
September 27, 2023
|
|
Comments Off

on Great things happening in West Columbia, Mayor Tem Miles speaks at C-WC Chamber Breakfast
|
NEWS, Social Media
"Wow! Great things are happening in West Columbia," said Lindsey Miles, Board president of the Cayce -West Columbia Chamber of Commerce. West Columbia Mayor Tem Miles was the guest speaker at the Chamber's Business Breakfast, Tuesday, at Stone River. Tem Miles said the redevelopment of West Columbia has been 20 years in the making. He said much has been done and much more is coming.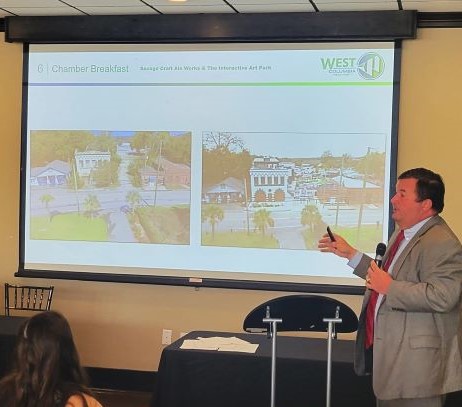 One of the high-profile changes coming is the reduction from four lanes to two lanes of Meeting Street, from State Street to 9th Street. "We'll have a real Main Street," Miles said.
He said taking a lane out of that part of Meeting Street will allow for more parking spaces on Meeting Street and an increase in pedestrian and retail traffic.
Other improvements are coming to Dreher Road and US 1. Miles said the potential intersection upgrade is already resulting in the refurbishing of Danwood Shopping Center where a new Planet Fitness location is being planned. Miles also said the Dreher Road at US 1 intersection has been labeled as the most-dangerous in the state by the SC Department of Transportation.
In addition to the DOT upgrade plans, Miles said the City of West Columbia will install mast-arm traffic signals. The area of US 1 to Dreher Road, the US 1 Corridor, is also part of West Columbia's beautification effort.
Another intersection that is getting an upgrade is at Sunset Boulevard, or US 378, and Henbet Drive. New turn lanes will be added to Henbet and a monitored and controlled traffic light will be placed at the intersection. Langley Pointe, with 312 luxury apartments, is being developed in the area as a result of the new water and sewer line being installed along Sunset Drive. Miles said new businesses considering the area will come as the infrastructure is improved.
A new West Columbia Welcome sign will be placed at the Happy Mart EXXON across from the Wal-Mart Neighborhood Market on Charleston Highway, Miles said.
The City of West Columbia, the mayor said, is also taking over the streets in the New Brookland Mill Village and will upgrade water lines and improve the parking situation there.
Miles also listed some large-scale projects that have been completed or will be done in West Columbia. Those include:
Redevelopment of Carraway Park, with more parking;
The Brookland Project, with Another Broken Egg opening Oct. 24;
Savage Craft Ale Works repurposing the old City Hall-Fire Station
Completion of Flow Town Homes along Riverwalk;
LMC Nursing Center to train 400 nurses annually;
LMC Physicians Training Center to train 13 doctors annually;
River pedestrian bridge coming near zoo to make Saluda Mill ruins, new zoo restaurant accessible;
Water line replacement in Saluda Terrace ongoing;
16,000 new transmitter water meters installed