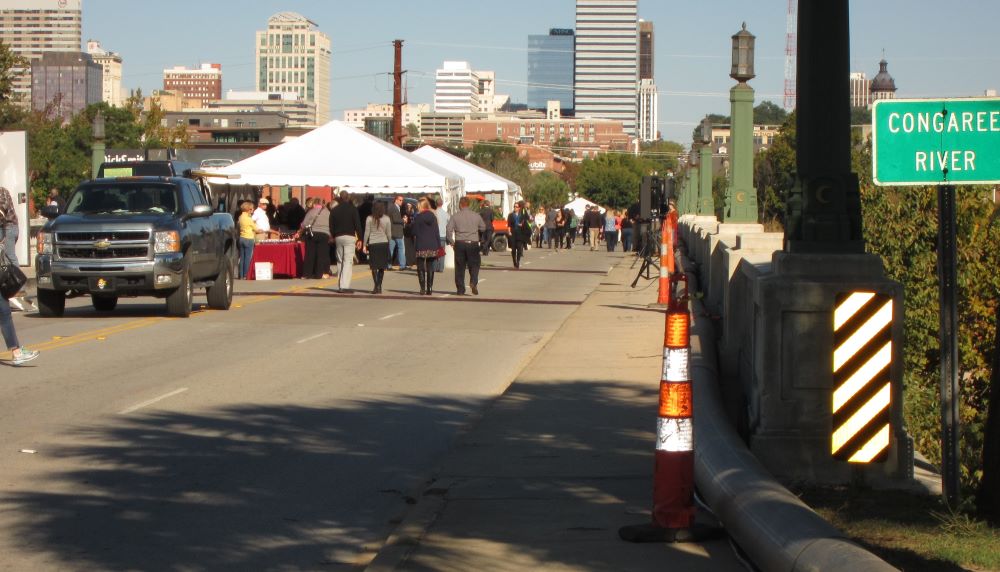 Gervais Street Bridge Dinner planned for May 2
March 10, 2021
|
|
Comments Off

on Gervais Street Bridge Dinner planned for May 2
|
NEWS
The Gervais Street Bridge Dinner is scheduled for Sunday, May 2.
West Columbia City Council approved a request related to the Gervais Street Bridge Dinner at its March 2, meeting. The City of Columbia will consider approval at its council meeting on Tuesday (March 16.)
The May 2, event would be the first Bridge Dinner presented by newly-formed nonprofit Carolina Together. Carolina Together's executive director is Stephanie Amaker. Steve Cohen is the founder of Carolina Together. Previously Soda City Friends oversaw the dinner that features 1,000 diners on the Gervias Street Bridge.
If Columbia does not approve the dinner, the beverage permit would only apply to the West Columbia side of the bridge that connects the two cities. The SC Department of Transportation has approved use of the whole bridge for the Bridge Dinner.
The bridge is closed to traffic all day on the Sunday it is presented to allow time to prepare for the event. General admission begins at 4 p.m.
Tickets are not available yet, Cohen said, but follow the Gervais Street Bridge Dinner's Facebook page for the latest information.
Proceeds from the Bridge Dinner go to local charities. Around $200,000 has been raised in the five years of the Bridge Dinner.