Structure Fire: Shawnmoor Lane residential structure fire
On Sunday evening, just before 10 a.m., County of Lexington 911 dispatched firefighters and EMS to the 100 block of Shawnmoor Lane, in Gaston, in reference to a residential structure fire.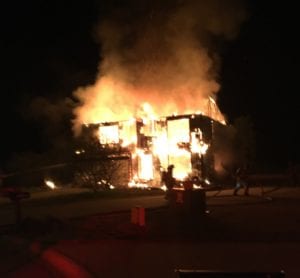 Upon arrival, heavy smoke and flames could be seen engulfing the residence. The neighboring residence also sustained damage from exposure to high heat.
Firefighters were able to extinguish the fire, but the residence was determined to be a total loss. There were no injuries as a result of the fire.
The American Red Cross has been called in to assist in supporting the two displaced occupants. Although officials are still investigating the cause of the fire, the residence suffered an estimated $200,000 in damage.
Release from Harrison Cahill, Lexington County PIO.