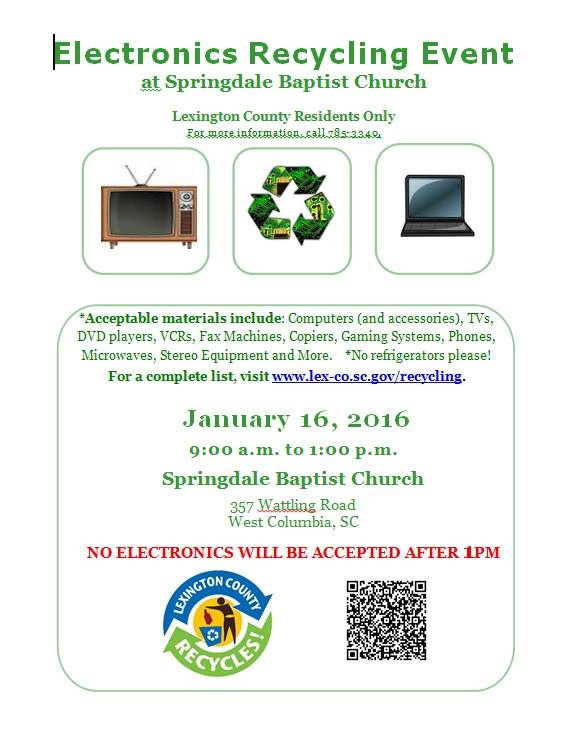 Electronics waste recycling drop-off in Springdale, Jan. 16
January 14, 2016
|
|
Comments Off

on Electronics waste recycling drop-off in Springdale, Jan. 16
|
NEWS
Lexington County Electronics Waste Recycling Event Scheduled for January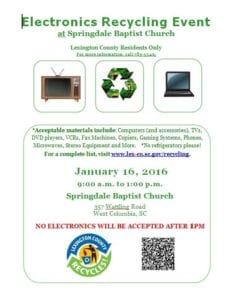 Lexington County Solid Waste Management will be hosting an electronics waste recycling event on Saturday, Jan. 16, from 9 a.m. until 1 p.m.
The recycling event will be held at the Springdale Baptist Church parking lot located at 357 Wattling Road, West Columbia.
The following electronics will be accepted for recycling from Lexington County residents only:
Computers (laptops, monitors, CPU's, keyboards, printers, scanners)

TV's

Copiers

VCR and DVD Players

Fax Machines

Telephone Systems

Cell Phones

Household electronics including stereo's, Radio's, PDA's and Electronic Game Systems

Electronic Waste must be recycled and not placed in the garbage in accordance with the SC Code of Law.

Residents should keep electronics intact for the purpose of recycling. Electronic waste must have been generated from a residence within Lexington County for this event; commercial waste will not be accepted.

Please, no refrigeration units of any kind.

For more information and future electronic recycling dates, please visit the Lexington County Solid Waste Management website at www.lex-co.sc.gov/recycling or contact us at (803) 785-3340.