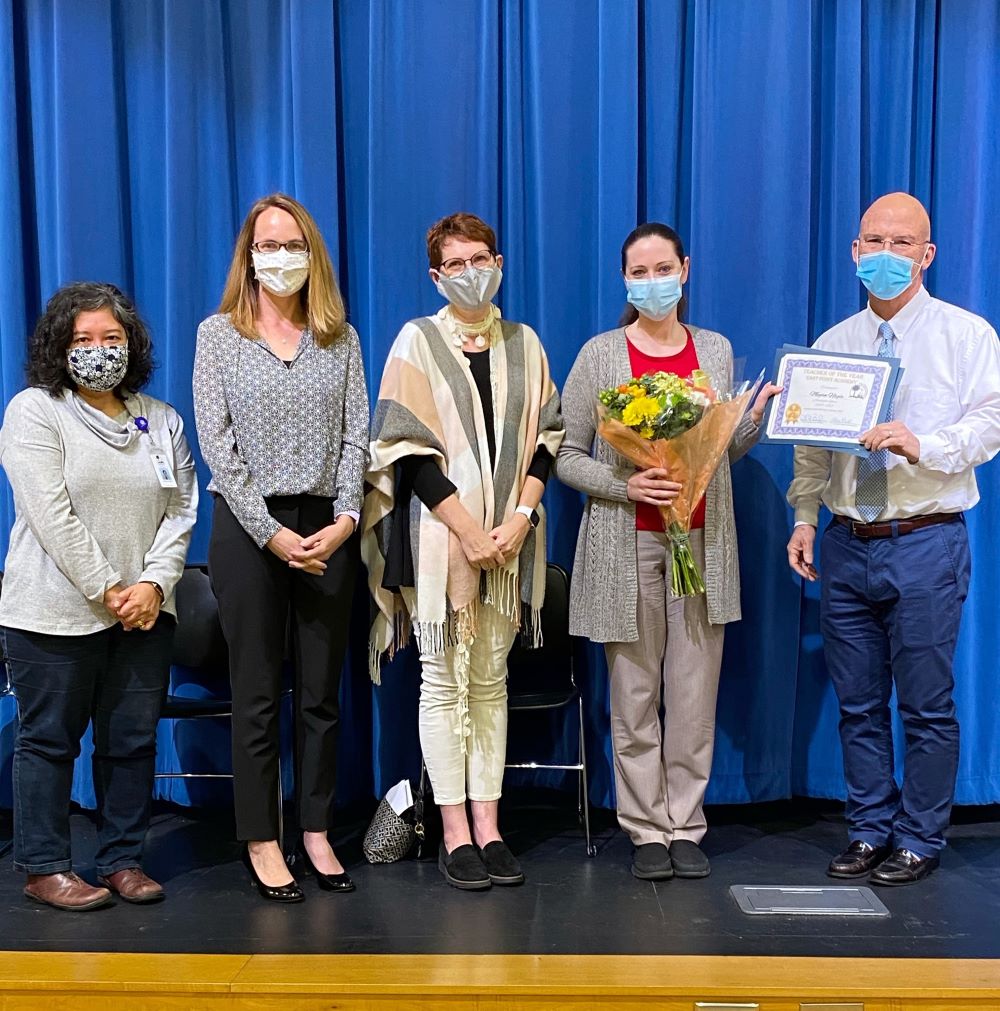 East Point Academy names Teachers of the Year
February 2, 2021
|
|
Comments Off

on East Point Academy names Teachers of the Year
|
NEWS
East Point Academy has named its "Teachers of the Year."
"During this public health crisis, our teachers have adapted their classes to Synchronous Learning that is engaging to all students, both on and off campus," said Middle Campus Assistant Principal Bruce Moseley when reflecting on the 20/21 school year. Working under unusual circumstances, the educators at East Point Academy have excelled in providing safe, effective, 5 days of in-person instruction since September. The excellence seen in classrooms throughout the school this year made it especially difficult to determine this year's Elementary Campus and Middle Campus Teacher of the Year.  
Staff and board members gathered on January 25th to recognize the winners in a physically distant presentation. Megan Nagle was named Middle Campus Teacher of the Year, and the Overall 20/21 East Point Academy Teacher of the Year with Wendy Flanagan named as the Elementary Campus Teacher of the Year. Nagle spoke about her teaching philosophy saying that to her, the purpose of education is "…to create minds that think critically, solve problems, make decisions, and display creativity." She will go on to represent East Point in the South Carolina Public Charter School District's District Teacher of the Year competition. Megan Nagle started out substitute teaching in Lexington Richland Five while working towards her permanent teaching license; she has been an educator at East Point Academy for four years and teaches middle grade ELA and Computer Fundamentals.
The faculty and staff nominated their fellow teachers, and these nominations were narrowed down to nine educators. Representing Elementary Campus: Wendy Flanagan (4K), Lu Liu (5K), Lindsay Fallaw (1st) Ping Gao (3rd), Christina Sun, (4th), and Christal Weymouth (5th). Representing Middle Campus: Isaac Barber (Social Studies), Megan Nagle (ELA), and Jodie Collier (Math).
When asked about the Elementary Teacher of the Year, veteran 4K teacher Stephanie Watson remarked on Flanagan's win saying "I have enjoyed working with Mrs. Flanagan. She always gives us great input and keeps our team organized as team leader." Assistant Principal for Elementary Campus, Ashley Cohoon, described Flanagan saying "She loves her students and is a strong advocate for their education. She makes learning fun and teachers look up to her."
Middle Campus Social Studies Teacher, and Teacher of the Year Finalist, Isaac Barber spoke of Nagle's teaching describing her as "…a student favorite due to her down to earth personality and her interactive and engaging teaching style!" Moseley echoed the praise adding "…Nagle truly exemplifies what it means to be the Teacher of the Year.  She is loved by her students for the many ways she keeps all of them engaged and interested in learning…she is the absolute best Language Arts teacher I have ever had working with me."
East Point Academy has limited openings for the remainder of the 2020/2021 school year and is now enrolling for the 2021/2022 school year. East Point Academy is a highly rated free Public Charter School that provides rigorous academics with a global focus to students from four-year-old kindergarten to eighth grade. It was named the "Best" Charter School by the State Newspaper, "Best" Private or Charter Elementary School in South Carolina by Niche.com. To learn more, visit www.eastpointsc.org/apply/applicationenrollment/.