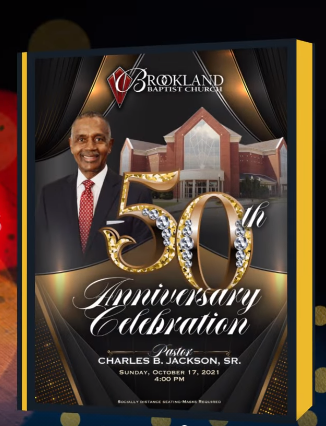 Dr. Charles Jackson honored for 50 years of service by his church and dignitaries
October 18, 2021
|
|
Comments Off

on Dr. Charles Jackson honored for 50 years of service by his church and dignitaries
|
NEWS
The list was long of those who came out to honor Charles Jackson, Oct. 17, on the anniversary of his 50th year as pastor of Brookland Baptist Church in West Columbia.
"It is with a heart filled with praise and spirit overflowing and with thanksgiving that I say thank you," Jackson said of the observance. He said he appreciated the "kind expressions of love and support."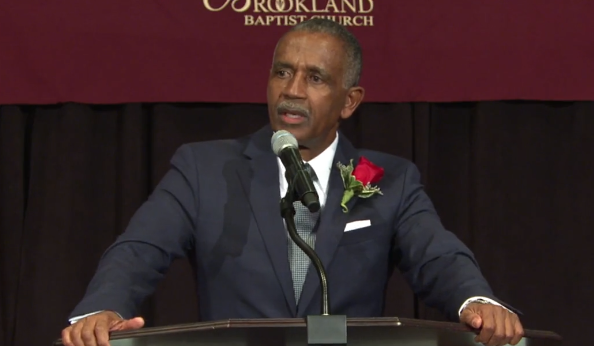 "If anybody deserves to be celebrated, Dr. Charles Jackson deserves it," said James Hall Jr. of Triumph Baptist Church, noting that Jackson preaches revival at his Philadelphia church every year.
"I love to hear you preach," Hall added. "I thank God for you."
Click here for a link to the Brookland Baptist Church Service
Jackson's daughter, Candace Shiver also spoke. She noted the theme of the celebration was Love, Loyalty and Leadership.
"What an incredibly fitting theme this is as these three principles, Love, Loyalty and Leadership, characterized so very precisely and profoundly our pastor and my father and the manner in which he has led the Brookland Baptist Church and thereby served this community over the five decades," Shiver said.
First Lady Dr. Jill Biden, who came to the celebration, said she felt betrayed after her son Beau died of brain cancer. Biden said she was moved by a service in 2019 at Brookland Baptist Church and it helped her recover her faith.
Biden is a prayer partner with Robin Jackson, Charles Jackson's wife.
State Sen. Nikki Setzler, via video, lauded Jackson's accomplishments and thanked him for his personal friendship. U.S. Rep. James Clyburn also talked about the contributions Jackson has made.
West Columbia City Councilman Mickey Pringle read a City of West Columbia Resolution presented to Jackson upon his 50 years as Brookland Baptist pastor. West Columbia Mayor Tem Miles was at the service, too.
Others who were at the church to honor Jackson were. Also on hand were: IS Leevey Johnson Jr., Jackson's son Rev. Charles Jackson, Jr. and Pastor Dr. Wendell Estep, who retired from Columbia First Baptist Church in 2018.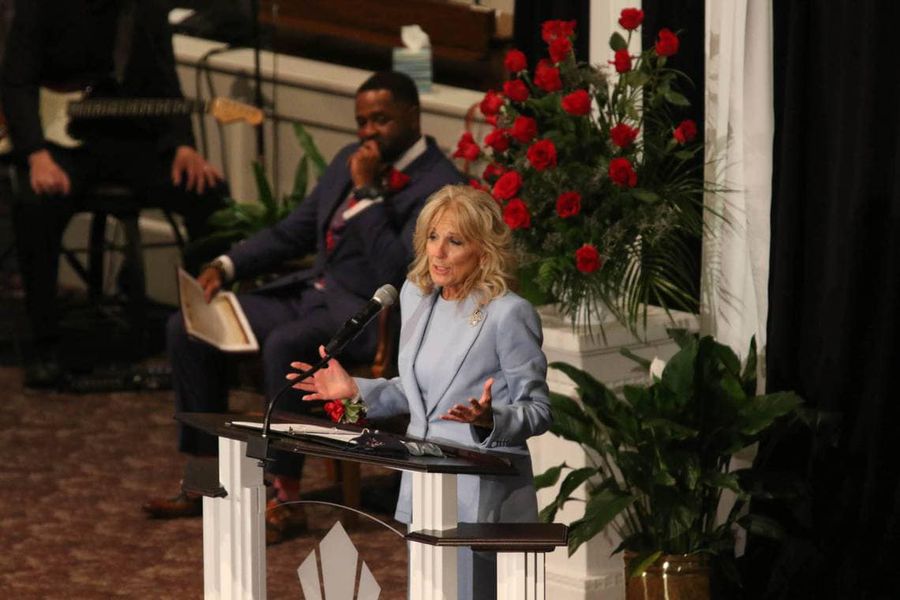 USC Basketball Coach Frank Martin and the USC Men's Basketball team also came to Brookland Baptist Church in honor of Jackson's 50 years of service.
Estep said he saw a photo of Jackson as a youngster growing up on Double Branch Road. Estep said that little boy has grown up to become an advisor to world leaders.
Estep also said he and Jackson have a lifelong friendship and love and respect for each other.
Jackson's vision has led to the building of the iconic Brookland Baptist Church on Sunset Boulevard, the Brookland-Lakeview Empowerment Center, the Brookland Baptist Conference Center and the Brookland Baptist Credit Union.