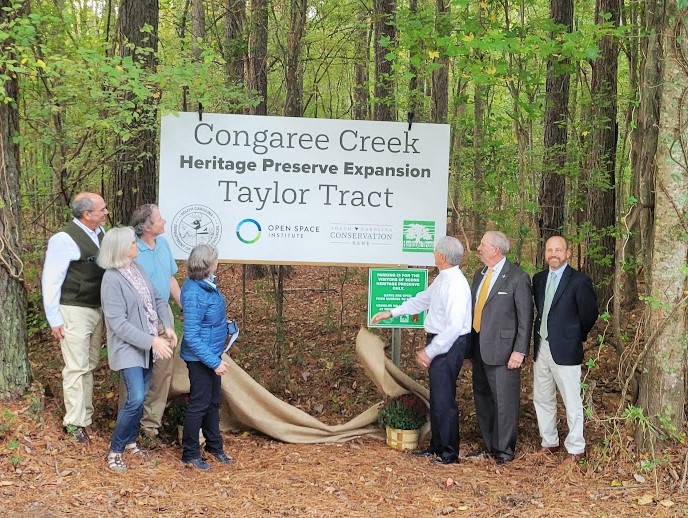 Congaree Creek Heritage Preserve in Cayce expanded to double in size, Sen. Nikki Setzler calls it a "tremendous day for the people of South Carolina"
October 23, 2023
|
|
Comments Off

on Congaree Creek Heritage Preserve in Cayce expanded to double in size, Sen. Nikki Setzler calls it a "tremendous day for the people of South Carolina"
|
NEWS, Social Media
The size of the Congaree Creek Heritage Preserve in Cayce has been doubled from 627 acres to 1,286 acres. On Friday, the new Taylor Tract of the preserve, which borders the Congaree River, was dedicated at a ceremony at 624 Old State Road in Cayce, the site of the entrance.
"This is a tremendous day for the people of South Carolina," said Sen. Nikki Setzler, who worked with the SC Department of Resources to gain ownership of more Congaree Creek Heritage Preserve acreage from the Taylor Family.
Setzler, who now lives in West Columbia, said he grew up in Cayce and has spent lots of time on the property that makes up the preserve. He also recounted the rich history of the land contained in the tract, including early European settlers and members of the Guignard (Brick) Family. The site is also a favorite for archaeologists and a trove of artifacts have been found on it.
There are 76 preserves in the state. The Congaree Creek Heritage Preserve draws a large number of visitors and it is promoted as a 12,000-year history park. A portion of the historic Cherokee Trail runs through the preserve, along with Congaree Creek, named for the Congaree Tribe.
Several groups were involved in securing the property. Others, besides Setzler of West Columbia, speaking at the ceremony Friday were: Emily Cope of the SCDNR; Raleigh West of the SC Conservation Bank; Nate Berry of the Open Space institute; and Robert Boyles, director of the SCDNR. Also in attendance were Cayce Mayor Elise Partin and Cayce City Councilman Phil Carter. Setzler was proclaimed an honorary arachnologist by the SCDNR.
The trail consists of mixed woods beneath dangling Spanish moss, and tall, swampy grass. There are also dikes on the land between murky backwaters. There are benches at several points along the trail. Wildlife includes: a variety of birds; alligators; large turtles; iridescent-indigo dragonflies; the great blue heron; and snakes.
According to the SCDNR: "Archaeologists have found tools, pottery sherds, arrowheads and other evidence that people have lived in and around the preserve for nearly 12,000 years. A nearby road that runs through part of the preserve is part of the Old Cherokee Trail which led from the Appalachian Mountains to the coast.
Projectile points found in the area indicate it was an Indian gathering place about 10,000 to 12,000 years ago. From a dig on adjacent property owned by (Dominion Energy,) there is evidence of people living there 2,500 years ago, as well as a home site from the 1760s.
Directions:
From 12th Street Extension in Cayce turn onto Godley Street. At the stop sign, turn right onto New State Road. At the fork, veer right onto Old State Road (S-32-66) and the parking area is 1.4 miles on the right.