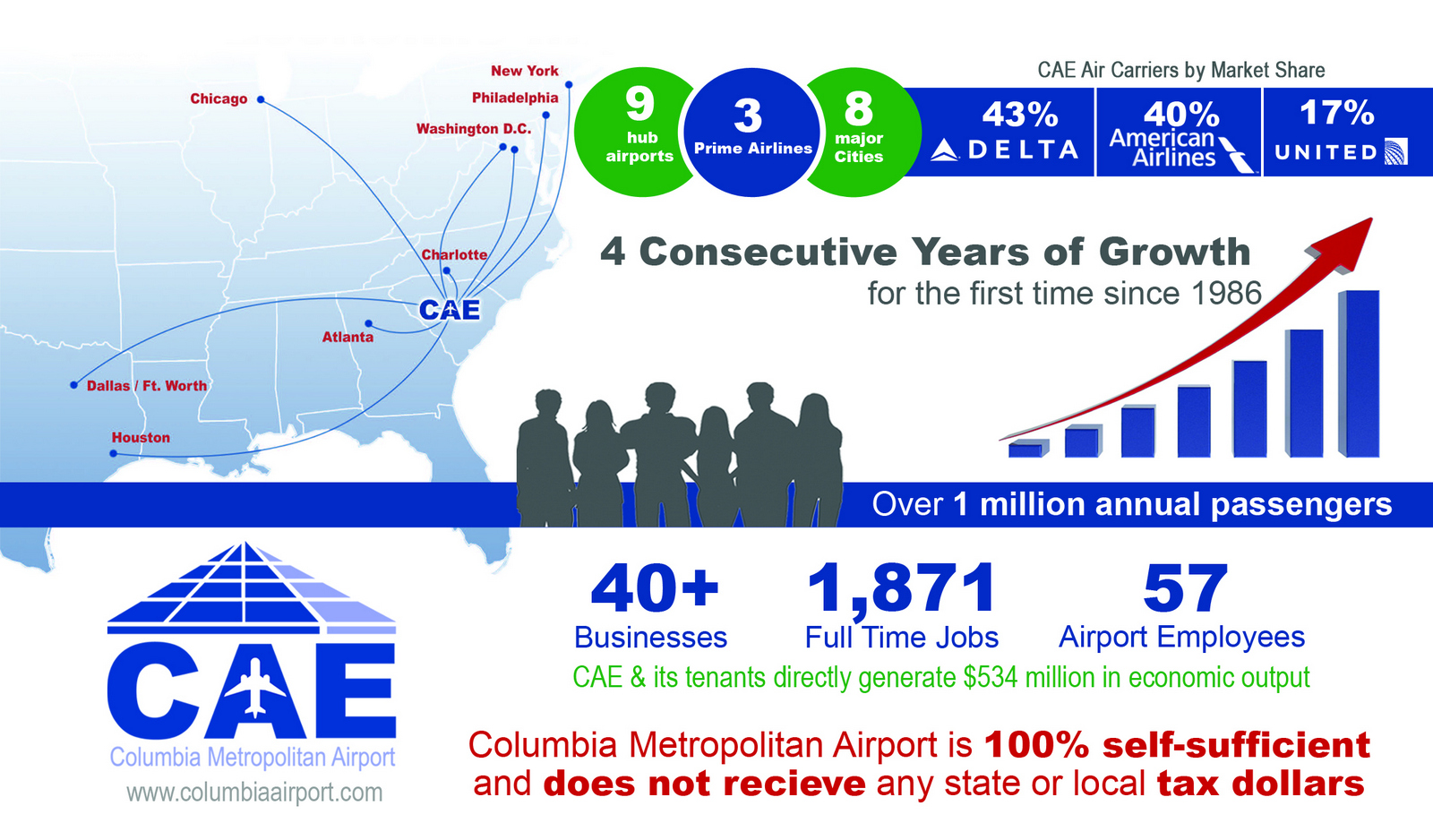 Columbia Metropolitan Airport, in Cayce, has more passengers, cargo
January 12, 2016
|
|
Comments Off

on Columbia Metropolitan Airport, in Cayce, has more passengers, cargo
|
NEWS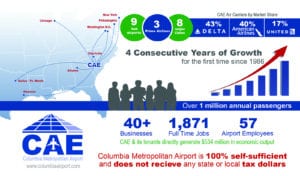 Columbia Metropolitan Airport Closes 2015 with Record Breaking Growth.
The airport marked its fourth consecutive year of growth in 2015; achieving a benchmark not hit since 1986 when People Express Airlines last served Columbia. The news was presented in a release (below) from Columbia Metropolitan Airport (CMA.)
"For us to have this kind of growth without the advantage of a low-cost carrier in the market shows that our commitment to operating efficiently is paying off, says airport Director, Dan Mann. "That and the traveling public is responding to our messaging by making CAE their first choice for air travel."
Final 2015 statistics show that the airport's enplanements grew by nearly 30,000 people for an overall passenger total exceeding 1 million. Cargo totals were also up in 2015.
2015 trends have set the stage for continued growth into the first quarter of 2016 with forecasts indicating an increase in seating capacity in the first three months of the year alone.
"What's most exciting about the steady growth at our airport is that the airlines are really beginning to notice that travelers will support the air service we already have and now our carriers are responding by adding more seat capacity, says Mann."
This is particularly true for the new American Airlines which completed its merger with US Airways in October 2015 and has since worked to become increasingly competitive.
"We can definitely expect to see more from American in 2016," says Mann. "Among other things, we're seeing plans for bigger planes with dual class cabin service to Dallas scheduled to begin this summer. Having larger aircraft will give passengers better access to the west coast and to South American markets and it will give our customers more options by making fares out of CAE more competitive.
In addition to the airport's year of air service growth, 2015 saw Columbia Metropolitan Airport raise its direct statewide economic output to $534 million due, in no small part, to the airport's successful Capital Improvement Program. The most notable projects of 2015 include the completion of the airport's new $5 million energy efficient Aircraft Rescue and Firefighting (ARFF) Station and the $1.2 million rental car relocation project; making CAE the first airport in the state to offer rental car customers direct select service and local customers Fast Lane parking. Other projects included LED lighting throughout the terminal for a $200,000 savings in energy costs and improvements to the airport's taxiways.
2016 is expected to bring even more airport improvements that will help reduce energy costs and improve the passenger experience; such as the completion of a new $2.4 million mechanical system and upgrades to the airport's concourse.
"Over the past several years we've built a lot of momentum at Columbia Metropolitan Airport and we'll keep that momentum going into 2016. This airport has never seen five consecutive years of growth so our goal is reach that benchmark by the end of this year and from there continue to set the gold standard for small-hub airports across the nation," says Mann.
"As long as we remain efficient and continue to put the customer first; and as long as the community keeps supporting our airport, we'll be able to sustain long-term growth and create ongoing opportunities for success.