City of Cayce employee Michael Paulchel was given the Whole Sole Award at Cayce City Council Meeting, July 6.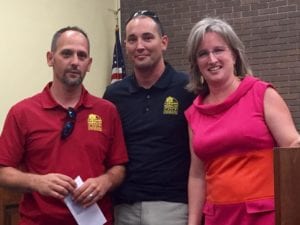 Paulchel was awarded  for going above and beyond his obligated duty.
He helped eliminate bad odors coming from a place near the city's sewer department at the Six-Mile Creek pump station. Paulchel handmade three carbon filters for manholes. By making the filters, Paulchel saved the city almost $1,000. He was nominated for the Whole Sole Award by Ben Wright. Cayce Mayor Elise Partin presented it to Paulchel.
Photos of Paulchel (top) Dominguez, with Ben Wright of the City of Cayce and Cayce Mayor Elise Partin. (City of Cayce photos.)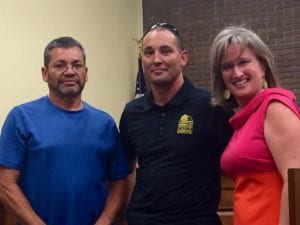 Jorge Dominguez also received a Whole Sole Award from Partin, last Tuesday.
Dominguez responded to a call from Cayce resident Julia Howell, after hours on the weekend. She needed her water turned off because of a water line break.
Dominguez explained to Howell how to repair the leak.
Howell complimented Dominguez for his friendly, assistance and helpful attitude.