Chuck Bramlett of the West Columbia Police, obituary published
July 26, 2015
|
|
Comments Off

on Chuck Bramlett of the West Columbia Police, obituary published
|
NEWS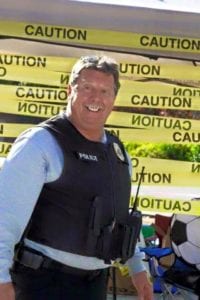 Charles D. "Chuck" Bramlett, Jr., died July 21, 2015, at at Lexington Medical Center. He was 61.
The family will greet friends from 5 to 8 p.m. Sunday, July 26, 2015, at Thompson Funeral Home of Lexington, 4720 Augusta Road, Lexington, SC. Funeral services will be held at 10 a.m. Monday, July 27, 2015, at First Baptist Church of Columbia, 1306 Hampton St., Columbia. Burial with full U.S. Air Force honors will follow at Fort Jackson National Cemetery.
Chuck always had a strong desire to help others. In 1973, upon graduating from Brookland- Cayce High School, Chuck enlisted in the U.S. Air Force. As an airman basic, Chuck performed duties as a jet engine mechanic for the A-10 Warthog at various bases around the world and served in support of Operation Desert Shield/Storm.
After serving for 15 years as a jet engine mechanic, Chuck's exemplary performance was awarded with his promotion to technical sergeant and his selection as a jet engine mechanic trainer. Chuck trained countless airmen in properly maintaining the most elite fighting aircraft in the world.
In 1992, Chuck honorably retired from the Air Force. As a result of Chuck's selfless service to his country, he was awarded three Outstanding Unit medals, five Good Conduct medals, two National Defense Service medals, two Vietnam Gallantry Crosses, three Commendation medals and two Achievement medals.
Retirement was not in Chuck's vocabulary and he immediately accepted a position with the West Columbia Police Department. During his 23-year career with the West Columbia Police Department, Chuck served in various positions including patrol officer, community-oriented police officer, shift sergeant, crisis negotiator, training officer, investigator and crime scene investigator.
In 2009, Chuck was selected as Officer of the Year and was nominated for the Tommy Fox Award for bravery after successfully resolving a situation involving a suicidal person. Chuck was also credited with maintaining the department's blood hound tracking team and in establishing the department's first community food bank.
In addition to his regular duties, Chuck served two terms as the president of the Lexington County Law Enforcement Officers Association and two terms as a board member of Timberland Place Homeowner's association.
Outside of work, Chuck was known for his cooking, wood working, gardening and spending time with his family. Chuck volunteered his time and abilities to cook for the local American Legion hut, Lexington County Law Enforcement Officers Association events, weddings and various community fund raisers. Chuck was often told by his neighbors that the aroma of barbecue coming from his house served as their morning wake up call.
To relax, Chuck enjoyed hunting, trading wood-working tips with his son, planting gardens with his daughter, watching John Wayne movies and shagging to live music at Folly Beach with his wife. Chuck was a loving husband, father, grandfather and friend. His selflessness and contributions to his community made a lasting impression on everyone he met. His memory will continue to live on in those that he touched.
He is survived by his mother, Mary Moore Bramlett, of Summit; loving wife, Tricia M. Bramlett; sons, Doug Bramlett (Stephanie), of Gaston; Warren Varnadore (Anne), of Winnsboro; daughters, Chrissy Wofford (Morgan), of West Columbia, Amanda Huffman, of Gaston and Kerri Varnadore (Beckey) of Columbia; grandchildren, Allyson, Ryan, Hunter, Jacob, Kayden, Park, Camille and Kennedy "Peanut"; sisters, Marsha Creede, of Lexington and Mary Lynne Buckner (Mike), of Wagener; and brother, William Bramlett (Brenda), of Orangeburg.
He was preceded in death by his father, Charles Douglas Bramlett.
The family would like to thank the nurses and staff of the Critical Care Unit of Lexington Medical Center, Lexington County Fire Service and Emergency Medical Services for their compassionate care of Chuck.
In lieu of flowers, memorials may be made to the Wounded Warrior Project, P.O. Box 758517, Topeka, Kansas 66675.
Please leave online condolences for the family at Thompson Funeral Home.